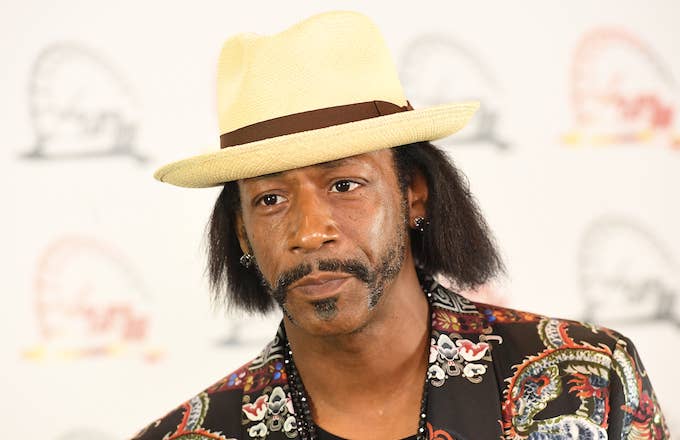 UPDATED 7:22 p.m. ET: Williams' misdemeanor charge stemmed from an alleged altercation that went down Friday night. 
TMZ reports that the comedian was supposed to get a ride to the Wild N' Out concert at the Moda Center in Portland, Oregon; however, those plans were scrapped after he and the driver began arguing about the transportation of his dog. A police report states the driver sustained minor face injuries during the altercation, and that Williams had fled the scene in another vehicle.
Officers tracked down the comedian Saturday morning, and discovered he also had an out-of-state warrant.
Read the original story below.
Katt Williams is back behind bars.
According to TMZ, the 47-year-old comedian/actor was arrested Saturday in Portland, Oregon, on a misdemeanor assault charge. The details surrounding the arrest have not been revealed; however, the outlet reports Williams missed a scheduled Wild N' Out concert appearance Friday night in Portland.
His bail has been set at $2,500.
Williams has faced a slew of legal issues in the past. In 2016 alone, he was arrested a handful of times for alleged assault and damage to property.
We will update as more information becomes available.
Williams made plenty of headlines last month for his criticism of Tiffany Haddish. The Friday After Next star blasted Haddish for failing to prove "her ability to tell jokes," and went on to suggest that her success was underserved and rooted in colorism.
"We are in the only business where as a black woman what you look like is not supposed to be held against you," he said on V-103's Frank and Wanda in the Morning show, "but time and time again, they show you that you can be sidetracked by anything lightskin."
Williams' comments re-ignited his beef with Haddish's Night School co-star Kevin Hart. During an appearance on The Breakfast Club, Hart claimed Williams was projecting, and was simply bashing his fellow comedians because of his career fumbles.
Williams, of course, responded to Hart's statement with a threat.
"You gonna see me in real life, f**k boy […] You know what it is," he said on social media. "I was just in the gym and I'm heading to Mayweather's. And I'mma knock your motherf**king mouth sideways, f**k boy. I ain't Steven A. Smith. I'm really out here in these streets, my n***a."