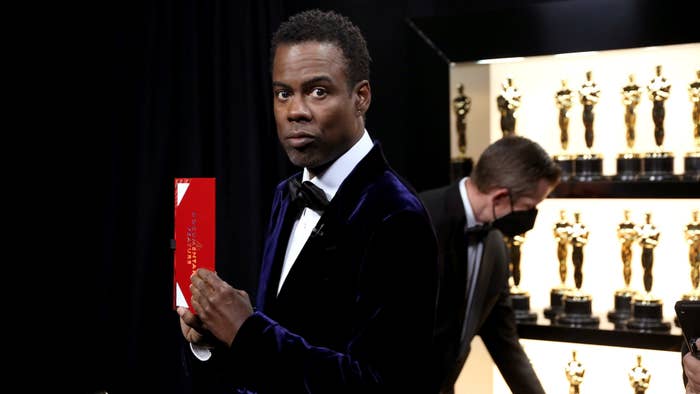 UPDATE 3/30, 11:55 p.m. ET: Chris Rock once again briefly addressed getting slapped at the Oscars and said that he has yet to speak to Will Smith following the incident, Deadline reports.
"I haven't talked to anyone despite what you may have heard," Rock said at his second Wednesday night Ego Death World Tour show in Boston.
See original story below.
Chris Rock had to address the elephant in the room. 
The 57-year-old comedian returned to the stage Wednesday night to perform in front a sold-out crowd in Boston. The gig went down just days after Will Smith slapped Rock across the face during the live telecast of the 94th Academy Awards. Many people suspected the former Oscars host would speak on the infamous moment during Wednesday's show; however, he told the crowd, which greeted him with a standing ovation, he wasn't quite ready to get into it.
"How was your weekend?" he began, as reported by Variety. "I don't have a bunch of shit about what happened, so if you came to hear that, I have a whole show I wrote before this weekend. I'm still kind of processing what happened. So, at some point I'll talk about that shit. And it will be serious and funny."
According to the outlet, one audience member then shouted, "Fuck Will Smith!" Rock didn't acknowledge the chant, and continued with: "I'm going to tell some jokes. It's nice to just be out."
The event marked Rock's first public comments on the slapping incident, which took place after he made a joke directed at Smith's wife, Jada Pinkett-Smith.
"Jada, I love ya. GI Jane 2, can't wait to see it," Rock said on the Oscars stage while presenting the award for Best Documentary. The joke was an apparent reference to Pinkett-Smith's shaved head—a style Demi Moore sported in the 1997 film GI Jane. Just seconds after Pinkett-Smith rolled her eyes at the quip, her husband walked onto the stage and smacked Rock across the face.
"Keep my wife's name out your fucking mouth!" Smith shouted after returning to his seat.
Rock managed to keep his cool and was clearly bewildered by the incident. Smith went on to win Best Actor for King Richard later that night; but his future with the Academy remains uncertain.
Shortly after Smith issued an apology to Rock, the Academy released a statement saying its Board of Governors were deciding what action to take against the newly minted Oscar-winner. The Academy claimed Smith was asked to leave the ceremony after the slap, but refused to do so. They say Smith is now facing potential suspension or expulsion from the Academy.
"The Board of Governors today initiated disciplinary proceedings against Mr. Smith for violations of the Academy's Standards of Conduct, including inappropriate physical contact, abusive or threatening behavior, and compromising the integrity of the Academy." the Academy wrote in a statement to the Hollywood Reporter. "[...] Mr. Smith's actions at the 94th Oscars were a deeply shocking, traumatic event to witness in-person and on television. Mr. Rock, we apologize to you for what you experienced on our stage and thank you for your resilience in that moment. We also apologize to our nominees, guests and viewers for what transpired during what should have been a celebratory event."