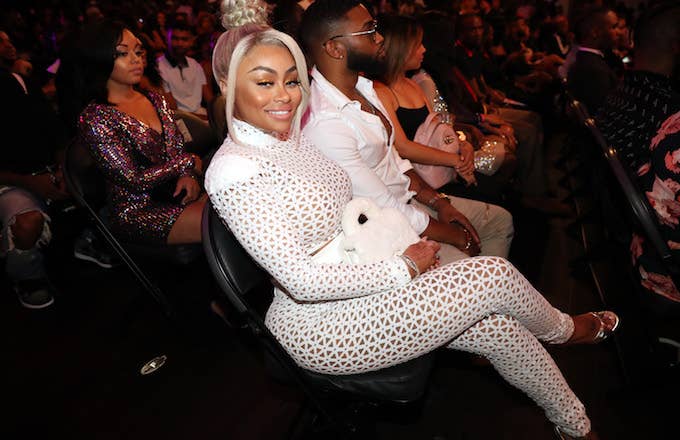 Blac Chyna is taking legal action against the entire Kardashian family.
According to TMZ, the 29-year-old reality TV star has filed a lawsuit over the cancelation of her E! series Rob & Chyna. Her ex-fiancé Rob Kardashian is reportedly listed as a defendant, along with Kris Jenner, Kim, Kourtney, and Khloe Kardashian, as well as Kendall and Kylie Jenner. Chyna claims the reality TV family is responsible for the demise of her show, as they consistently interfered with shooting. She also accused the family of using their "power and influence over the E! network to kill the second season," which was reportedly in the works.
Sources at E! insist Chyna's claims aren't true. In fact, they said they have documentation that proves Chyna is the reason why the series was canned. Emails reportedly state Chyna made filming difficult and, at times, impossible because she refused to be in the same room as Rob. Sources also said the network wasn't pleased with season one ratings.
Additionally, the lawsuit claims Rob had physically and verbally abused Chyna while they were together. She points to an incident in April, when Rob allegedly took her phone away and pushed her to the ground in front of her and Tyga's son King Cairo. 
Last month, it was reported that Rob had filed a lawsuit against Chyna for assault, battery and vandalism. He accused Chyna of causing more than $100,000 in damages to the house he was renting from his little sister Kylie. Rob also claimed Chyna had tried to choke him with an iPhone cord, hit him with a metal rod, and beat him while she was drunk and high.