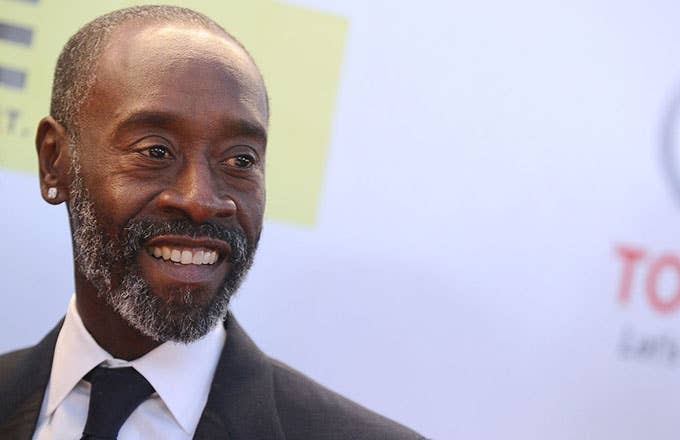 You'd be hard-pressed to find anyone in Hollywood who supports our current president, but of all his celebrity critics, perhaps none have been as vocal or as scathing as Don Cheadle. After Donald Trump rattled off a series of batshit crazy tweets on Saturday morning, Cheadle took to Twitter to condemn the president and his latest unhinged tweetstorm.
Cheadle began his Twitter assault by retweeting various people who were critical of Trump's unfounded accusations that Barack Obama issued an order to wiretap the then President-elect's phones. Some of Cheadle's pro-Trump followers took issue with the actor's retweets, and called him out for being anti-Trump.
"Not right now, egg. Your president is going off the deep end again. Pay attention," Cheadle wrote to one Trump supporter. When another Trump stan suggested that the President is always right, Cheadle responded with: "And by "right" you mean, 'Oh my dear God, what did this crazy bastard just say?!?'
When a Trump critic suggested to Cheadle that liberals are "trying too hard" to bring down the President, Cheadle disagreed. "If the mounting evidence turns out to be real and our election has been tampered with, how exactly shd [sic] we react?" he wrote. Cheadle later told that same same user that he's being "hyperbolic," and that his "reaction to the news coming out of D.C. is tame in comparison to potential treason."
When someone told Cheadle that he should accept Trump as President, Chealde just wasn't having it. "You go ahead and accept it, Duncan," he wrote. Sounds like that suits you. I'm going to keep pushing... (pins into this voodoo doll))"
It looks like Hollywood's anti-Trump crowd mayhave just found a new figurehead. See more of his exchange with users below.