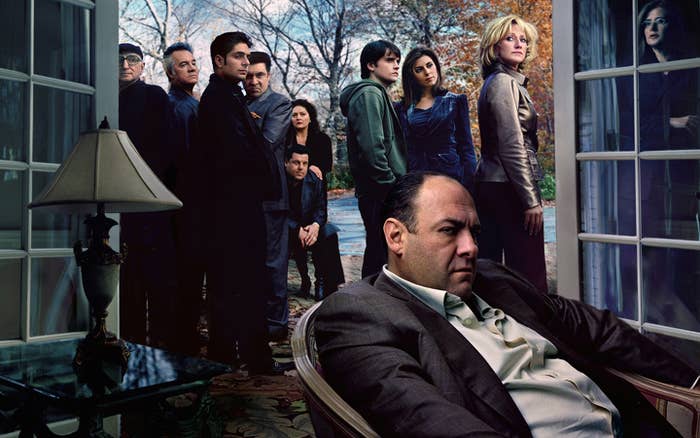 The Sopranos was nearly perfect. The show could honestly be credited for kicking off the current golden age of dramatic television that has prodded cable networks to give us everything from Mad Men to Breaking Bad. And even though the series ended in 2007, it's still kind of hard to let go, apparently. The only thing people want to know more than what happened after that cut to black in the series finale of David Chase's masterpiece is whether or not he'll revive the series in some form as a prequel series or movie. 
Chase is out promoting his new HBO miniseries, Ribbon of Dreams, about the early days of Hollywood and the way that a couple of studio employees, "one a college-educated mechanical engineer, the other a cowboy with a violent past," crossed paths with some of the biggest names of the day. Of course, Deadlline couldn't resist asking him about the Sopranos prequel.
I've had people talk to me about that. I've had conversations with some movie studios that want to do it as a film. So far I've rejected the idea but I certainly wouldn't do it as a television show. I'm always disinclined to say, "No I'll never do it." But I think I'll never do it. I'm disinclined to say that because I don't want my thinking to be constrained. I've said it from the beginning: If I had a really good idea and I thought it could be really entertaining and it wouldn't upset what was done I might do it. But so far...
So it's definitely not coming to TV, but a movie, maybe. Too bad they didn't ask him what era the proposed prequel would take place in. The show made so many references to the past, there's plenty to choose from. There could be a movie that follow's Uncle Junior Soprano and Tony's dad, "Johnny Boy" Soprano ,as they rise from captains to bosses. Or, it could be a high school drama that follows that 1970s West Orange High School football season where Tony "almost made all-county." Best possible scenario, the '80s, when Tony lost out on the bidding for an old ice cream truck to John Gotti, who "rang that bell the whole way home."