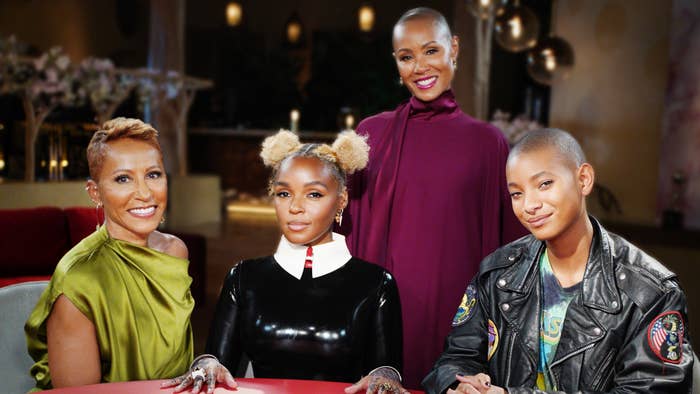 Less than a month after Will Smith slapped Chris Rock during 94th Academy Awards ceremony, Jada Pinkett Smith's Red Table Talk series returned on Wednesday with its Season 5 premiere.
For those hoping Jada would address the elephant in the room on her Facebook Watch series, it appears that we'll have to wait a little longer to hear her thoughts on the whole debacle surrounding her husband. 
Featuring guest Janelle Monáe, the first episode of the show's new season opened with a brief statement that suggested Jada won't be discussing Will's slap soon.
"Considering all that has happened in the last few weeks, the Smith family has been focused on deep healing," the opening message read. "Some of the discoveries around our healing will be shared at the table when the time calls. Until then the table will continue offering itself to powerful, inspiring and healing testimonies like that of our incredibly impressive first guest."
Earlier this month, the Academy of Motion Picture Arts & Sciences announced its decision to ban Will Smith from attending the Oscars for the next 10 years in response to the actor slapping Chris Rock at March's ceremony. 
"The Board has decided, for a period of 10 years from April 8, 2022, Mr. Smith shall not be permitted to attend any Academy events or programs, in person or virtually, including but not limited to the Academy Awards," AMPAS president David Rubin and CEO Dawn Hudson said in a statement.
The statement continued, "The 94th Oscars were meant to be a celebration of the many individuals in our community who did incredible work this past year; however, those moments were overshadowed by the unacceptable and harmful behavior we saw Mr. Smith exhibit on stage."
After the Academy's announcement was made, Smith issued a brief statement of his own, writing, "I accept and respect the Academy's decision."