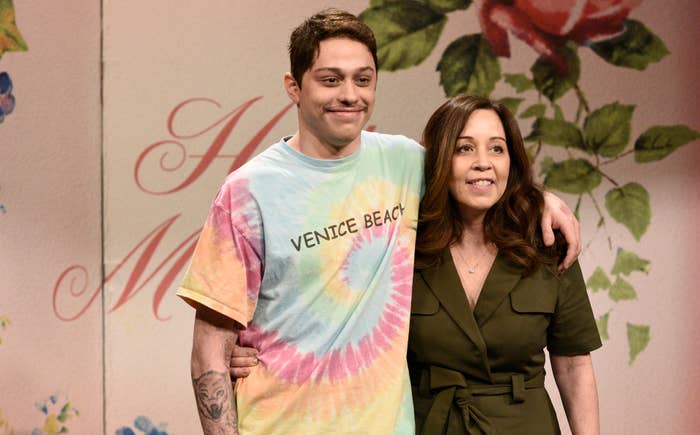 Pete Davidson's mom has his back, so much so that Amy Davidson used a fake Twitter account to clap back at her son's haters during his early days on Saturday Night Live.
The former SNL castmember opened up about his mom's burner account during a recent interview on Seth Meyers' podcast Family Trips With the Meyers Brothers.
"My mom used to have a fake Twitter account when I first got SNL," Davidson shared. "It was, like, my second or third year, and it was a lot of 'he's not useful' typical Twitter comments. And my mom made a fucking fake Twitter account under the name @JoeSmith1355 and would respond to everyone."
Pete admits that his mother's response to haters was "so specific," as Amy would reply to trolls by refuting shit-talk aimed at her son's life.
"It was so specific, like, 'Actually, I heard he's working on himself and does that quite often," he shared.
Davidson, who appeared on SNL from 2014 to 2022, shed light on how his mother's burner account was discovered, revealing it didn't take too much investigative work for Twitter trolls to discover that Amy was behind the fake account.
"This was the kicker," Pete said. "Everyone found out it was my mom, not through detective work. They found out because her username was @JoeSmith, but her profile name was Amy Davidson and the profile picture was Amy Davidson. So it was a picture of my mom, with a name that said @JoeSmith1355, commenting on all these haters. She got my back, dude."
You can listen to the full episode here.