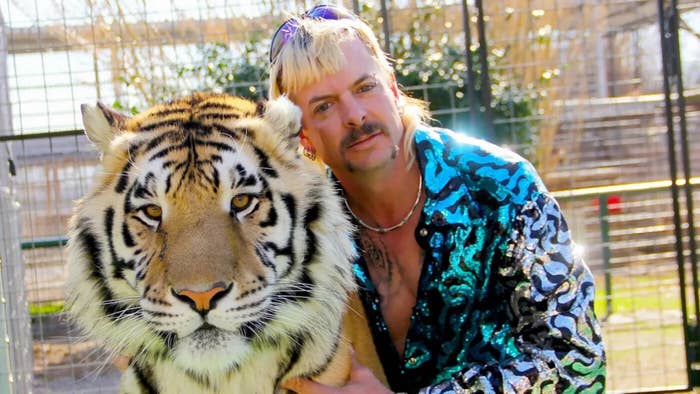 After finalizing his divorce from his now ex-husband, Dillon Passage, following four years of marriage, Joe Exotic has decided to leave everything in his will to his internet fiancé, Seth Posey, TMZ reports.
In a prison-recorded phone call obtained by TMZ, the Tiger King star revealed he's "sick of people standing in line waiting to collect my stuff."
"I'm so tired of everything that's going on there with people trying to exploit me and trying to write off my name and everything else," Exotic told the outlet.
"So I have my attorney Autumn Blackledge, she is the executor of the will, and I don't want any of my will or Jeff Lowe, nobody to be able to get anything from me," Joe continued. "Trademarks, copyrights, I just gave everything to my fiancé, Seth Posey."
Exotic added, "He has been there every day for five years. I know everything about Seth, I talk to his mom and I talk to everybody."
Back in June, Exotic broke off his engagement to fellow inmate John Graham, before announcing in a Facebook message that he'd reunited with Posey. Exotic admitted at the time that he had only dumped Posey, whom he dated prior to meeting Graham, because he was "young and very handsome" and Joe "didn't want to end up with another Dillon," in reference to his estranged husband Dillon Passage.
The Tiger King star was re-sentenced in 2022 to 21 years in prison by a federal judge, over a murder-for-hire conviction involving Carol Baskin. The ruling came months after Exotic informed his supporters that a prostate biopsy had revealed an "aggressive cancer."