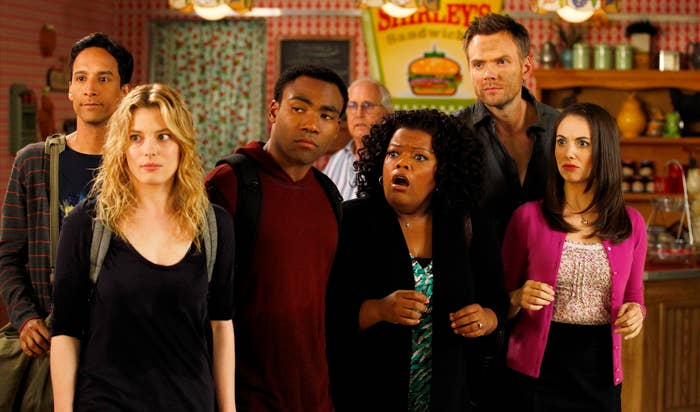 When Peacock announced Community: The Movie in September, series cast member Donald Glover was not listed as a participant.
According to series creator Dan Harmon, though, the 39-year-old multi-hyphenate is "down to clown" in the film. While speaking at Variety's Business Managers Breakfast this week, Harmon assured Community fans he doesn't like the idea of developing a movie based on the hit NBC show without bringing Donald back.
"For lack of a better word, there was a ball fumbled…[Glover] is down to clown," Harmon said. "Man, I would not want to think about making [the movie] without Donald."
It isn't the first time Harmon has addressed the absence of Glover from Peacock's original announcement. Back in October, Harmon confirmed that the film's cast has not yet been finalized. 
"I think that Donald is coming, based on word of mouth, but it's just the deal isn't official or wasn't official. It would be difficult to really commit to doing this thing without Donald," Harmon told Variety at the time. "So I believe he is coming back. I think if there's names missing from a list, it's because the names that are on the list, their deals are agreed upon enough that it's OK to say they are on the list, and anybody that's not on a list, it's just not the case yet. So there is nothing official about anybody being out."  
Slated for a 2023 release, Community: The Movie will be helmed by Harmon and is set to star original cast members Joel McHale, Danny Pudi, Alison Brie, Gillian Jacobs, Jim Rash, and Ken Jeong. Aside from Glover, Chevy Chase and Yvette Nicole Brown were also not listed among the returning cast.
Sign up for Peacock
to stream NBCU shows