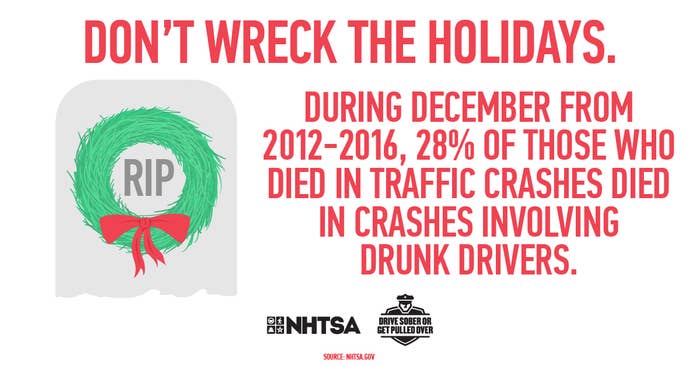 The holiday season is a time for cheer and camaraderie, but it doesn't come without its potential problems. One predicament you can easily avoid is drunk driving.
That may sound obvious, but even though the dangers of drunk driving are now common knowledge, drinking and driving still accounts for one-third of vehicle-related fatalities in the United States.
What's particularly staggering (and maddening) about that statistic is that drunk driving is so easily avoidable. In addition to the many rideshare apps we have at our disposal these days, NHTSA has launched its own easy-to-use SaferRide app for both iPhone and Android, leaving no excuse to ever get behind the wheel after drinking. Yet for some reason, we always see an uptick in drunk driving fatalities during the holiday season. In 2015, 840 people lost their lives in drunk-driving-related crashes in December alone. That's definitely not the way to ring in the new year.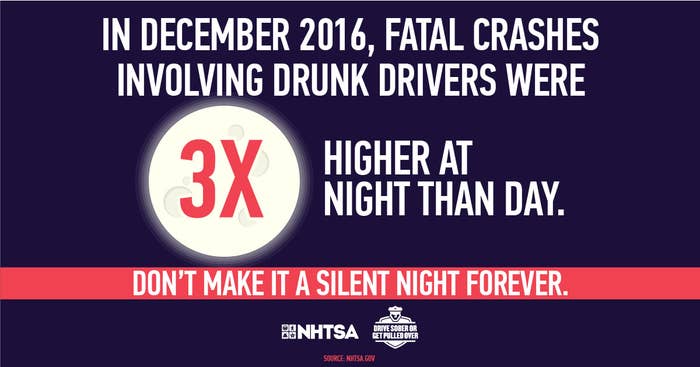 This year, NHTSA and local law enforcement agencies are partnering throughout the month to crack down hard on drunk drivers. With increased patrols and hyper-vigilance, they are committed to catching drunk drivers in the act, which will wind up costing them $10,000 in attorney fees, fines, court costs, higher insurance rates, car towing and repairs, lost time at work, and more.
It seems wiser to just avoid all of that noise, doesn't it?
This holiday season, it's simple: drive sober or get pulled over. If it's the latter, rest assured your holiday season will not be very merry at all.
So be smart! Don't drive drunk.
Happy holidays.