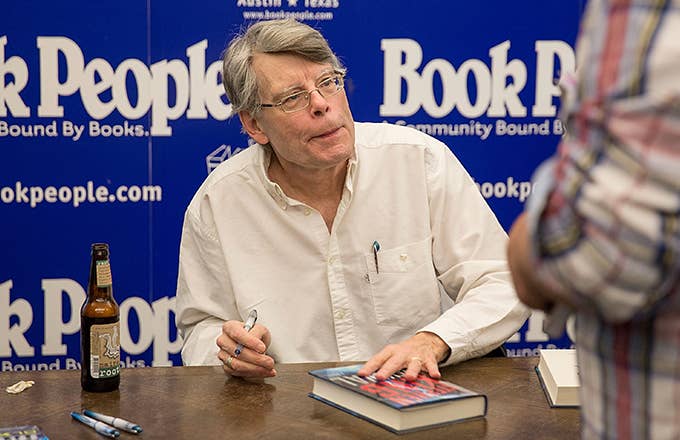 With the success It saw last year, it was inevitable we'd get a slew of new Stephen King big-screen adaptations. What's especially exciting about the latest is the pedigree involved. The Hollywood Reporter has learned King's 1987 novel The Tommyknockers is getting a movie produced by writer/director James Wan, helmer of Furious 7 (the No. 6 all-time top-grossing movie globally), theSaw and Insidious franchises, and DC's forthcoming Aquaman.
Wan's working on erasing the memory of the dreadful 1993 ABC miniseries with Roy Lee, whose 70+ producer credits include the It remake, Bates Motel, The Ring, The Grudge, and all these Lego movies). He'll return for 2019's It: Chapter Two and is attached to the potentially-never-gonna-happen adaptation of The Stand.
While it's not clear whether James Wan will be taking on directorial duties or not, his experience with the horror genre makes him a likely and promising candidate. Producer Larry Santisky, who owns the screen rights, told prospective buyers via The Hollywood Reporter, "It is an allegorical tale of addiction (Stephen was struggling with his own at the time), the threat of nuclear power, the danger of mass hysteria and the absurdity of technical evolution run amuck. All are as relevant today as the day the novel was written. It is also a tale about the eternal power of love and the grace of redemption."
The book is often seen as one of King's few widely disliked works, with King himself disowning it by calling it "an awful book" in 2014. He did, however, say that there's "probably good 350-page novel in there," meaning that it could be one of his works that'll work better as a film. 
Following the story of a town in Maine that sees a toxic gas take over thanks to a newly discovered spacecraft buried in the woods, the novel shows how the townspeople react with new abilities and a lust for violence.
There's been a renewed interest in adapting Stephen King's work over the past few years, with Netflix releasing both Gerald's Game and 1922 to critical acclaim shortly after It. There was also the Idris Elba–starring The Dark Tower, though, but let's try to forget about that one. Not every King story is ripe for adaptation, and even then those that are don't often stick the landing. The Tommyknockers​, however, has potential.