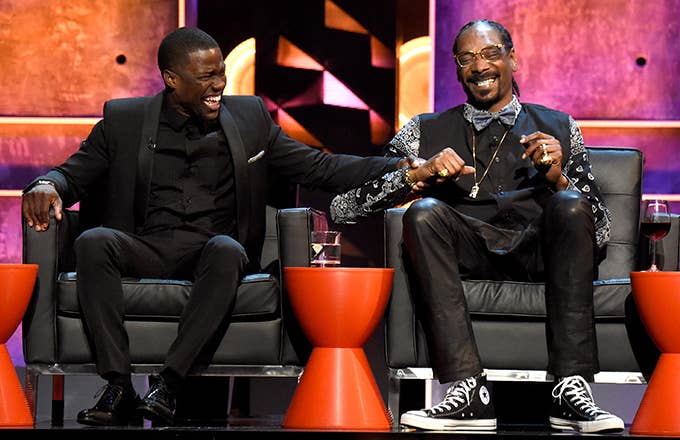 It's been a turbulent week for Kevin Hart. He announced he'd be hosting the Oscars, faced backlash for a series of homophobic tweets and jokes, refused to apologize, announced he'd no longer host the Oscars, and then tweeted an apology. Not everyone thinks Hart deserved all the criticism, however, with Snoop Dogg coming to his defense in a new video on Instagram.
"Don't trip, that ain't our kind of shit anyways. Oscars? Yeah right, come do the BET Awards," Snoop said while smoking. "They don't care. You a comedian, crackin' jokes...really? Y'all want me to host it now? Nah, I don't think so. I got shit to do, and I got way more customers before I get to you. Kevin Hart, smoke a blunt. Tell the Academy to suck a dick or die trying. Fuck 'em. We still love you, n***a."
Just in time for the announcement of the Grammy nominations, Snoop made sure to add, "Fuck the Grammys, too." It's clear that however Snoop feels about the inappropriate jokes that Hart made, he's not a big fan of award shows in general.