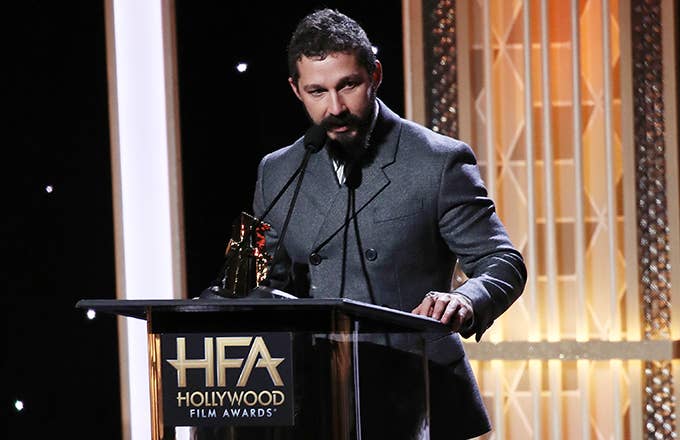 Shia LaBeouf walked away with the Breakthrough Screenwriter honor at the Hollywood Film Awards on Sunday night for his work on Honey Boy. The semi-autobiographical film, which he wrote and stars in as his own father, tackles his troubled childhood and difficulties becoming a young adult actor. Honey Boy also indirectly depicts a few infamous moments from LaBeouf's career, including his 2017 arrest for public drunkeness.
During his acceptance speech on Sunday, LaBeouf personally thanked the officer he formerly called a "dumb fuck."
"I want to thank the police officer who arrested me in Georgia for changing my life," said LaBeouf to a few laughs from the audience. The 33-year-old, who wrote the script for Honey Boy during court-ordered rehab, also thanked his therapist and sponsor for "saving" his life. He additionally thanked his parents for "giving my life." LaBeouf attended the ceremony with his mother Shayna Saide.
Robert Downey Jr. was responsible for presenting the award to LaBeouf, and said that his screenplay was "damn near perfect." He added Honey Boy was "easily the best and bravest film I have seen in years." LaBeouf has reflected on the very-public arrest numerous times in the past two years. In 2018, he told Esquire the situation was "morifying" and came from a place of "self-centered delusion" and "white privilege."
In the bodycam footage of LaBeouf's 2017 arrest, the actor can be seen calling one officer a "fucking bitch" and a "dumb fuck." He also told a different officer, "You've got a president who doesn't give a shit about you. And you're stuck in a police force that doesn't give a fuck and you. So you want to arrest what, white people who give a fuck?"
As seen in the trailer for Honey Boy, Lucas Hedges' character, who is based on LaBeouf, drunkenly berates a police officer.The film hits theaters Nov. 8.