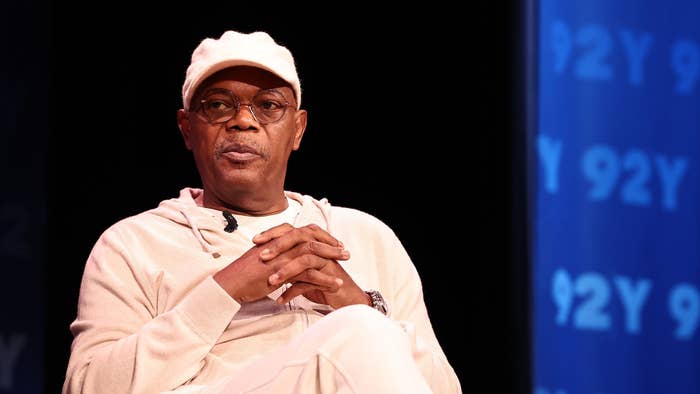 Samuel L. Jackson'sNick Fury has been notably absent from recent Marvel Cinematic Universe films, but the actor has hinted we'll be seeing a lot more of him soon.
During a recent appearance on the Happy, Sad, Confused podcast, as CBR reported, Jackson confirmed that he's already filmed scenes for multiple Marvel projects. It was announced a while back that Jackson would reprise his role as Nick Fury in the upcoming Disney+ series Secret Invasion, but he suggested that there's plenty more of the former director of S.H.I.E.L.D. on the way.
"When I was in London just now, it was [Ant-Man and The Wasp: Quantumania], and [The Marvels] was happening, and we were getting ready to do [Secret Invasion]," said Jackson. "So it was like, three Marvel movies on one lot. I was kind of running around from place to place." The character was last seen in the post-credits sequences for Spider-Man: Far From Home, taking a long-deserved vacation on board a Skrull spaceship. With Phase 4 now in full-swing, it seems we'll be getting an abundance of the fan-favorite character.
In fact, the 73-year-old actor suggested that he's going to show up in some unannounced Marvel projects, too. "Well, you know, it's kind of strange when someone tells you they're going to give you a nine-picture deal," he said. "You know, you go 'How long am I going to stay alive to make nine pictures?' Because it used to take a while to make a movie. It still kind of does, but people make two or three of them at a time. In the Marvel Universe… it's crazy."
Elsewhere in the podcast, as the Playlist noted, Jackson was asked if he would ever take a role in a film based on a DC property. "Well, actors are mercenaries," he replied. "It's kinda what we do, we act who we are for." While he added, "Sure why not," he later suggested, "Maybe not." Jackson said that he's a big comic book fan, but said he doesn't know "what the thing is with [DC] cinematically." 
Secret Invasion is set to premiere later this year, while The Marvels will land in theaters on Feb. 17, 2023, and the third Ant-Man on July 28, 2023. Listen to full podcast here.