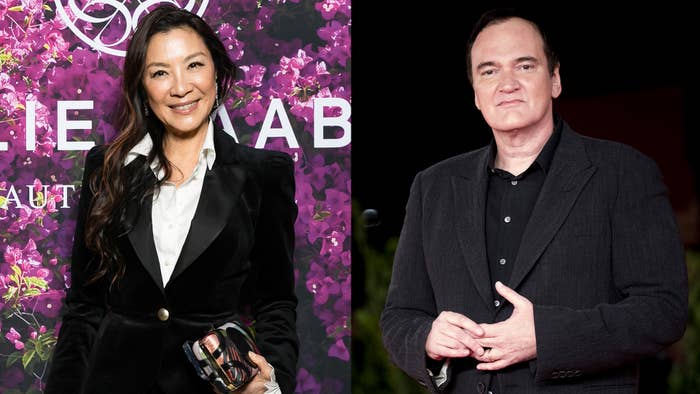 Michelle Yeoh delivered one of Quentin Tarantino's favorite action movie performances in Police Story 3: Supercop, but has yet to work with the legendary director. While Kill Bill seems like it could have been a good fit, the Everything Everywhere All at Once actress was recently asked why Tarantino never her cast her in the movie. 
In a cover feature with Town & Country, Yeoh reiterated a story she previously told about how Tarantino convinced her to come out of retirement following a debilitating injury during the filming of a stunt for the movie The Stunt Woman. She said the accident left her in a brace, and if it wasn't for a brief meeting with him in Hong Kong following the release of Pulp Fiction, she might not be acting today. They spoke at length about some of her best stunt work, and they "became animated" as the conversation progressed. "So then I thought, 'Maybe I'm not ready to give up on this.'"
Tarantino previously credited Yeoh's incredible work in Police Story 3—a movie in which she matches and arguably even outshines Jackie Chan—as a big inspiration for Uma Thurman's character in Kill Bill. Asked why she wasn't in the movie, Yeoh replied, "I asked Quentin the same question. He's very smart. He said, 'Who would believe that Uma Thurman could kick your ass?'"
As badass as Thurman is as The Bride in Kill Bill volumes 1 and 2, which features a whole slew of east-Asian action stars such as Sonny Chiba and Gordon Liu, it's not hard to see where Tarantino was coming from. After all, Thurman's never driven a motorcycle onto a moving train.