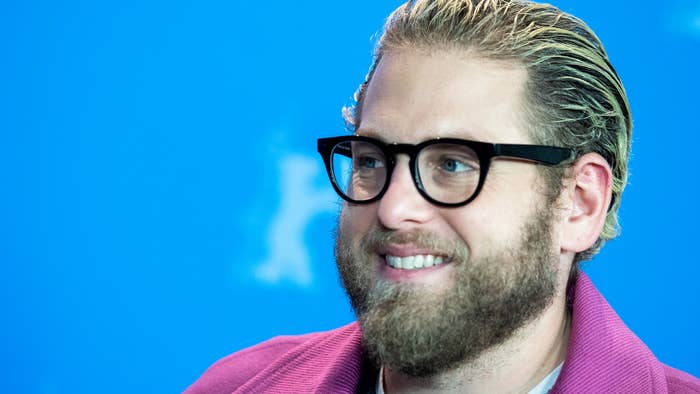 Jonah Hill has a lot to be proud of when it comes to his acting career, and his latest achievement might just be his best yet. According to an analysis put together by Buzz Bingo, Hill has surpassed Leonardo DiCaprio and Samuel L. Jackson for most uses of swear words on film. His appearances in Superbad and Martin Scorsese's The Wolf of Wall Street, both of which are littered with monumental quantities of profanity, contributed a high number to his total. 
"Hill's characters have cursed 376 times in total, and 22.9 times per 1,000 words uttered," Buzz Bingo found.
Closely behind Hill is Leonardo DiCaprio at the No. 2 spot with 361 times. Samuel L. Jackson's characters, meanwhile, have sworn 301 times in total, at 6.9 times per 1,000 words said on film. Adam Sandler also got a significant boost at No. 4 thanks to his appearance in Uncut Gems, which sees him utter the word "fuck" with reckless abandon.
Upon hearing the news, Hill chimed in on Instagram. "So many people to thank," he wrote. "Martin Scorsese, thanks for pushing me over the edge. And of course the great Samuel L. Jackson. Humbled."
He also joked about an article referring to the analysis as a report, adding, "Lol what team of scientists cracked this one?"
Many of Jonah's friends congratulated the actor on his special achievement. Seth Rogen called it "the dream," while Adam Levine said he's "so fucking proud." Travis Scott, Rashida Jones, and Boi1da also chimed in. 
It's also worth pointing out that Buzz Bingo put together a list of characters who swear the most on screen, with Leonardo DiCaprio's Jordan Belfort at No. 1 with 332 curses. The group "analyzed freely accessible scripts from 3,565 movies," per Yahoo.