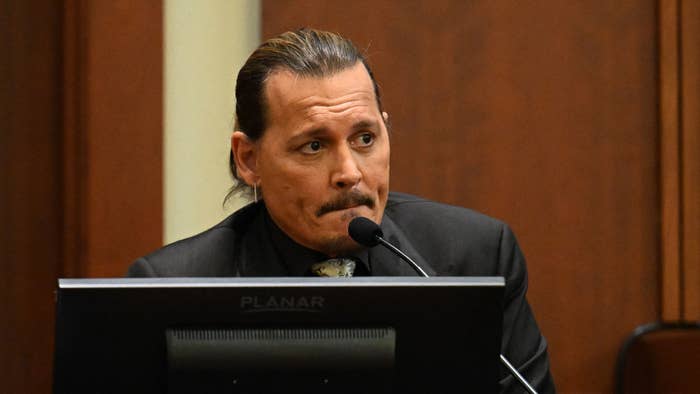 As part of his ongoing defamation trial against Amber Heard, actor Johnny Depp said his ex-wife severed his fingertip with a thrown bottle and expressed a distaste for his tattoo of Winona Ryder.
Depp returned to the stand for his second day of testimony on Wednesday, and graphically recounted how the Aquaman actress allegedly got violent with him during an argument in Australia. Per Variety, he claimed that she grew increasingly irritated and hurled a vodka bottle at him, which severed the tip of his right middle finger. An image of the injury was shown in court, with Depp on a stretcher in an emergency room. "All these bones were crushed. It looked like Vesuvius," he said.
Depp said the incident happened in March 2015 while he was working on the fifth Pirates of the Caribbean film, Dead Men Tell No Tales. Heard has denied she was responsible for his injuries and said he possibly severed his fingertip when he smashed a phone. She has also alleged that he choked and sexually assaulted her during the fight, which he has denied. "I was looking directly at my bones sticking out," said Depp on Wednesday, explaining the fight was sparked by conversations regarding a post-nuptial agreement. "Blood was just pouring out."
Depp claimed he attempted to get away from her throughout the argument, and at one point he tried to hide in a closet. He said he ultimately went through a nervous episode and wrote on the walls with his blood. He described the messages as "little reminders from our past that essentially represented lies that she had told me—lies that I had caught her in." He was taken to a hospital for treatment on his injuries, which required surgery. Production on the Pirates film was put on hold for several weeks due to the injury, which he initially told doctors he smashed in a door.
On Wednesday, Depp also spoke about a tattoo he got dedicated to Winona Ryder, his Edward Scissorhands co-star whom he dated in the early '90s. The Independent reports that Depp addressed Heard's claim the first time he hit her was in response to something she said about a tattoo. He said he never hit Heard, and explained that she expressed distaste for his "Winona forever" tattoo, which he later changed to "Wino forever." Heard denied she encouraged him to change the tattoo.
She did, however, allegedly encourage him to get a tattoo dedicated to her, and when he did "everything started going sideways." Depp added, "I was doing what I could to bring a smile to her face rather than a frown." He said that he faced "demeaning name calling" from Heard, who he testified on Tuesday "has a need for conflict."
Additionally, he said that she and her friends took MDMA at their wedding. "To be honest with you, I don't know how much MDMA they had but for me, that was—for me to have taken MDMA would have been a waste of the drug, if you understand what I mean. It would have been essentially taking someone else's high, because it wouldn't have an effect on me." When he was asked to answer the question again, he said he had smoked marijuana that day. 
Depp is currently suing Heard for defamation over an article for the Washington Post she wrote in 2018, in which she claimed she was the victim of domestic abuse throughout their relationship. She did not directly name Depp, but her claims in the article are similar to those she's made verbally in court. He is seeking $50 million in damages. She has counter-sued him for $100 million, and accused him of a conducting a "smear campaign."