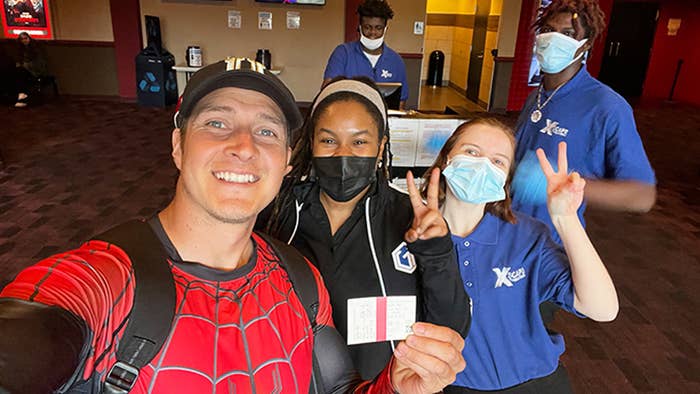 Florida man Ramiro Alanis previously set the Guinness World Record for "most cinema productions attended of the same film," and now he's reclaimed the title with 292 Spider-Man: No Way Home viewings in theaters.
Alanis initially snagged the honor in 2019 by watching Avengers: Endgame 191 times. His record was bested in 2021 when Arnaud Klein watched French film Kaamelott: First Installment 204 times on the big screen. 
As the Guinness World Records website confirmed last week, Alanis spent approximately 720 hours—or 30 fully days—watching the latest Spider-Man to reclaim his title. He estimated that he spent around $3,400 on tickets across three months, from Dec. 16, 2021 to March 15, 2022. At one point during his quest to break the record, he watched five screenings of the movie each day. No Way Home runs two hours and 28 minutes.
As with the first time he set the record, Alanis was not permitted to take naps, use his phone, or go to the bathroom as the movie played. He said it was a challenge to juggle his commitment to breaking the record again and "trying to stay put mentally with work, family." He also had to sacrifice some of his regularly scheduled gym sessions.
Ramiro said that after dedicating an entire month of his life to the blockbuster Marvel Cinematic Universe entry, he can "pretty much recite the dialogue along with the movie." His favorite aspect of the film is "Andrew Garfield and his redemption arc." 
On Twitter, Alanis' "dear French adversary" Klein congratulated him for taking back the title, writing, "I would like to wholeheartedly congratulate the new record holder who has pushed the bar very, very high. … But I'm not giving up the fight! New logistics are already in place!"
Alanis humorously replied in a quote-tweet, "Thank you very much my dear French adversary. I shall warn you if you dare to try and strike again. I'll blow with Mjolnir at 100% this time with no need of sponsors or support from anybody, keeping you from being featured in the GWR book once again."