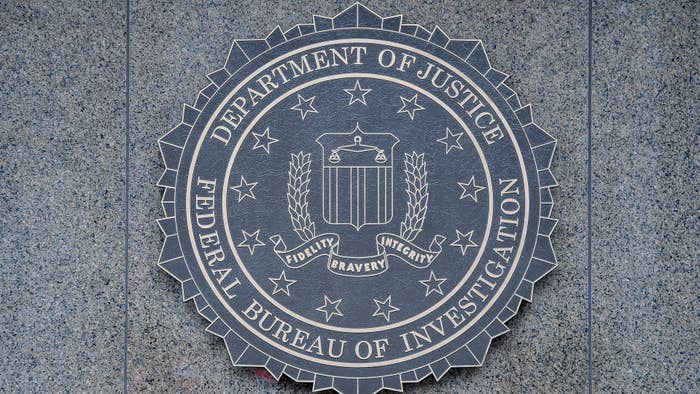 Following Mark Zuckerberg's appearance on The Joe Rogan Experience earlier this week, the FBI has issued a statement in response to comments he made.
The federal law enforcement agency shared a statement on Friday to clarify Zuckerberg's suggestion the FBI, which he called a "legitimate institution," warned him about the spread of potentially dangerous misinformation. "The FBI routinely notifies U.S. private sector entities, including social media providers, of potential threat information, so that they can decide how to better defend against threats," reads the statement, per NBC News. The FBI added that it often provides "foreign threat indicators" to private companies, but it "cannot ask, or direct, companies to take action on information received."
The statement comes as Zuckerberg spoke about Facebook's censorship of a New York post article about the contents of Hunter Biden's laptop. The article made claims the laptop included details of Hunter introducing his father Joe Biden to a Ukrainian energy tycoon, and other alleged corruption regarding his business dealings in the country. The article arrived weeks ahead of the 2020 election, and was also censored on Twitter. The alleged hard drive was passed onto The New York post by Trump's personal lawyer, Rudy Giuliani.
"The background here is that the FBI came to us—some folks on our team—and was like 'hey, just so you know, you should be on high alert. We thought there was a lot of Russian propaganda in the 2016 election, we have it on notice that basically there's about to be some kind of dump that's similar to that,'" said Zuckerberg on the podcast. While some details included in the article could not be verified, both The Washington Post and The New York Times have since verified that at least some of the contents were, in fact, genuine. 
Asked if he regretted censorship of the article, Zuckerberg said that it "sucks" to censor things that turn out to be true but the article remains a "hyper-political issue." "Depending on what side of the political spectrum [you're on], you either think we didn't censor it enough or we censored it way too much," he added. Facebook, unlike Twitter, did not fully censor sharing of the article, and instead chose to limit its spread for a week. 
In a statement shared on Friday, Facebook's parent company Meta said that Zuckerberg previously addressed FBI warnings at a 2020 hearing. The company asserted that his comments are nothing new. 
"As we've said, nothing about the Hunter Biden laptop story is new," said Meta in a statement shared on Friday. "Below is what Mark told Sen. Johnson in Oct 2020 and what Mark told Joe Rogan this week. The FBI shared general warnings about foreign interference–nothing specific about Hunter Biden."
Check out Zuckerberg's original comments on the podcast below.