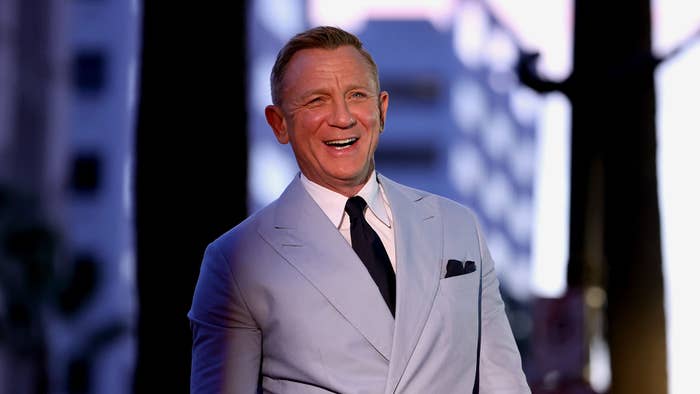 Following the release of his final movie as James Bond, Daniel Craig has opened up about why he prefers to frequent gay bars over hetero establishments.
The No Time to Die actor recently appeared on an episode of the Lunch with Bruce podcast on SiriusXM, and revealed that he's been "going to gay bars for as long as I can remember." Asked why, he suggested that hetero bars often have an uninviting, overly aggressive atmosphere. "One of the reasons, because I don't get into fights in gay bars that often...because the aggressive d*ck swinging in hetero bars, I just got very sick of [it]."
He elaborated that most gay bars he has visited would "just be a good place to go," providing a "chill" and "very safe" place to have fun. "You didn't have to sort of state your sexuality. It was okay," he continued. "And I could meet girls there, cause there are a lot of girls there for exactly the same reason I was there."
Speaking with host Bruce Bozzi, with whom Craig has been friends with for years, the two reflected on the time they were "caught" together in a gay bar in 2010. "For me, it was one of those situations and the irony is, you know, we kind of got caught, I suppose, which was kind of weird cause we were doing nothing fucking wrong," he said of the situation, which was reported on by tabloid outlets when it happened. While Craig wasn't married at the time, he has been married to Rachel Weisz since 2011. 
No Time to Die is out now.
"What happened is we were having a nice night and I kind of was talking to you about my life when my life was changing and we got drunk and I was like, 'oh, let's just go to a bar, come on, let's fucking go out,'" Craig said, chosing to go to gay bar Roosterfish in Venice Beach, California. "And I just was like, 'I know I don't give a fuck,' and we're in Venice. In the conversation he admitted he wanted to move from England to California because of the "magical" vibe, which he noted "was there that night."
Another celebration at a gay club could be on the cards for the actor soon, as No Time to Die earned one of top five largest domestic debuts of 2021 following its opening weekend. Earning $56 million across 4,407 theaters, the movie has now earned over $313 million worldwide. Throughout the COVID-19 pandemic, it was delayed three times.