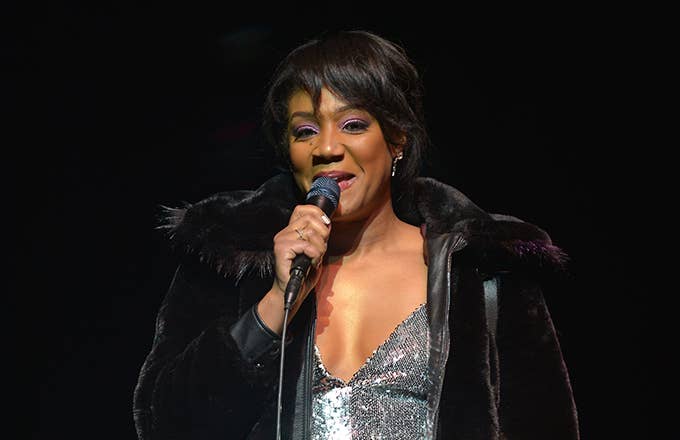 Tiffany Haddish didn't get to kick off the year on a great note, with a performance of hers in Miami bombing pretty badly. Reports of the audience walking out of the venue when she started to forget her routine and failed to stick the landing of a number of jokes surfaced online on New Year's day. Shortly after, Haddish confirmed on Twitter that it went as poorly as the reports indicated. Now, she's receiving some love and support from some of her famous fans.
Kathy Griffin among others responded to Haddish's tweet, writing, "This is the price of fame when you're a comic. I was so lucky that there wasn't a Snapchat/IG when I was starting out on my first big tour. No REAL comic never bombs." She also added that she thinks Haddish is a "hilarious, incredible talent."
Patton Oswalt chimed in with a story of a set he played five years ago, during which he saw around half of the audience walk out. "The comic before me killed SO hard they wanted to go to the bar to him," he tweeted. "It's okay, and this will be a blip on what I promise will be a brilliant career. KEEP GOING." David Cross chimed in, responding to Oswalt's tweet, "Please remember I spent that entire time at the bar encouraging (pleading?) for those folks to go back inside and give you a chance."
When asked about Haddish bombing on stage by TMZ, David Spade said, "I didn't see that but I've been there, yeah." He continued, "I mean New Year's Eve gigs are tough anyway. [...] I mean, it's no big deal, she's a funny comedian."
Marlon Wayans also offered his support, echoing Spade's comments on New Year's Eve sets being particularly difficult. "Stopped mid joke to do a countdown then... GOOD NIGHT," Wayans said of his own NYE set. Questlove and Chrissy Teigen also offered their support, with Questlove tweeting, "Failure is a part of growth and lessons get learned."
In a video obtained by TMZ, Haddish addressed how the set was going while on stage. "This is weird for me," she said. "Now this is going to be on TMZ or whatever." When the venue had almost completely emptied, she asked those left to move near the front as she opened a bottle of Ciroc and began drinking with the audience.