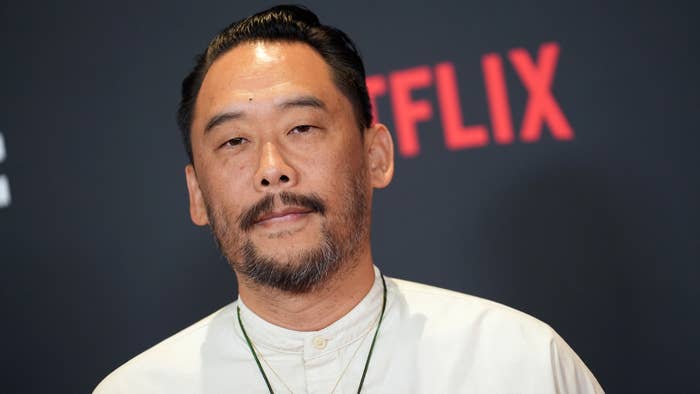 UPDATED 4/21, 5 p.m. ET:Beef's executive producers, which include stars Steven Yeun and Ali Wong as well as creator Lee Sung Jin, have spoken on the troubling David Choe controversy.
In a statement issued to Vanity Fair, the team calls Choe's story "fabricated," claims they've "seen him put in the work," and again cast doubt on the veracity of his remarks by saying he "has apologized in the past for making up this horrific story."
Here's the Beef EPs' collective statement in full:
"The story David Choe fabricated nine years ago is undeniably hurtful and extremely disturbing. We do not condone this story in any way, and we understand why this has been so upsetting and triggering. We're aware David has apologized in the past for making up this horrific story, and we've seen him put in the work to get the mental health support he needed over the last decade to better himself and learn from his mistakes."
For Complex's complete rundown of the situation, head here.
See original story below.
Beef star and artist David Choe is facing backlash after a clip from 2014 of him telling a story about sexually assaulting a massage therapist resurfaced online.
The comments were made on a 2014 episode of his brief DVDASA podcast with adult video star and director Asa Akira. Per Insider, he said he pressured a masseuse to perform oral sex on him. When he first started getting the massage, he said he wanted to ask if he could masturbate before he realized it was "creepy."
"I'm like, wow, that sounds so creepy. So I go back to the chill method of you never ask first—you just do it, get in trouble, and then pay the price later," he said, describing his actions as "rapey." He admitted that it was "disgusting," and then said he forced her to perform oral sex even though she "didn't want to do it." Akira called him out for the story and described it as sexual assault. Choe responded, "The thrill of possibly going to jail is what achieved the erection quest."
Per NBC News, Choe requested takedown notices to Twitter to stop the spread of the clip. In an email sent to Twitter, he allegedly said the clips from the podcast were shared "without our consent." Twitter user Auro Bogado clarified that their tweet was taken down due to a DMCA request from Choe and his non-profit The David Young Choe Foundation.
"On behalf of the David Young Choe Foundation (also known as the Meleka Foundation) and Igloo Hong, Inc the owner of all original DVDASA content, I would like to submit the required information to remove copyright infringing media stored on your platform," the request stated, per The Hollywood Reporter. "Our organization's original media content from the live podcast and video series, DVDASA (2013-present) produced, owned and featuring artist and performer, David Choe, was downloaded illegally and has been uploaded and shared publicly on Google Drive…. Original sources of material are from our DVDASA YouTube account and website, which have since been made private to prevent more of these illegal re-uploads."
Choe is part of the main cast of Beef, the critically acclaimed dark comedy series starring Steven Yeun and Ali Wong. He portrays ex-convict Isaac Cho and also painted the title cards for nine of the ten episodes of the series. Following the success of Beef, the controversial moment has started to circulate on social media to widespread criticism. 
Many called out Netflix and the creative team behind Beef for platforming Choe despite his history of problematic comments. Choe previously said on The Joe Rogan Experience that he was personally reached out to by Wong and Yeun to star in the show
After the episode of the podcast debuted in 2014, Choe apologized for his comments and said the described event was fictitious. He said it was "a complete extension of my art," and was "bad storytelling the style of a douche." In his apology, he denied accusations that he sexually assaulted an unnamed woman. "I never thought I'd wake up one late afternoon and hear myself called a rapist. It sucks. Especially because I am not one," he wrote in a since-deleted apology. "I am not a rapist. I hate rapists, I think rapists should be raped and murdered." 
The clip resurfaced in 2017, and he apologized for his comments once again. "In a 2014 episode of DVDASA I relayed a story simply for shock value that made it seem as if I had sexually violated a woman," he said. "Though I said those words, I did not commit those actions. It did not happen. I am deeply sorry for any hurt I've brought to anyone through my past words. Non-consensual sex is rape and it is never funny or appropriate to joke about."