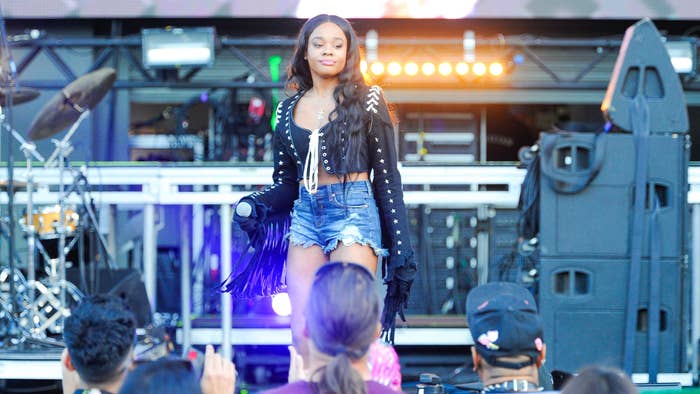 Azealia Banks is facing criticism after she commented on the death of DC Young Fly's longtime girlfriend Ms. Jacky Oh.
"Damn, DC Young Fly spent years disguising his own deeply rooted hatred of self as jokes pointed at women's beauty, projecting his own feelings about his own ugliness unto women perfectly secure in their own skin," Banks wrote in a post on her Instagram Stories on Wednesday. "Say what you want about my tears. They were pure tears of rage. And not at all a sign of weakness. Because in the end... I won. I'm happy I cried and moved on. That Jackie O [sic] girl must have been so deeply insecure about herself."
Banks previously made an appearance on Wild 'N Out in 2018 alongside DC Young Fly, during which he called the "Anna Wintour" rapper "ugly" as part of a rap battle. At the time, she criticized his comments as "anti-Black."
"The nerve of DC to call such a gorgeous woman as Azealia Banks... ugly on national television while a bunch of black people laughed," Banks continued.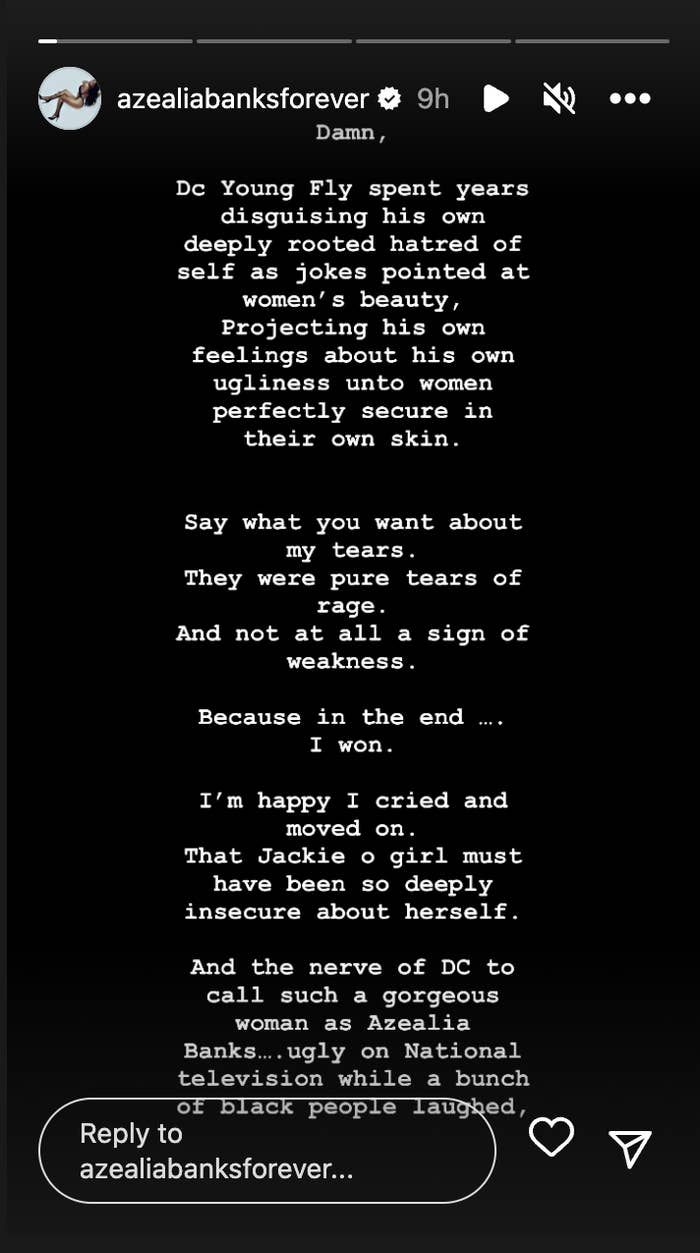 "And ironically, dead at 32 exactly on my 32nd birthday, May 31st, 2023," Banks added. "In Miami, FL. You n****s are going to learn to stop fucking with me. ... I don't think anyone gets how much the press from that episode de-railed the success of 'Anna Wintour.' I came to sing my song and go home and only at the request of my label. Then the stupid butch queens on stage behind me basically making it a mockery of it being a 'gay' song fake voguing behind me in their durags like they aren't all RAGING homosexuals."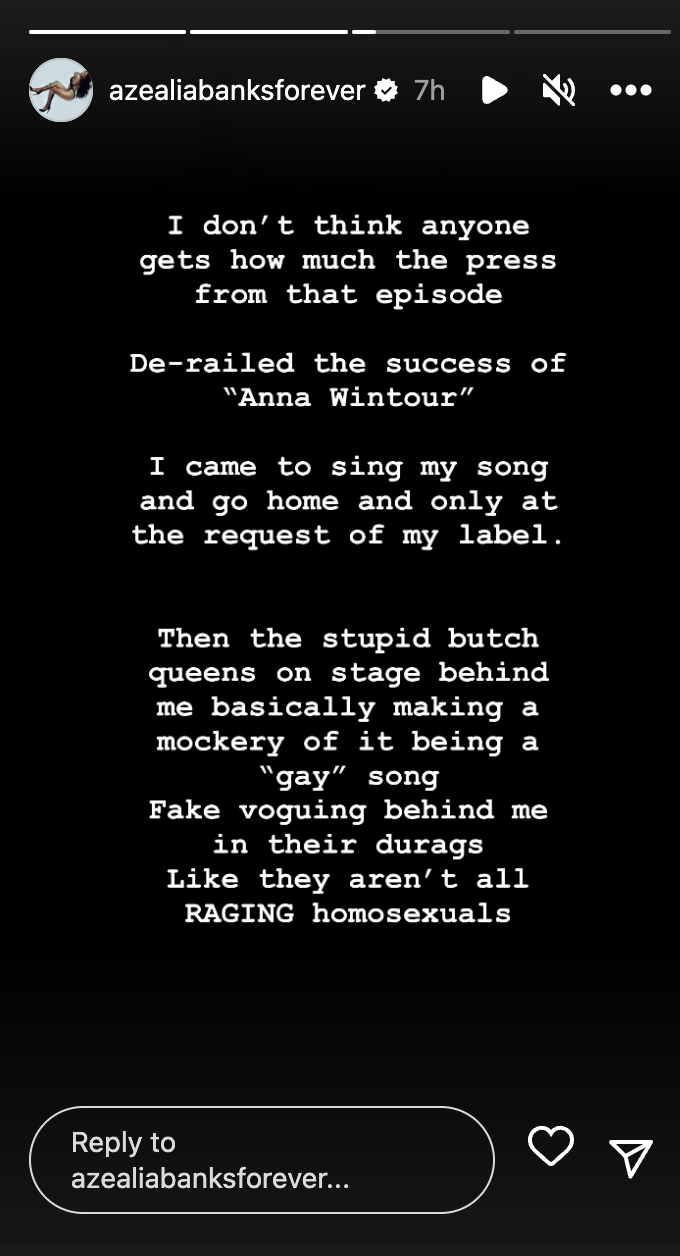 In a final post on the matter, Banks wrote that the "thorn" in her side was "finally out" as a result of Jacky Oh's death, which she suggested was karma for DC Young Fly's comments. "No way in hell I was blessed with this many gifts, this much talent and beauty to be a cultural punching bag for a cast of peons who wouldn't have a pot to piss in if they didn't have the court of social media addicts to jester for," she wrote. "I do this in real life dicklickers. Haha. Ashe."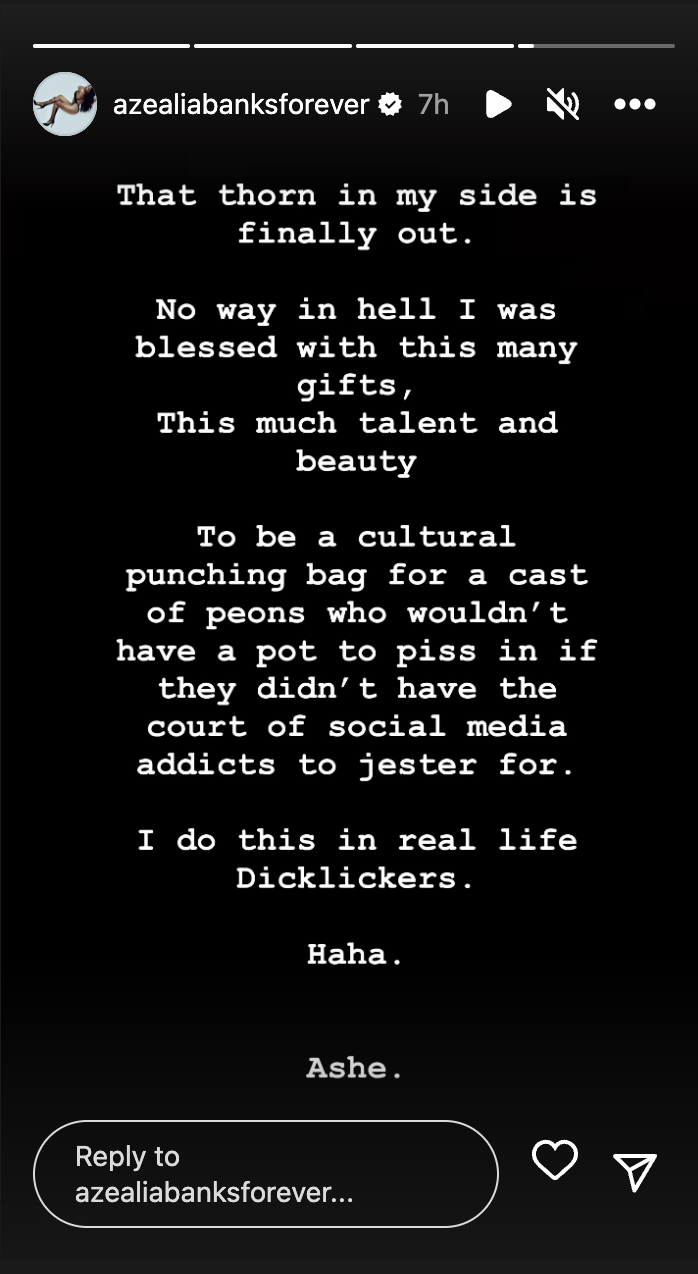 The comments were met with a swift backlash online, with people pointing out that it wasn't just Young Fly who lost a partner with Jacky Oh's death, but their three children also lost a mother.
Jacky Oh died at age 32, with sources telling TMZ that she was in Miami at the time of her death. She recently announced plans to travel to Florida to undergo a "mommy makeover," indicating surgery procedures.
Following the news of Oh's death, many of her friends publicly mourned the loss. "It is with sadden [sic] hearts we share with you that Jacklyn aka MsJackyOh has passed away on Wednesday, May 31st 2023," a statement from Oh's family read. "Our family is still processing this very tragic and unexpected loss; we ask that you please give us privacy during this time. Signed, The X and Bat Family and Papa Bat."
Banks' latest comments come not long after she roasted "lame poser" Matty Healy for laughing at jokes about Ice Spice, and his rumored relationship with Taylor Swift. The couple have since reportedly split.