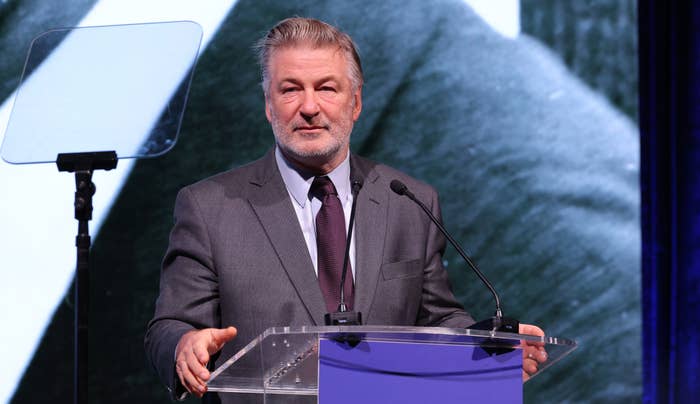 UPDATED 4/20, 3:50 p.m. ET: The criminal charges against Baldwin in the death of cinematographer Halyna Hutchins on the set of Rust have been dropped, the New York Times reports.
The two counts of involuntary manslaughter have been dropped just two months after the gun enhancement charge was also dropped. "We are pleased with the decision to dismiss the case against Alec Baldwin and we encourage a proper investigation into the facts and circumstances of this tragic accident," said his attorneys Luke Nikas and Alex Spiro.
Production on Rust resumed on Thursday in Montana. Attorneys have confirmed that the production will continue without any ammunition or working weapons on set. Hutchins' widower Matthew is serving as an executive producer. 
Baldwin took to Instagram after the news, posting a photo of himself and wife Hilaria, writing, "I owe everything I have to this woman. (and to you, Luke)."
UPDATED 2/20/23, 1:00 p.m. ET: The Santa Fe District Attorney's Office has decided to drop the gun enhancement charge against Alec Baldwin, which if he was convicted, Baldwin would have faced a five-year sentence. Hannah Gutierrez-Reed also saw the charge dropped against her, per the New York Times. They both still face a charge of involuntary manslaughter for the shooting death of Halyna Hutchins.
See original story below.
Alec Baldwin and Rust weapons handler Hannah Gutierrez Reed will be charged with involuntary manslaughter in the death of cinematographer Halyna Hutchins, Variety reports.
Prosecutors will charge Baldwin, who fired the shot that killed Hutchins during the production of the low-budget western, and armorer Gutierrez Reed, who loaded the weapon, on Thursday. The two have been hit with two counts of involuntary manslaughter each, which carry a maximum sentence of 18 months in jail. Rust first assistant director Dave Halls, meanwhile, has agreed to plead guilty to a charge of "negligent use of a deadly weapon," and will avoid jail time but serve six months of probation.
"If any one of these three people — Alec Baldwin, Hannah Gutierrez Reed or David Halls — had done their job, Halyna Hutchins would be alive today," said prosecutor Andrea Reeb. "It's that simple. The evidence clearly shows a pattern of criminal disregard for safety on the 'Rust' film set. In New Mexico, there is no room for film sets that don't take our state's commitment to gun safety and public safety seriously."
In the investigation into Hutchins' death, which occured in October, 2021, Baldwin has insisted that Halls told him the weapon was "cold" and only contained dummy rounds. It was found that the weapon contained one live bullet, which fatally hit Hutchins in the torso and struck director Joel Souza in the shoulder. Hutchins was taken to a nearby hospital in Albuquerque and was later pronounced dead. Baldwin has argued he was not to blame, and accused Halls, Gutierrez-Reed, and others for Hutchins' death.
"We want to thank the Santa Fe Sheriff and the District Attorney for concluding their thorough investigation and determining that charges for involuntary manslaughter are warranted for the killing of Halyna Hutchins with conscious disregard for human life," said Brain Panish, the attorney for Hutchins' widower and son. "Our independent investigation also supports charges are warranted. It is a comfort to the family that, in New Mexico, no one is above the law. We support the charges, will fully cooperate with this prosecution, and fervently hope the justice system works to protect the public and hold accountable those who break the law."
In a statement released on Thursday, Baldwin's attorney, Luke Nikas, described the charges against his client as a "terrible miscarriage of justice" that "distorts Halyna Hutchins' tragic death" on the set of Rust. "Mr. Baldwin had no reason to believe there was a live bullet in the gun – or anywhere on the movie set," Nikas said. "He relied on the professionals with whom he worked, who assured him the gun did not have live rounds. We will fight these charges, and we will win."