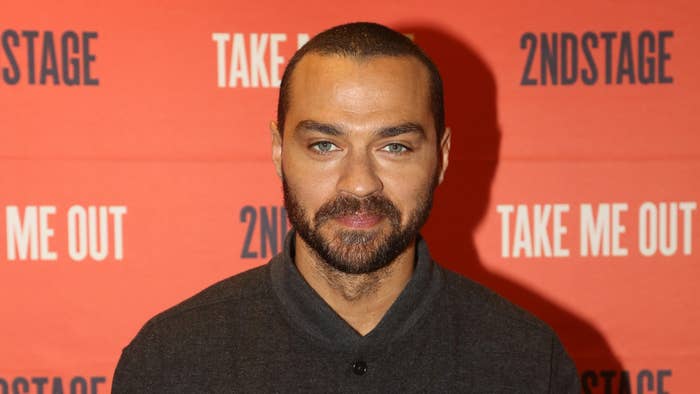 UPDATED 5/14, 8:40 p.m. ET: Jesse Williams says he won't be deterred by his recent nude leak.
"I'm not down about it. Our job is to go out there every night, no matter what," the actor the Associated Press this week. "I'm not really worrying about it. I can't sweat that. We do need to keep advocating for ourselves. And it's wonderful to see a community push back and make clear what we do stand for, what we don't. Consent is important, I thought. So, let's keep that in mind universally."
He continued: "Theater is a sacred space, and everybody doesn't understand that. Everybody doesn't necessarily respect or regard that in a way that maybe they should, or we'd like."
See the original story from 5/11/2022 below.
The Actors' Equity Association has described a leaked video of Jesse Williams' nude scene while performing in Take Me Out as a "breach of consent."
The leaked clip featured Williams completely nude during a scene from the play as it was performed at the Second Stage Theater in New York City. An audience member was somehow able to record and share the moment, despite the theater collecting audience members' phones before performances. Williams, whose current Tony nomination is one of four for the show, was trending on social media as a result of the leaked clip. 
"We condemn in the strongest possible terms the creation and distribution of photographs and videos of our members during a nude scene," said Actors' Equity president Kate Shindle. "As actors, we regularly agree to be vulnerable onstage in order to tell difficult and challenging stories. This does not mean that we agree to have those vulnerable moments widely shared by anyone who feels like sneaking a recording device into the theater. Whoever did this knew not only that they were filming actors without their consent, but also that they were explicitly violating the theater's prohibition on recording and distribution."
The Actors' Equity Association is a labor union with over 50,000 members, representing live theatrical performers across the country.
"At every performance, there is a mutual understanding between the audience and the performers that we are sharing an experience limited to this time and place; that trust makes it possible for us to be exposed both emotionally and physically," the statement continued. "Trampling on this agreement by capturing and distributing these photographs and videos is both sexual harassment and an appalling breach of consent. It is a violation that impedes our collective ability to tell stories with boldness and bravery."
Second Stage Theater, where the play was performed, stressed that the venue worked with the Take Me Out production team to ensure a "phone-free space with locked phone cases at all performances." The theater has confirmed it is pursuing takedown requests, and has asked for no one to spread the video any further. The New York Times reported that the theater "installed a new infrared camera on Wednesday to help its security team spot surreptitious camera usage." Discussions are underway, per director of production Peter Dean, as to "whether we would then stop the show, or send an usher or security when we see someone, to remove them." Follow-ups could include a request to delete any illegal footage and/or NYPD involvement.
The NYT added that Williams, via his spokeswoman, declined to comment.
Williams' co-star in the play, Modern Family veteran Jesse Tyler Ferguson, reposted Second Stage's statement on the matter and condemned the illicit recording of the scene.
"I'm appalled by the disrespect shown to the actors of our company whose vulnerability on stage ever night is crucial to Take Me Out. Anyone who applauds or trivializes this behavior has no place in the theater which has always been a safe space for artists & audience members," he added. "And truly, if nudity is what you are coming for...you are in for a long boring night. It's within a challenging 2 and a half hour play with big ideas, beautiful language & remarkable acting from a company of 11 actors that you will have to sit thru as well. You'll be bored. Trust." 
Though he has yet to address the leak, on a recent episode of Watch What Happens Live, Williams answered a question about his nude scene.
"Everyone around me [was] going, 'Are you serious? Are you sure? Nude, nude? Naked?' And everybody makes such a big deal," he said. "It's a body. Once you see it, you realize, whatever. It's a body. I just have to not make it that big of a deal."
Check out what Williams had to say about the challenges of nudity onstage below.