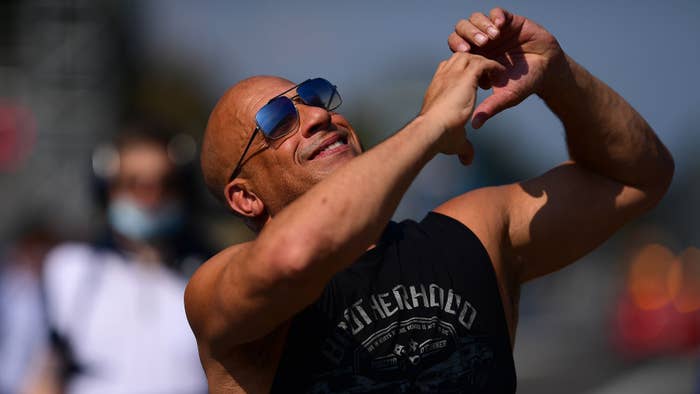 Vin Diesel is seemingly ready to squash his public back-and-forth with Dwayne Johnson for the sake of a franchise close to his heart.
The action star took to Instagram Sunday and called on the other action star to reunite with him and "fulfill your destiny" for the upcoming Fast 10, which he called the franchise's "finale." Universal has already set the Fast curtain call for April 7, 2023, with sources telling Deadline that Diesel is likely to announce the film's title in the near future. 
"My little brother Dwayne… the time has come," Diesel wrote. "The world awaits the finale of Fast 10. As you know, my children refer to you as Uncle Dwayne in my house. There is not a holiday that goes by that they and you don't send well wishes… but the time has come."
The actor-turned-music-artist continued, sharing that "legacy awaits" and that he "was going to fulfill my promise to Pablo."
"I swore that we would reach and manifest the best Fast in the finale that is 10! I say this out of love… but you must show up, do not leave the franchise idle you have a very important role to play," Diesel said. "Hobbs can't be played by no other. I hope that you rise to the occasion and fulfill your destiny."
This latest IG post comes amid new developments in the pair's ever-evolving, "candy-ass" fued, when The Rock told Vanity Fair in his November 2021 cover story that the Diesel's explanation of "tough love" on the franchise's set was "bullshit."
"One part of me feels like there's no way I would dignify any of that bullshit with an answer," Johnson said. "I've been around the block a lot of times. Unlike him, I did not come from the world of theater. And, you know, I came up differently and was raised differently."
Johnson seems pretty set on steering clear of his former co-star, even admitting that the only way he could have returned for the series' eighth installment was that he and Diesel shared no scenes together. As he puts it, it was "just crystal clear that we are two separate ends of the spectrum," so it should be interesting to see if Diesel's post provokes any reunions.