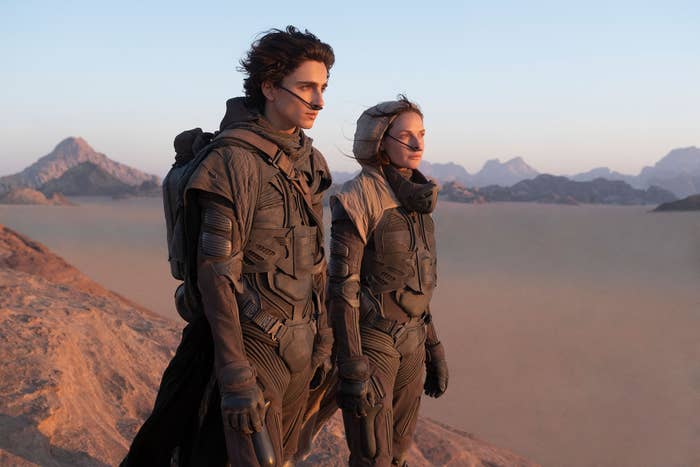 Dune just celebrated its opening weekend, but that doesn't mean it's too soon for a sequel announcement. 
Legendary—the production company behind the sci-fi picture starring Timothée Chalamet, Oscar Isaac, Jason Momoa, Rebecca Ferguson, Josh Brolin, Zendaya, Dave Bautista, Javier Bardem, and more—announced Tuesday that Dune: Part Two is on the way. 
"This is only the beginning," Legendary tweeted. "Thank you to those who have experienced [Dune] so far, and those who are going in the days and weeks ahead. We're excited to continue the journey!"
The ball was in Legendary's court from the get-go in Denis Villeneuve's film, which presents itself as Dune Part One right away. As Villenevue has been set on making a sequel happen, a green light seemed even more likely after the film opened this weekend with $40.1 million at the domestic box office. While the numbers pale in comparison to any films Marvel released this year, Dune still opened with HBO Max subscribers having the ability to view it at home, and has earned $220 million globally. 
The news of the follow-up was also shared by Chalamet, who posted what appears to be an early movie poster, featuring only an orange view and the title in the now-recognizable Dune font. 
Deadline reports that the new film will see an Oct. 20, 2023 theatrical release.
"I just received news from Legendary that we are officially moving forward with Dune: Part Two," the filmmaker said in a statement to the publication. "It was a dream of mine to adapt Frank Herbert's Dune, and I have the fans, the cast, and crew, Legendary and Warner Bros. to thank for supporting this dream. This is only the beginning."