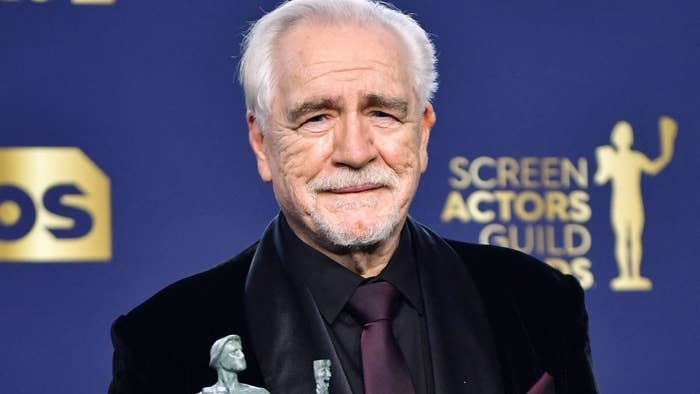 Succession won big at this year's Screen Actors Guild Awards, so when actor Brian Cox hit the stage alongside his cast members to accept the award for Best Ensemble in a Drama Series, he wanted to make a big statement. 
During his speech, Cox condemned the Russian invasion of Ukraine and called it "really awful," as he touched on a subject less discussed, saying that it was "affecting the other people, particularly in our profession."
"The president of Ukraine was a comic. He was a wonderful comic performer. And we should respect that for him. And to come to the presidency was amazing. But the thing that's really distressed me is what's happening in Russia to my fellow actors and actresses and performers and writers and critics," Cox said. "They are told, under pain of high treason, that they cannot say a word about Ukraine. And I think that is pretty awful. And I think we should all stand together. And also for those people in Russia who don't like what's going on, particularly the artists, I think we should really join in celebrating them and hoping they can actually make a shift, as I believe they can."
Earlier in the night, Leslie Odom Jr. opened the show by offering prayers for the people of Ukraine. "While tonight is a celebration, we are all at the same time holding a place in our hearts for the people of Ukraine and sending our thoughts, prayers and hopes for impending peace," he said.
As IndieWire reports, the Ukrainian Film Academy called for global film festivals to avoid films made in Russia, and to prevent European film financing organization access, calling such movies "the culture of the aggressor state, which unleashed unjustified and unprovoked war in central Europe." 
"Several films made by Russia are regularly admitted to the programs of most world film festivals, and significant resources are spent on their promotion," the Academy wrote. "The result of this activity is not only the spread of propaganda messages and distorted facts. It also boosts the loyalty of Russian culture — the culture of the aggressor state, which unleashed unjustified and unprovoked war in central Europe."