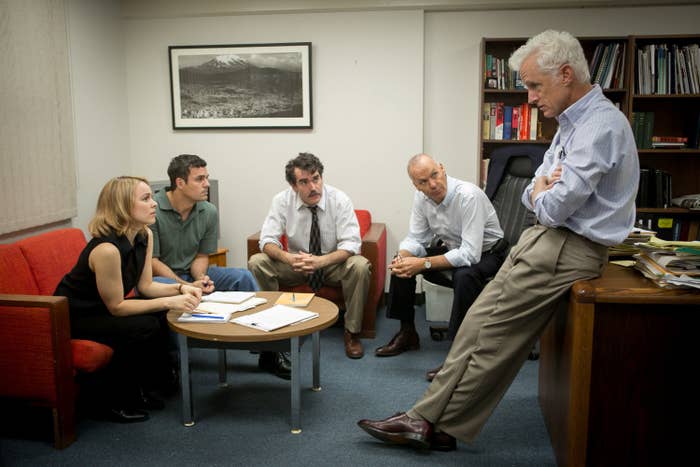 If you haven't heard, journalism is having a bit of a crisis. One of our most revered institutions is being attacked constantly by the President and other powerful figures. While the future of journalism doesn't look too bright right now, we can thankfully journey back to a past that was a bit better for journalists through the movies.
One of the most important jobs in any democracy, journalism has played a sizable role in the world of cinema. It's a bit strange, since journalism is tricky to portray in cinematic terms; it's not exactly riveting to watch people typing at computers (or on typewriters), and rest of the generally slow methodical practice of researching and writing articles. But movies like Spotlight and All The President's Men manage to capture these aspects of journalism while still managing to be exciting, well-made, and easily understood by the average moviegoer.
The genre "journalism movies" includes both all time classic movies as well as recent, modern triumphs, with genres ranging from psychological thriller to romantic comedy to biopic. Maybe our fascination with journalism movies corresponds with a need to look smart. Maybe it's rooted in an obsession with chasing the truth about our world. Or maybe it's just rooted in the idea of watching competent, smart people take down bad people. These are the best journalism movies.
All The President's Men (1976)
Director: Alan J. Pakula

Stars: Robert Redford, Dustin Hoffman, Jason Robards
The granddaddy of all journalism movies, All The President's Men set the gold standard that all movies about journalism are still held to today. All The President's Men takes place during the Watergate scandal, as Washington Post reporters Carl Bernstein (Dustin Hoffman) and Bob Woodward (Robert Redford) investigate the events that would eventually cause then-president Richard Nixon to resign from office. The movie is half meticulous procedural about the newspaper industry, half chilling political thriller, coming together to create an instant paranoid classic that captured the mood of America during Watergate. The lead performances by Hoffman and Redford are also two of the best performances of their respective careers. All The President's Men was nominated for several Academy Awards, winning Best Screenplay and Best Supporting Actor (Jason Robards).
Almost Famous (2000)
Director: Cameron Crowe

Stars: Patrick Fugit, Kate Hudson, Billy Crudup
Almost Famous follows teenage Rolling Stone journalist William Miller (Patrick Fugit) in the 1970s as he covers fictional band Stillwater in order to get a cover story published. Like Crowe's previous Jerry Maguire, this coming of age tale (which is loosely based on his own life) captures Crowe's sense of complicated humanism, as Miller learns that there's more to rock music than hero worship. Kate Hudson gives one of her best and most nuanced performances as Penny Lane, a Stillwater roadie who's wise beyond her years, but frequently disrespected by the band. Philip Seymour Hoffman is also great as Miller's mentor Lance Bangs, the real life famed music journalist. A movie expressly about following your passions, wherever they may lead, Almost Famous is both idealistic and realistic in its portrayal of journalism.
Broadcast News (1987)
Director: James L. Brooks

Stars: Holly Hunter, Albert Brooks, William Hurt
Loosely based on the life of journalist and news producer Susan Zirinsky, Broadcast News is a romantic comedy-drama centered on a network news team. The film follows Jane Craig (Holly Hunter), a talented news producer, who begins to fall in love with a vapid new anchorman (William Hurt) who represents everything she opposes, all while her best friend and talented reporter Aaron Altman (Albert Brooks) is secretly in love with her. Not just a romantic comedy, Broadcast News is also a strong examination of journalistic ethics, satirizing televisual journalistic practices. The film is also a complex character study, expertly examining its three main characters as they navigate their messy professional and personal lives. Broadcast News was one of the best reviewed films of 1987 and received several Academy Award nominations, including Best Picture and acting nominations for Hunter, Hurt, and Brooks.
Citizen Kane (1941)
Director: Orson Welles

Stars: Orson Welles, Joseph Cotten, Dorothy Comingore
Considered one of the best films of all time, Citizen Kane recounts the complex life of newspaper magnate Charles Foster Kane (Orson Welles) as reports attempt to discover the meaning behind his last word before his death: "rosebud." Kane is loosely based on William Randolph Hearst, and there were enough similarities that Hearst demanded that there would be no mentions of the film in any of his papers. Citizen Kane is a cautionary tale about the excesses of power; Kane starts a career in the publishing world with an idealistic mindset, he eventually gives into the pursuit of power and engages in frequent yellow journalism, exaggerating and sensationalizing stories to sell papers. A brilliant rags to riches story about the print industry, Citizen Kane is one of the greatest movies of all time.
The Insider (1999)
Director: Michael Mann

Stars: Al Pacino, Russell Crowe, Christopher Plummer
Based on the Vanity Fair article "The Man Who Knew Too Much", The Insider tells the real life story of Jeffrey Wigand, a whistleblower in the tobacco industry. The movie follows Wigand (Russell Crowe) as he is persuaded by TV news producer Lowell Bergman (Al Pacino) to share knowledge about the tobacco industry, despite legal obstacles and death threats. Michael Mann's incredible direction and writing make the story a tense film that examines the looming power of corporations at the turn of the millennium. Crowe gives one of his best performances as the constantly unnerved Wigand, and Pacino is typically great as Bergman. A tight political thriller about adhering to your own principles and doing what's right, The Insider is one of Michael Mann's best.
Network (1976)
Director: Sidney Lumet

Stars: Peter Finch, Faye Dunaway, Robert Duvall
Many people know the line "I'm mad as hell, and I'm not gonna take it anymore!", but few know that it comes from prescient media satire Network. Though barely a satire in today's climate, Network is still an excoriating look at television news. The film follows anchorman Howard Beale (Peter Finch) who, after learning he's been fired, threatens to kill himself live on air, which leads to a huge ratings boost. Ambitious producer Diana Christensen (Faye Dunaway) takes advantage of his stunt, using it to produce even more outrageous programming for the network. It's a well-written and well-performed film that still resonates today in its examination of the lengths that the popular media will go to in order to make a buck, often at the expense of journalistic integrity. Network notably won four Academy Awards, including a posthumous Best Actor award for Peter Finch, Best Actress for Dunaway, and Best Original Screenplay.
The Post (2017)
Director: Steven Spielberg

Stars: Tom Hanks, Meryl Streep, Sarah Paulson
The Post is also a political thriller/biopic about The Washington Post. The film highlights Katharine Grahame (Meryl Streep), the first female publisher of a major American newspaper, and Washington Post executive editor Ben Bradlee (Tom Hanks) as their team of journalists attempts to publish the Pentagon Papers, classified documents regarding the involvement of the U.S. in the Vietnam War. The Post boasts an incredible ensemble of actors beyond Hanks and Streep, including Sarah Paulson, Bob Odenkirk, Matthew Rhys, Carrie Coon, and many others. The film finds Spielberg in typically great form, directing not only slew a lot of top tier actors but also making the film visually captivating. The Post garnered Academy Award nominations for Best Picture and a Best Actress nom for Meryl Streep.
Shattered Glass (2003)
Director: Billy Ray

Stars: Hayden Christensen, Peter Sarsgaard, Chloe Sevigny
A biographical crime drama based on a memoir, Shattered Glass tells the true story of The New Republic reporter Stephen Glass (Hayden Christensen). In the mid-1990s, Glass was a fast rising reporter, frequently generating humorous stories that caused rebuttals from his subjects. His colleagues stood by him, though, until it was revealed that he had participated in journalistic fraud, fabricating more than half of his articles. Hayden Christensen is great as the unnerving Glass, proving that given the right character, he shines. The film also goes to great lengths to not sensationalize Glass, and simply portray him as the great reporter he appeared to be, and then the liar he was revealed to be. Shattered Glass is the rare riveting movie about ethics in journalism.
Spotlight (2015)
Director: Tom McCarthy

Stars: Michael Keaton, Mark Ruffalo, Rachel McAdams
Focusing on The Boston Globe "Spotlight" team in the early 2000s, Spotlight is one of the most critically acclaimed movies of the 2010s. The film follows the team as they investigate the systemic child sex abuse committed by numerous Roman Catholic priests in the Boston area. This investigation famously led to mainstream media coverage of sexual abuse within the Catholic Church at the beginning of the new millennium. As directed by Tom McCarthy and written by Josh Singer, Spotlight is a harrowing and efficient look at the process that the journalists (as played by Michael Keaton, Mark Ruffalo, and Rachel McAdams, among others) took to properly expose these horrific crimes. Spotlight won Best Picture at the Academy Awards, as well as Best Original Screenplay.
Zodiac (2007)
Director: David Fincher

Stars: Jake Gyllenhaal, Mark Ruffalo, Robert Downey Jr.
One of David Fincher's best films, Zodiac centers on the true story of the manhunt for the Zodiac Killer in the late '60s and early '70s. The film follows political cartoonist Robert Graysmith (Jake Gyllenhaal), crime reporter Paul Avery (Robert Downey Jr.), and San Francisco police detective Dave Toschi (Mark Ruffalo), as they all become obsessed with uncovering the identity of the Zodiac Killer and bringing him to justice. Zodiac is remarkable for its attention to historical detail, specifically how the Zodiac Killer regularly taunted the police by sending bloodstained clothing and encoded letters to newspapers. Hauntingly directed and boasting beautiful cinematography, Zodiac is a well-crafted tale about journalists obsessed with justice, often at the expense of their own personal lives. Zodiac makes this pursuit of truth both suspenseful and satisfying, despite the fact that the true identity of the Zodiac Killer is still unknown to this day.