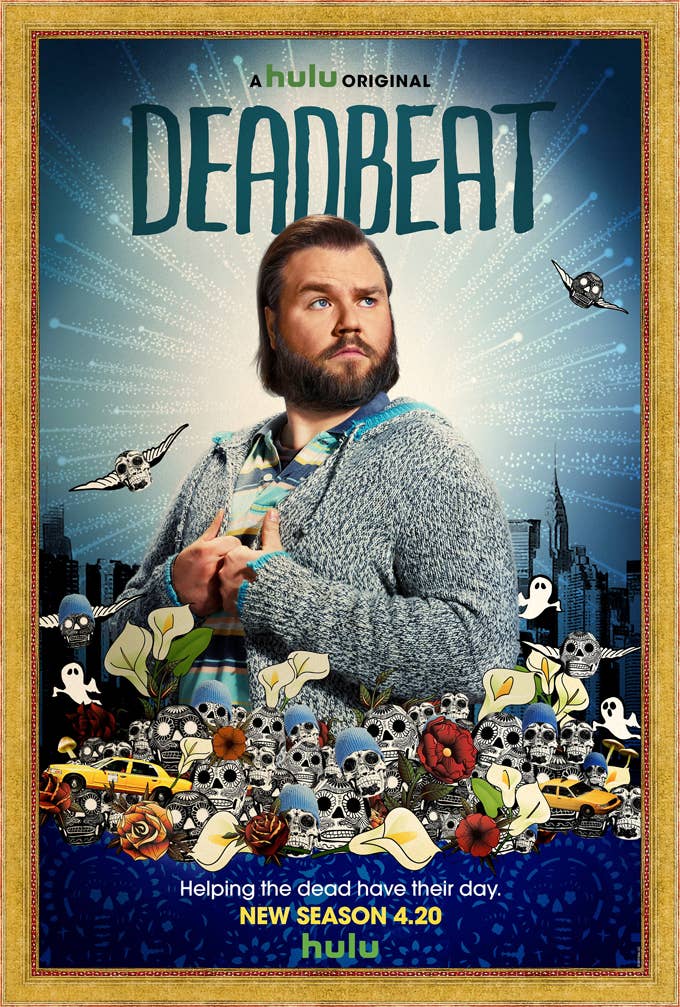 Attention: your favorite medium-for-hire has returned, and we've got some exclusive art to prove it. Deadbeat, starring Tyler Labine, Brandon T. Jackson, Lucy DeVito and Cat Deeley (yes, the host of So You Think You Can Dance), hits Hulu for a second season on April 20, or, as the show's resident drug dealer "Roofie" likely refers to it, the high holiday 4/20. 
After a solid first season, Deadbeat is coming back with some brand new romance, the usual stoner hijinx, and of course, a sufficient amount of action from the afterlife. Until the show returns next week though, feast your eyes on that beautiful art above—take it all in and prepare for 4/20. Or, you know, check out the Season 2 trailer below:
Created by Cody Heller and Brett Konner (Wilfred, The Inbetweeners), "Deadbeat" is produced by Lionsgate Television in association with Brad Pitt's Plan B Entertainment and Dakota Pictures. The supernatural comedy is executive produced by showrunner Dan Lagana (Zach Stone is Gonna Be Famous), Cody Heller, Brett Konner and Plan B's Dede Gardner and Jeremy Kleiner. Co-executive producers are Sarah Esberg, Don Poquette, and David Baldy.