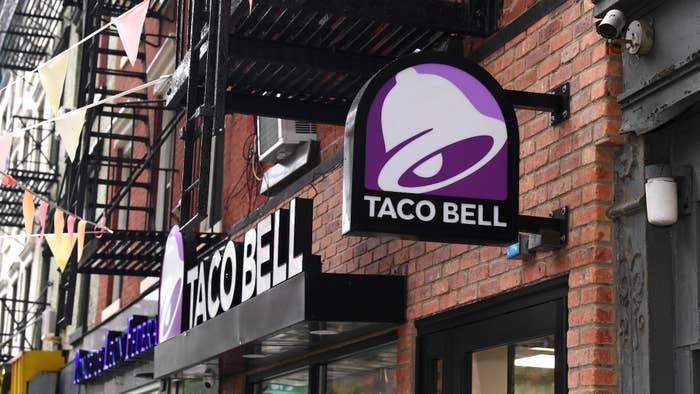 Glen Bell's initial foray into fast food started with hot dogs. Then, hot dogs and hamburgers. Eventually, after watching long lines form at the Mexican restaurant across the street, Bell decided to take on a different type of sandwich: the taco. While Chick-fil-A, McDonald's and Burger King were trying to out-sandwich each other, Bell was innovating, giving people something they didn't even know they needed yet. 
Since its launch, the Taco Bell fast-food chain has experimented with typical Tex-Mex ingredients to give us more. Each new Taco Bell menu item causes us to wonder how simple ingredients like beans, cheese, and tomatoes are still used to stun us senseless. With the ability to substitute beans for Taco Bell meat (ground beef) on virtually any menu item, vegetarians are able to enjoy a wealth of options as well. 
From the Beefy 5-Layer Burrito to the XXL Grilled Stuft Burrito to the Cinnabon Delights, Taco Bell has cult favorites that, if brought back, would have fast foodies flocking to the drive thru like moths to a flame. Though the classic ingredients are reason enough to come back, the price point is a source of comfort as well. With cheap specialty items, secret menu items, and a solid Dollar Cravings menu, it only makes sense that we keep coming back. 
Taco Bell keeps us on our toes with new freeze flavors, $5 Cravings Box offerings, and limited edition menu items that are gone in a flash. It's no wonder why 1993's  Demolition Man projected Taco Bell to be the last restaurant standing in the "franchise wars." These are the best Taco Bell items of all time.
Tender, shredded chicken, rice, and avocado ranch sauce with a flour tortilla rolled into a burrito make everything about this menu item absolutely worthwhile. Extra sauce can really clinch it, if that's something you're into. I would argue that there's no wrong way to eat this burrito, but I'm sure one of you will come up with something.
One of the best Taco Bell items is the Mexican Pizza. The classic Taco Bell treat comes with a lot of sauces, so it doesn't travel great or do well maintaining its structural integrity if you're a slow eater. But honestly, if you're looking to ride around with your food instead of devouring it immediately, why are you going to Taco Bell?
The quesarito showcases some of Taco Bell's finest innovation. This was a menu item that genuinely made me stop and think, "Taco Bell can do anything." The level of galaxy brain thinking required to combine a quesadilla and a burrito into one collaborative effort takes absolute genius. The quesarito deserves love, care, and respect from anyone consuming it.
Potatoes have always been a GOAT food, but something beautiful and unique about Taco Bell is their ability to take the tuber further. French fries are great in their various forms and shapes, but the crispness of Taco Bell's potatoes folded into nacho cheese rivals any fast food potato-based concoction.
Rest in peace, Enchirito. This enchilada-burrito hybrid was pulled from Taco Bell menus in 2013, and is still missed to this day. There are alleged "hacks" for ordering the Enchirito in a roundabout way, but it's only a seasoned Taco Bell employee would even know what you're talking about.
A sorely neglected side item that only wants to treat you right. Beans and cheese require no effort on your part, other than a willingness to accept food without frills or judgement. Pintos N Cheese will hold you down when you're looking to add just one more item to your back; something you want but didn't know you truly needed.
These golden darlings should be purchased with any Taco Bell order. Would you order a burger without fries? If so, okay, fine…I guess that's your right. But you shouldn't. Cheesy Fiesta Potatoes teach you to demand more from your fast food dining experience, and who are you to deny them?
12. CinnaTwists
Vegetarians, stand up! In our list of best taco bell items, the 7 Layer Burrito is a winner. The 7 Layer Burrito was specifically made for vegetarian Taco Bell customers, because not eating meat should never mean limited options. Refried beans, rice, and cheese are the main power players here, so trust me when I say that you won't be missing out. Isn't that what we all deserve?
Don't sleep on this one (seriously—Taco Bell breakfast doesn't last all day)! Taco Bell decided to join the breakfast market just a few short years ago, and has introduced menu items with fluffy eggs, your choice of meat, sour cream, and pico. The breakfast burrito is certainly not a new invention, but this curious direction has brought us all a new reality: Living Más at 10 a.m.
Nachos are another non-traditional menu item for fast food, and knowing you can get them until past midnight is a comfort we all deserve to have. Truly, any Taco Bell item with the word 'supreme' in the name is guaranteed to hit the spot. Due to the nacho cheese and sour cream spread, this is another item that will get soggy quick, so you have to eat fast, which hopefully won't be a problem.
There is a half pound of meat on this chalupa. If you just asked "Why?" you must not know that this item was brought out of retirement. The taco shell had to be specifically designed to carry double of all the ingredients. Who knows how long this one will stick around this time; you should probably just run out and grab yourself a double chalupa.
In addition to the variety of fountain drink options, Taco Bell has freezes. The Baja Blast freeze is a staple in our list of best taco bell items. Every month or so a limited edition freeze graces us with its presence. Currently it's Green Apple, but past flavors have included Orange Creamsicle, Blue Raspberry Airhead, and Strawberry Starburst. A beverage can really cement a meal, so why not go all out?
When Doritos Locos tacos came out, reactions were a combination of, "How did they come up with this?" and "How did they not come up with this sooner?!" This fast food marriage that exemplifies perfect Doritos-Flavored harmonious taste
It feels criminal that we're able to get a full meal (featured item, smaller menu item, side, and medium drink) for $5. The meal allows you to pick a featured item such as Crunchwrap Supreme, Chalupa Supreme or Cheesy Gordita Crunch, a smaller menu item such as a Crunchy Taco, Soft Taco, Beefy 5-Layer Burrito or Bean or Cheese Burrito, and a side such as Chips & Nacho Cheese Sauce or Cinnamon Twists. We all love a deal, and no matter what the featured item manages to be, Taco Bell knocks it out the park by giving us a Tex-Mex care package guaranteed to fill.
Elusive doesn't even begin to describe the Chili Cheese Burrito. Some of us are able to find it with ease, while other locations don't even have it on the menu. Thankfully, there's a locator for it at chilicheese.org, to help steer you in the direction of a truly amazing experience.
TWO SHELLS?! It sounds unnecessary, but the juxtaposition between the soft cheesy Gordita shell and the crunchy taco, with sauce in between, is perfection. This is another seemingly simple item that requires a specific palate to appreciate. Texture and flavor are both at play here, and they play together well.
Another retired menu item brought back to life! A Facebook group called Beefy Crunch Movement campaigned tirelessly to resurrect this burrito, and while they weren't directly credited with its return, Taco Bell has a long history of listening to consumers. Whoever's responsible deserves our gratitude and praise for bringing spicy Fritos, beef, rice and nacho cheese into our lives once more. It's not projected to be a long-term menu item, though, so get it while it's hot.
The Crunchwrap is practically synonymous with Taco Bell. Temporary in 2005, this beauty was made permanent in 2006, and has been fulfilling us ever since. The Crunchwrap was initially marketed as a menu item that is good to be taken on the go, and its flawless execution proves it to be so. We thank you, our portable prince, thank you.