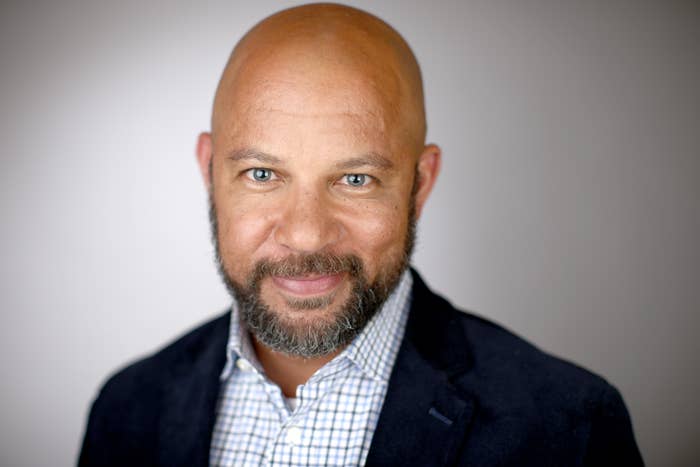 Curb Your Enthusiasm, the genius creation of comedian Larry David, is known for its unscripted and improvised approach. So when actor Chris Williams walked into his audition for a role on season three of the HBO series, he only knew a few details about the character he was trying out for. Williams knew he would be playing a rapper. He knew the scene he was reading for would take place at his character's engagement party with Wanda Sykes. He also knew at some point during the scene he would have to confide in Larry his love for performing oral sex on other women.
Williams was excited about the role, but there was one problem: portraying a rapper wasn't exactly up his alley. "I grew up in Chappaqua, New York and went to Georgetown University," he tells Complex. "I had to channel my inner 'hood self." So, as preparation for the audition, plenty of MTV Cribs episodes were consumed. Afterwards he grew out a scruffy beard, added two silver teeth to his look, put on some oversized jeans and a white tank top, and delivered an audition so convincing that Larry actually thought Williams was a real-life rapper. In fact, he beat out Mike Epps and actual rappers Ghostface Killah and Sticky Fingaz for the role of Krazee-Eyez Killa.
Throughout Curb's 80-episode run, we've seen stars like Martin Short, Ben Stiller, Martin Scorsese, and the entire cast of Seinfeld make cameos. Of all the high profile guests to drop by, few have left a lasting impression quite like Krazee-Eyez, who appeared in three scenes on the eighth episode of season three in 2002. Now 15 years later, Williams is preparing to reprise the now-infamous role as Curb Your Enthusiasm returns this Sunday for the first time since going off the air in 2011. "It was a privilege to have them ask me back," says Williams. 
Although details are still scarce on how Krazee-Eyez will play into the new season, the actor has his own thoughts on how the character's storyline should evolve. Williams imagines that the gangster rapper has converted to Judaism, because he's trying to corner the Jewish rap market. As outlandish as that idea may sound, the very nature of Curb makes it a possibility that we'll all just have to wait to see if it comes to fruition. Because of the improv nature of the show, Williams was able to create the entire Krazee-Eyez character—from the name to the choice of wearing a brown contact over one of his natural blue eyes—based off his own imagination. The resulting over-the-top personality played perfectly off Larry's own social awkwardness. "What makes CurbYour Enthusiasm funny is the push and pull with Larry," Williams explains. "If you can make Larry uncomfortable, and there's that tension, that's what makes the show funny."
The exchanges between Larry and Krazee-Eyez in the 2002 episode are comedy gold and forever immortalized Williams in the "eyez" of fans. During filming, the two actors engaged in what can be termed a friendly competition where they tried to outdo each other with their one-liners. According to Williams, Larry constantly broke character because of how hilarious his freestyle raps were. ("If you say anything, you'll beg me to die/ Cuz I'll make you suck my dick, then I'll nut in your eye/ I'll stomp on your world as if my name was Godzilla/ I'm comin' for you, muthafucka, I'm your Krazee-Eyez Killa.") Williams was equally impressed in the second scene they shot together, when, as a callback to Krazee-Eyez asking Larry, "are you my n---" in the previous scene, Larry asked his new rapper friend, "Are you my Caucasian?"
Prior to appearing on Curb Your Enthusiasm, Williams had made plenty of cameos on shows like Martin and Beverly Hills 90210 and was a regular cast member on a sketch-comedy show on The WB called Hype. After his turn as Krazee-Eyez Killa, though, a few high profile names did take notice. One of them was Ben Stiller, who invited Williams to a table read for Dodgeball: A True Underdog Story, which resulted in him landing the role of Dwight in the 2004 movie. Another fan of Krazee-Eyez turned out to be Lenny Kravitz, who recorded a few verses with Williams in-character for a project that was never released. While his cameo on Curb didn't propel him to the A-list, Williams continued his Hollywood grind, appearing on Silicon Valley, Californication, 24, CSI, Weeds, Monk and many other shows in the years since.
If there was a permanent role that would have been perfect for Williams, it would have been Leon Black (played by J.B. Smoove), who joined the Curb cast during season six. Williams believes the on-screen chemistry between Leon and Larry was reminiscent of the one he shared with the show's star.
"I love J.B., he's a friend of mine, but damn, man, he reaped the rewards," Williams says of Krazee-Eyez's influence. "I love when people compare Leon and Krazee-Eyez. But listen, I had three scenes. You can't compare that to all the scenes that Leon has done. He's done a great job."
So has Williams, which is evident by the fact that even after all these years his character is still so revered. "It was an amazing experience," he says of working on Curb the first time. "Krazee-Eyez is definitely one of my greatest achievements. It's launched more things for me than anything else."
Williams has wonderful memories of his time on the Curb set, but one of his biggest highlight remains getting a hug from Larry at the end of the shoot. "It was like giving me a crown," he says. "Larry never hugged anybody." Yeah, that'd probably be too awkward.