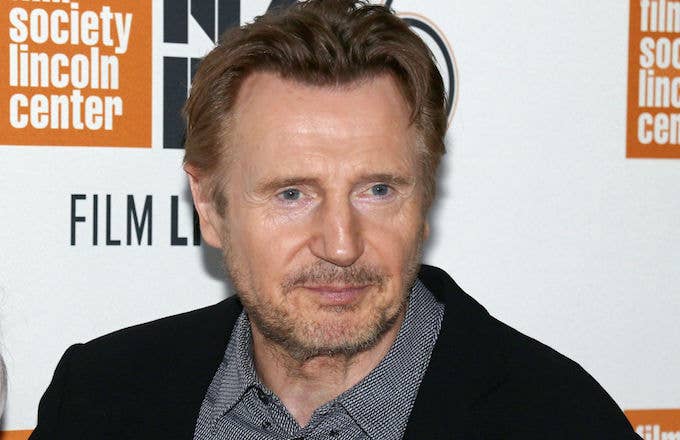 Working with a celebrity like Liam Neeson is something you don't forget, even if you're a horse. And Neeson apparently knows a specific horse when he sees one. In conversation with Page Six, the actor talked about reuniting with a horse who recognized him on the set of the upcoming Coen Bros. Western anthology The Ballad of Buster Scruggs.  
The former co-stars ran into each other while shooting the forthcoming Western in New Mexico.  "I play a traveling impresario. We filmed in New Mexico. The odd thing is the horse who pulls my wagon knew me," Neeson said.
It's unlikely, though not impossible, that the horse recalls Neeson from Taken like the rest of us. Though it's possible that the apples and treats Neeson fed the horse (who did not provide a name to Page Six) in their last movie together left an impression."You won't believe it. I'm saying this horse knew me. He actually remembered me from another Western we made a while back. I love animals," he said. "When we worked together before I took special care of him. I fed him treats. Gave him apples."
Neeson didn't specify exactly which movie him and this horse first worked together on—it could be 2014's A Million Ways to Die in the West or even 2006's Seraphim Falls. But how exactly did Neeson recognize the horse recognizing him? "He whinnied when he saw me," Neeson explained. "And pawed the ground." 
The actor is a longtime lover of horses, and once wrote an op-ed for The New York Timesdefending carriages in Central Park, while showing off his horse-girl-level expertise. "As a horse lover, I grew up riding and caring for two horses every summer on my aunt's small farm in County Armagh, Northern Ireland," he wrote. "I have continued to enjoy working with horses in a professional context over the years, appearing in a couple of Westerns and what I call 'cowboys in armor' movies. I can appreciate a happy and well-cared-for horse when I see one."
Russell Crowe later came through with a horse tale of his own. "There's a horse George who I gave the speech in the forest in Gladiator on," he tweeted. "Years later he was on the set of Robin Hood and we would have a chat everyday."
The Coens' The Ballad of Buster Scruggs also features Tim Blake Nelson, Zoe Kazan, Tom Waits, and James Franco, and will hit Netflix and select theaters Nov. 16. The same day, Neeson stars in Widows alongside Viola Davis.