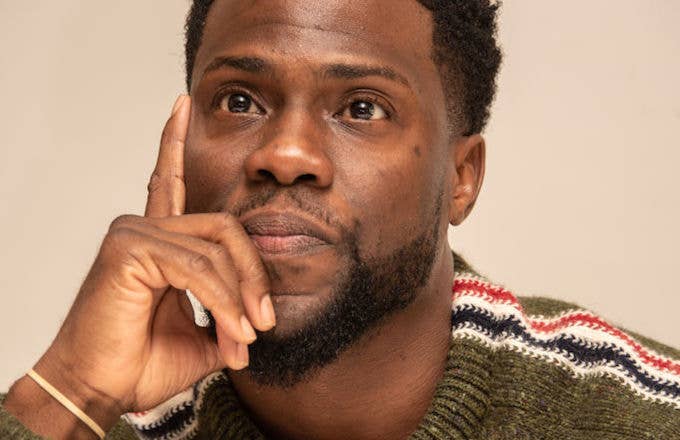 In just over a whirlwind 24 hours, Kevin Hart announced he'd be hosting the Oscars, faced backlash for homophobic tweets and jokes, dug his heels into the criticism, decided to step down, and finally apologized.
As the award show begins the hunt for a new host, a lot of people are wondering wtf just happened. Some are defending Hart, while others are relieved he stepped down. Hart is frequently in the hot seat—most recently because of his son's "Cowboys and Indians" themed birthday party during the Thanksgiving holiday. Instead of apologizing for the offensive party, and its extremely insensitive timing, he stood his ground and dismissed the backlash.
This latest controversy began on Tuesday, shortly after Hart announced that he'd be hosting the 91st Oscars. "I am so happy to say that the day has finally come for me to host the Oscars," he wrote on Instagram. "I am blown away simply because this has been a goal on my list for a long time."
The backlash was both swift and intense. People began retweeting and posting some of Hart's old homophobic tweets, in which he uses gay slurs. Others unearthed an old comedy routine where he "jokes" about his fear that his son would be gay.
Instead of apologizing for his past indiscretions, he deleted them and then wrote a long, non-apologetic Instagram post. "Stop looking for reasons to be negative...Stop searching for reasons to be angry...." he said. "I am truly happy people … there is nothing that you can do to change that … NOTHING."
He then doubled down on his non-apology in another IG video, saying the Academy called him to ask for an apology. "I pass on the apology," he said. 
Later that night, he announced his decision to step down as the Oscars host. He also finally apologized. 
It'd be easy for Kevin Hart fans to brush this disaster off and fire off a petty "y'all won," but are there really any winners here? Hart lost his dream gig, while the LGBTQ community suffered indignities at the hands of one of the most famous comedians on earth. And the Academy is now on the hunt for a last-minute replacement.
But not everyone think's Hart should've relinquished his hosting duties. "Kevin Hart shouldn't have stepped down; he should have stepped up," GLAAD President and CEO Sarah Kate Ellis told Variety. "Hart's apology to LGBTQ people is an important step forward, but he missed a real opportunity to use his platform and the Oscars stage to build unity and awareness. We would still welcome that conversation with him. The Academy has recently made significant strides in featuring diverse talent onstage and they should now double down on that commitment as they look for a new host."
On Thursday, Hart added more fuel to the fire when he tweeted a quote from Martin Luther King Jr. 
Not everyone was down with Hart comparing himself to the civil rights leader. 
If this isn't a microcosm of the dumpster fire that was 2018, then we don't know what is. Also, someone get Tiffany Haddish on the phone, stat!