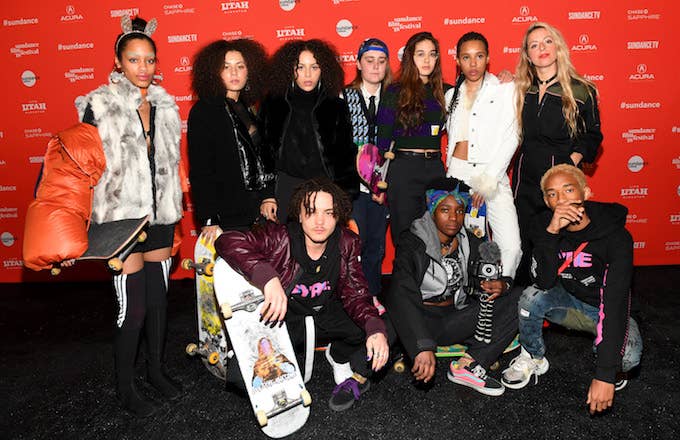 Magnolia Pictures has picked up the rights to Skate Kitchen starring Jaden Smith from director Crystal Moselle, according to The Wrap. The film debuted at the 2018 Sundance Film Festival and also stars Rachelle Vinberg, Dede Lovelace, Nina Moran, Ajani Russell, and Kabrina Adams.
Magnolia Pictures is planning a theatrical release of Skate Kitchen this summer but hasn't shared a specific date yet.
The film follows an all-girl skate crew formed by Vinberg's character Camille, a shy skater who gets kicked out of the house for defying her mom's skating ban. Moran plays a bold member of the crew as they try to make they way around New York's skating scene while brushing off the male skate crews that try to intimidate them. The film is based off the real-life NYC skate crew dubbed The Skate Kitchen.
This film is Moselle's followup to her documentary The Wolfpack, a 2015 Sundance U.S. Documentary Grand Prize winner. "Crystal Moselle has proven in impressive style that 'The Wolfpack' was no fluke," Magnolia President Eamonn Bowles told The Wrap. "Everything about 'Skate Kitchen' is so fresh and compelling – the cast, the skateboarding, and the way she makes us look at New York City with new eyes."
Moselle reached out to the skate crew to ask its founders to star in the upcoming film alongside Smith. "After a successful and adventurous release of The Wolfpack, I am incredibly excited to work with Magnolia on the release of Skate Kitchen," Moselle said. "It's a film that I know they completely get and I can't wait to collaborate again."