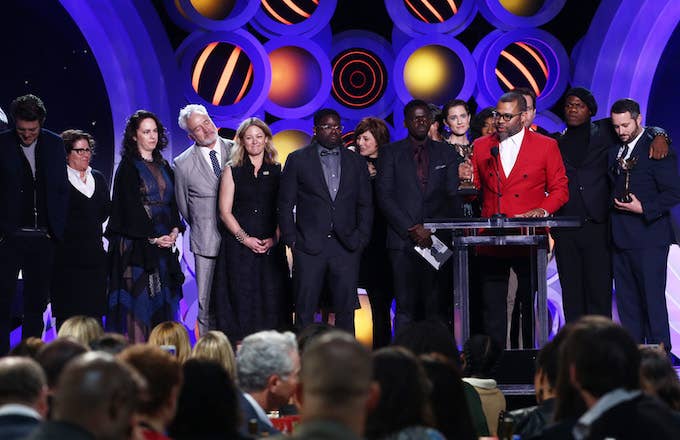 Get Out walked away from the 33rd Film Independent Spirit Awards victorious, snatching both Best Feature and Best Director for Jordan Peele on Saturday. Spike Lee presented the award for Best Director to Peele.
"This means so much," Peele said accepting the award for Best Feature, according toThe Hollywood Reporter. "It's clear to everybody in this room, and across the country and across the world, that we are in the beginning of a renaissance right now—where stories from the outsider, stories from the people in this room—the same stories that independent filmmakers have been telling for years—are being honored and recognized and celebrated and I'm so proud to be here with this group of people receiving this."
The film succeeded over Call My By Your Name, The Florida Project, Lady Bird, and The Rider in the Best Feature category. Black Panther star Chadwick Boseman presented Peele and producers Jason Blum, Edward H. Hamm Jr., and Sean McKittrick with the award for Best Feature. Get Out is only the second horror film to win the award following Black Swan in 2011.
As THR points out, for the past four years the Best Feature winner at the Spirit Awards has gone on to win the Oscar for Best Picture: Moonlight, Spotlight, Birdman, and 12 Years a Slave. Get Out faces heavier competition from The Shape of Water; Three Billboards Outside Ebbing, Missouri; Phantom Thread; and Darkest Hour when it comes to Sunday's premier Oscar. If the Spirit Awards are any indication of how tonight's Oscars are going down, then it looks like Get Out will not get snubbed as it was during the Golden Globes.