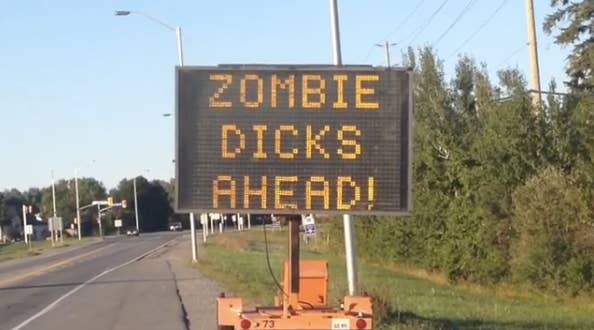 Someone in the Ottawa region is having a little fun. To the surprise of drivers in the area, a mischievous deviant hacked a traffic sign this past weekend. Their effort resulted in a message warning everyone of "Zombie Dicks".
The sign was spotted in the town of Stittsville, and flashed multiple tidbits at passersby. Instagram user, Matt Sweeting-Woods​, flocked to social media to share the ridiculousness. His video shows the full extent of the prank, and has since garnered thousands of views.
This isn't the first time someone got clever with traffic signs. Just a few days ago, someone in Texas hacked a sign to crudely reference Harambe. Earlier in the year, another citizen of the Lone Star state, composed a Trump-related gag.
Meanwhile, the Ottawa prankster is still at large, no doubt running from zombie genitalia. Luckily for them, however, authorities told the National Post that they would only investigate the matter if they received complaints. Unfortunately for anyone offended by the incident, traffic signs are incredibly easy to hack. As tech-based website Gizmodo explains, all you need is a handy PDF file! Please note, of course, that the author does not condone this type of behaviour. If you happen to be near Stittsville however, please do be careful of zombie dicks.