With the controversy surrounding its premise of a white male martial arts expert/Buddhist monk and a lead whose name lacks as much cache as some of the stars of its three other chapters, you'd have to be lost from the Western world and presumed dead for 15 years if you thought Marvel's Iron Fist would be as easy a sell as its previous partnerships with Netflix.
Then the reviews hit. The early criticism of the series, which hits the digital channel on March 17, have been, at best, skeptical and, at worst, a big, greasy hate sandwich that's ripped apart like it's a Jack in the Box order after last call. Variety chief TV critic Maureen Ryan, who once included Netflix's Marvel's Jessica Jones on her year-end best-of list, called Iron Fist "the most frustrating and ferociously boring example of Netflix Drift in some time." Uproxx senior television writer Alan Sepinwall spends his review dissecting in great detail the virtues of Jessica Jones and other past installments, Luke Cage and Daredevil. But, somehow with Iron Fist, he says "we got a show that's so lifeless that I have no interest in finishing out the season." 
This is coupled with the facts that, as argued by an industry publicity professional who answered on the condition of anonymity, Netflix didn't adequately address that "the character draws on many cringe-worthy Orientalist tropes and while he has been the star of some popular stories, he's very much the kind of b-level character that Marvel excels at reinventing for modern eras." (And it isn't as if Marvel hadn't just been through this. Alex Billington, founder and editor of FirstShowing.net, reminds that Doctor Strange director Scott Derrickson addressed his film's whitewashing controversy this past winter in an interview with The Daily Beast, admitting they were off in hiring Tilda Swinton to play a part that could have gone to an Asian actor).
Iron Fist's reviews, the criticism and the obscurity are certainly road blocks in promoting the product, but not detrimental ones (for the latter, the publicity expert says look to the success Marvel's film branch had with Guardians of the Galaxy or the company's ability to spin Clark Gregg's Iron Man breakout character into the lead of ABC's Agents of SHIELD).  But things also got unexpectedly worse for Netflix's public relations and social media campaigns...and a little weird. 
Iron Fist star Finn Jones, who before this series was best known as Margaery Tyrell's meathead brother on HBO's Game of Thrones, briefly quit Twitter earlier this month. More precisely, he dropped his account just as the reviews were about to publish and after he got into 140-character fisticuffs with another user over whether it was OK that his character was Caucasian—as he was in the comics—or if the show should have attempted to cast someone with Asian heritage. 
Jones told Deadline that this hiatus was to better concentrate on the upcoming The Defenders, Marvel and Netflix's project that brings together all of their heroes, but the act struck many as an admission of guilt. Eventually, though, he gave the canned and expected answer to bad reviews; telling the UK's Metro that "these shows are not made for critics, they are first and foremost made for the fans." Just as we were moving on, and perhaps after reading think pieces about the media's current favorite topic, Jones spoke out again, telling Radio Times that critics don't want to see his character in the Age of Trump.
"We filmed the show way before Trump's election," he tells that outlet. "I think it's very interesting to see how that perception, now that Trump's in power, how it makes it very difficult to root for someone coming from white privilege, when that archetype is public enemy number one."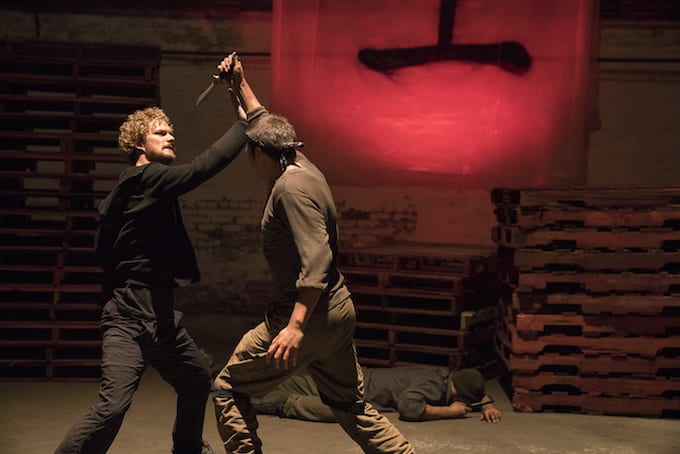 Expanding his empire as the new king of clickbait headlines, he also found a creative answer to the stock interview question of how he's different from his character.
"The character is a virgin," he laughed as he told DuJour. "That's definitely something that I don't share with him, just to put that out there. Essentially when I bring my characters to life I like to bring them from the inside out, I like to tease the character out from me. So I think there's more similarity to Danny Rand that I would care to admit."
While Netflix did not respond when asked about their company's thoughts on Jones' Trump comparisons and Marvel officially had no comment, all of his remarks were mostly met by journalists and industry insiders with what amounted to a unanimous spit-take.
"The recent rhetoric from Finn Jones is not entirely unusual for the genre material that doesn't resonate with critics—we've seen it with numerous other superhero projects," the publicist says, adding "But somehow bringing the Trump presidency into the discussion is surprising, especially in a world where Batman and Iron Man reign supreme on the big screen, while Oliver Queen remains a popular figure as a politician on [CW series superhero series] Arrow."
This is all happening to Netflix, a company that has long been celebrated for its sharp social media and its willingness to disrupt old-school TV rules of scheduling and promotion (Remember that The OA grenade they dropped on us at Christmastime?). So should the digital channel embrace the quirky predicament and take a more laid-back approach? Should it get ahead of even the most ardent binge watcher and have self-mocking memes, .gifs and posts of Iron Fist's best (worst) moments ready in the hopes that they become as much a part of the social media lexicon as a Willy Wonka meme?
"I see two routes for the [Netflix] campaign," says William Smith, who previously worked with Universal on the digital campaign for Fifty Shades of Grey, another project with a history of casting strife. "They either counteract the negativity by addressing it head on and inject some humor into their campaign, leveraging Finn's character through memes and witty social commentary encouraging viewers to at least try the show. The other option, and my preferred, is to really just focus on the core audience."
At press time, Netflix and Smith appear to be in agreement. Iron Fist's Twitter and Facebook are chock full of trailers, quotes and pictures from the premiere's red carpet. The occasional meme will reference the series, but not intentionally open it up to mockery. 
But the willingness to make fun of one's self certainly couldn't hurt. Shows like CW's Jane the Virgin have long-embraced hashtags and memes in their social campaigns. The cast and crew of FX's The Americans have acknowledged fan-created lingo like #PoorMartha, a shorthand for former costar Alison Wright's manipulated and clueless pawn in that otherwise deathly serious Soviet-era spy drama. While never ones to soar on Nielsen charts, it's assumable that these antics have helped both series become endeared to fans.
In January, during the Television Critics Association press tours in Pasadena, Calif., Jude Law joked to journalists that before he had to do press for HBO's The Young Pope and was met with questions about how he felt that social media users were ironically using images of his character skulking about while modeling quite an assortment of headwear, he was "completely unaware of what a meme was." 
Take that quote with some side-eye if you want, but it hints at the bigger picture: in the age of hate-watching, does it really matter to networks if the show is getting raves as long as it gets us watching? While some productions have embraced this—NBC has been willing to play along with our sarcastic Tweeting of its live musical extravaganzas, especially before those specials got legit—this can be a hard reality to swallow if you'd planned to be working with programming gold.
"In my experience, bad press can do as much…as good press can do," says Ally La Mere, a film publicist at distribution company levelFILM. "When audiences hear or read mediocre reviews about [in her case,] films, they either A) want to see it because they like the actor or actress B) decide that they want to see it because they don't believe in the reviewer C) want to see it because it can be so bad that it's good or D) stay away from it...A great film publicist will take what they are given from the media and turn it into a great story for why audience members should see it anyways."
And, as anyone who has seen the promotional stills of a shirt-less Jones perfecting martial arts poses can attest, there was always going to be a lot for Netflix to work with.