If Vanity Fair is right, the world is Margot Robbie's and we're just living in it, grateful for whatever glimpse of the second semester freshman we can get. And if you like comic books or just really intense method actors, the next time you see Ms. Suspicious Eyes will probably be in Suicide Squad, Warner Bros.'s latest money pit that features a band of endearingly sinister villains who wear a lot of elaborate makeup.
For now, the major question arising from Robbie's turn as Joker sidekick Harley Quinn is not how she tackles the psycho-sexual nuances of her relationship with Jared Leto's Joker, but whether or not she'll wear that iconic sexy lil' jester costume that appeared in the original DC comic.
"What is Harley Quinn? That scariest of all circus anomalies, the sexy clown," ​Vanity Fair writer Rich Cohen declares. For Robbie, playing Quinn meant running through a literal 500 question-long list of personality traits to better understand Leto's psyche, but to each his own interpretation. 
"There's a delightful scene where they're all putting on their "murderous suits," as they call them, because when they put them on, people die," costume designer Kate Hawley told reporters during a visit to the Toronto set. "And Harley's sitting there and you'll see a moment where she's putting on all her corsets, so we quote every comic variation of her. It's her dress-up box. And I feel sure that jester suit is going to come into it because none of us can leave it alone."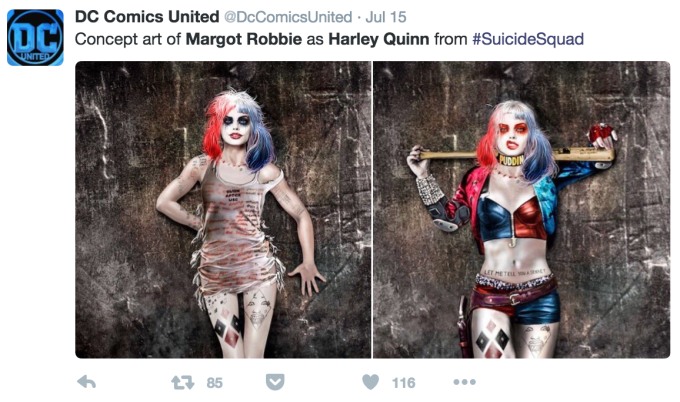 Hawley also told Entertainment Weekly she was inspired by such diverse aesthetic as Mexican drug lords, rock icons, and Courtney Love. A truly inspiring mix.