ComplexCon returns to Long Beach Nov. 6 - 7 with hosts J. Balvin and Kristen Noel Crawley, performances by A$AP Rocky and Turnstile, and more shopping and drops.
Secure your spot while tickets last!
Kanye West's confrontational visual for The Life of Pablo centerpiece "Famous" has swiftly shifted the culture, inspiring equal parts praise and criticism for its meditative take on the very idea of fame. Taylor Swift is reportedly not feeling it. George W. Bush reportedly doesn't care too much, but insists he's way more ripped than the fake Bush seen in the visual. Ray J's manager was, as you might expect, also not very into it. But what about our guy Stephen Colbert? Dude's not actually in the version of the visual that premiered last week, and that has Colbert feeling some type of way.
"Speaking of sexy, Kanye West is in the news," Colbert told his Late Show audience Monday. "This time, the rapper/fashion designer/entrepreneur/somehow not-actor released the video for his single 'Famous,' which features some of the most famous celebrities in the world in bed together." According to Colbert, if the "Famous" bed is equipped with memory foam, then it will likely develop PTSD.
"The consensus is that most of the celebrities in the video aren't real, just wax or silicone imitations," Colbert explained. "So, celebrities." Colbert then mentioned Kanye's "Can somebody sue me already" tweet, noting that the first person to sue him just might be, well, Colbert.
"You don't have to wait, Kanye, because I'm going to sue you right now for cutting me out of that video," Colbert joked. "Luckily, I kept the footage of my take." Admirably, Colbert sleeps right, aka with a fire Breathe Right strip affixed to his nose: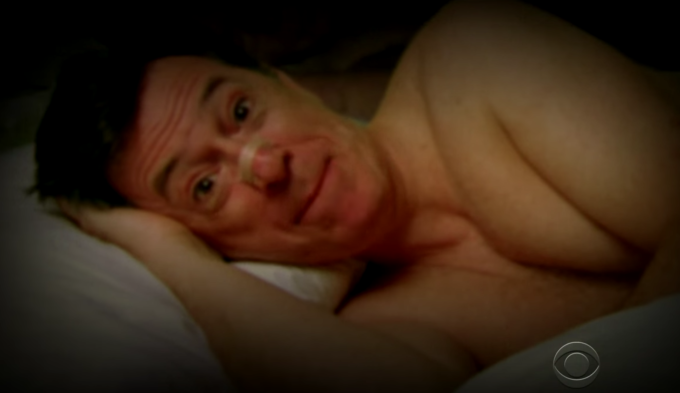 That's a hell of a bed.