After penis jokes and plenty of name-calling, it's safe to say that the Republican primary hasn't been exactly mature. Even George Clooney, expert political analyst took notice of that. The trophy husband to prominent barrister Amal Clooney sent out an open letter via email to Hillary Clinton supporters shading the antics of those with the "loudest voices."
"If you listen to the loudest voices out there today, you'd think we're a country that hates Mexicans, hates Muslims, and thinks that committing war crimes is the best way to make America great again," he wrote. Obviously, he's referring to Trump and his campaign to make America great again by building a giant wall to keep out immigrants and banning Muslims from entering the U.S. He continued:
The truth is that the only thing that would prevent America from being great would be to empower these voices.

In all of this clutter, there's been one consistent voice. A voice of tolerance and experience, from a candidate who's spent a lifetime fighting for the rights of the less fortunate. A candidate who knows firsthand the complexity of our international relationships.

That candidate is Hillary Clinton.

As this primary process continues, Hillary could soon have an insurmountable delegate lead and with that, the Democratic nomination. That would then make her the only grown-up in the room. And if ever there was a time for a grown-up, that time is now.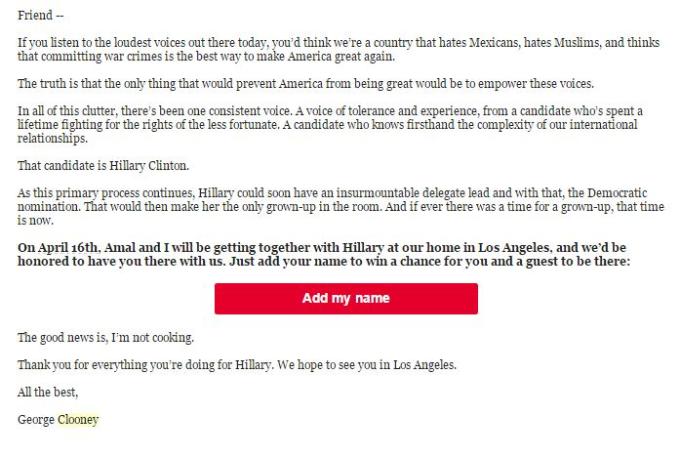 And just like that, Clooney put out a call to action for supporters. The actor, universally panned for his turn as Batman, invites donors to his home for a fundraiser for Clinton on April 16. "The good news is, I'm not cooking," he added.
If you've got the money, mark the date on your calendar.