As the death toll continues to climb in Paris after a series of apparently coordinated bombings and gun attacks, American actor Rob Lowe appears to have tweeted out an insensitive reference to French president François Hollande's decision to close the country's borders during its state of emergency.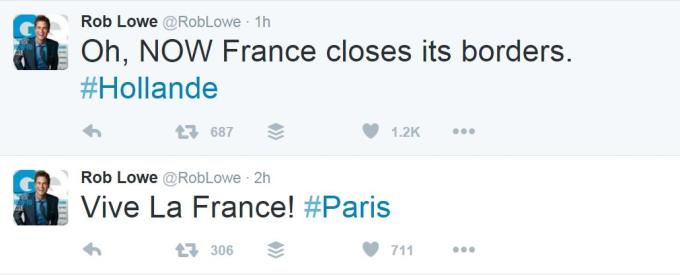 The tweet, which reads "Oh, NOW France closes its borders. #Hollande" appears to be a reference to France allowing thousands of refugees fleeing the violent war in Syria to cross its borders recently. 
What does he mean by that? At worst, it seems he's implying France would have been safe from today's attack if they'd turned away the refugees, which is pretty ironic because, well...
At the very least, it was a really bad time for Lowe to share his views on border policy, considering dozens of people had just died and there was still an ongoing hostage situation.

For the latest on the attacks, go here.