In an obvious case of illogical fate intervening on the never-ending coincidence that is my meager existence, I can now say (with a certain sense of pride, mind you) that I have written not one but two highly regarded pieces of journalism on a presidential candidate by the name of Deez Nuts. Last month, I told you that Nuts filed the required paperwork with the Federal Election Commission (FEC), with the personification of immaturity's finest creation declaring an Independent running status.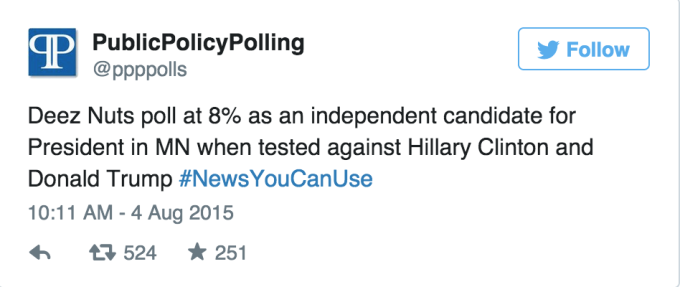 Now, as you can see above, the good sir Nuts is polling at an admirably threatening 8% in Minnesota. Shortly after the tweet's debut, many started to question the legitimacy of such a claim. Sure, we live in a world wherein something called a "Donald Trump" can run for president and tragically beautifully take control of the Republican party in an apparent effort to expose its embarrassing follies by wholeheartedly embodying them like some kind of sponge for institutionalized idiocy. But a candidate named Deez Nuts? Surely not!
As previously stated, the campaign of Deez Nuts is quite real indeed. In fact, one brave hero shared this excerpt from the legal initiation of the Nuts takeover: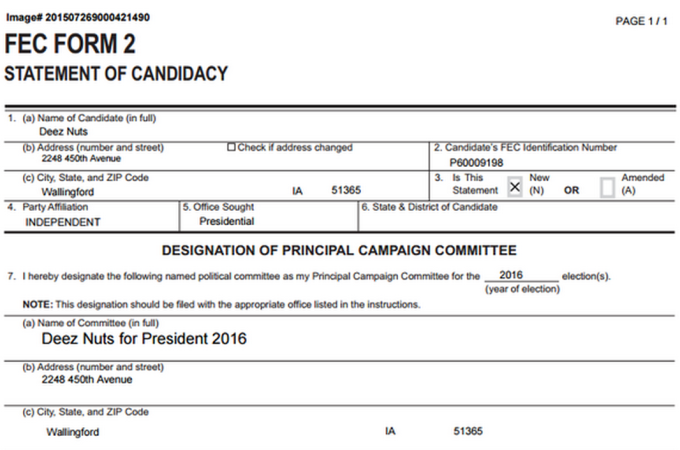 According to Sun Times, Nuts is currently polling higher than all but four Republican candidates. Of course, this can only mean one thing: my theory of a Trump Nuts 2016 joint ticket is not only the next logical step in the continued devolution of American politics, it's a statistical foregone conclusion.
Make Nuts Great Again.