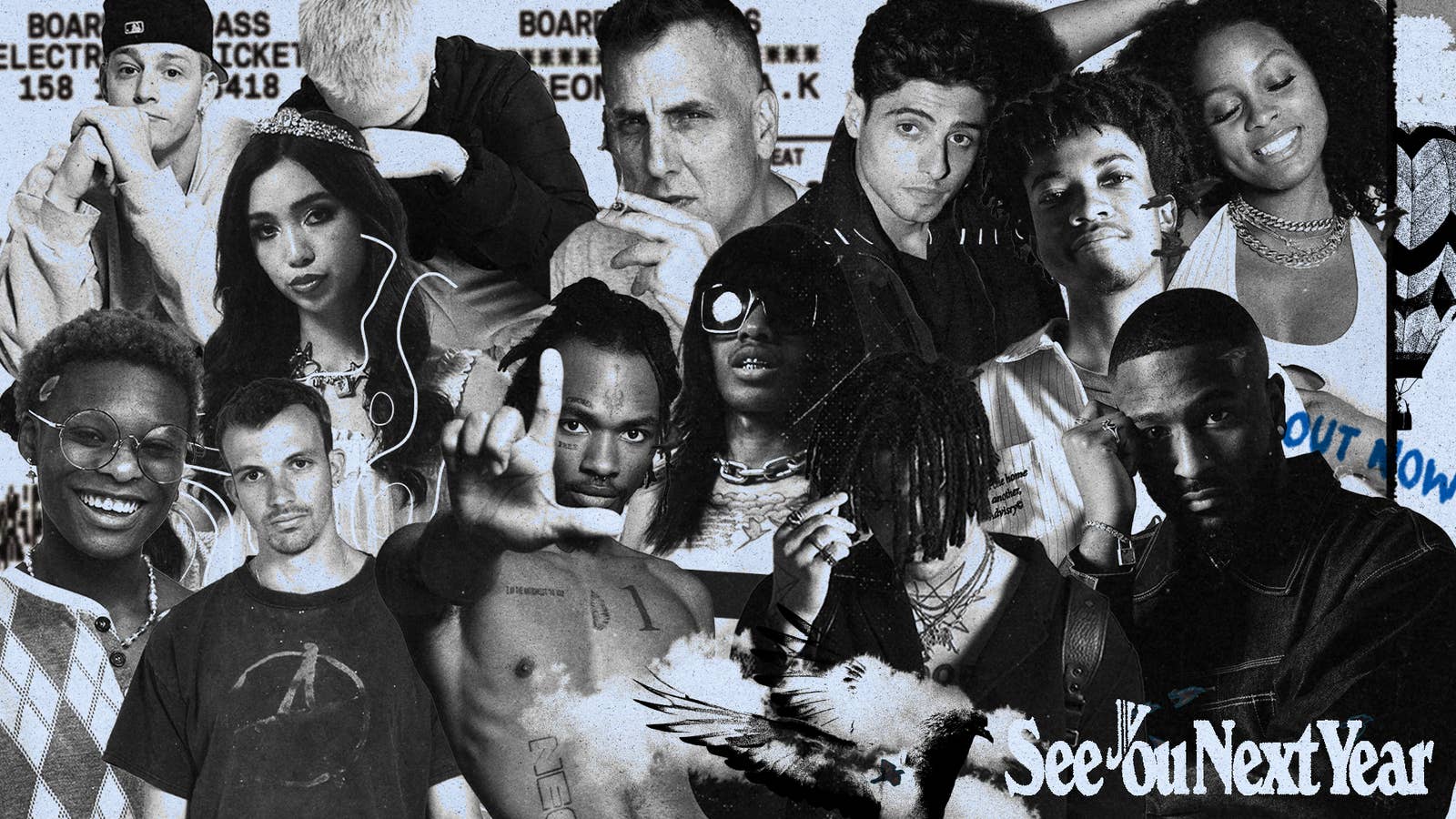 See You Next Year is the first-ever Pigeons & Planes compilation album, in partnership with Big.Ass.Kids and distributed by ADA. The project is executive produced by Mike Dean and features original songs from Teezo Touchdown, Terry Presume, Redveil, Fana Hues, EKKSTACY, Wallice, Dreamer Isioma, Brevin Kim, Ben Reilly, Baird, and Sash. It's out today and available on all platforms.
Throughout Pigeons & Planes' history, we've had a lot of bad ideas. Once we tried to set up an interview with Danny Brown while he was holding a sloth (he doesn't know this), before learning that there are all kinds of legal guardrails when it comes to handling sloths in the state of New York. Another time we rented an Airbnb and decided to shoot music videos on the slightly questionable roof. If someone had been injured, there's a chance P&P would not exist today. And then, of course, there's the video series idea we had called Pizza From Behind (I promise it's not what it sounds like), but we won't get into that today.
The point is, we've thought about making a lot of things that never saw the light of day. That's what happens when you come up in the blog era and realize that corporate interests, copyright laws, and shifts in technology can change everything at any given moment. You get antsy, you accept that nothing lasts forever, and out of sheer panic that your time is near, you start vomiting up absurd ideas under the guise of productive brainstorming.
A Pigeons & Planes compilation always felt like one of those absurd ideas. We'd talk about making an album at least once every year, but it never happened. For years, we've been a small team making music-related content for the internet, curating playlists, and producing concerts—officially releasing a project of original music always felt out of reach.
Over the last two years, that panic turned into a realization that the world is going to shit and we've got to try to make some of these far-fetched ideas happen. Naturally, our first instinct was Pizza From Behind. It's gotta be Pizza From Behind. We shared that idea with a few people, and their reactions were a clear signal: "No, the world isn't ready. Make the album."
And so, we finally decided to make an album. We partnered with Big.Ass.Kids and ADA, and we started reaching out to artists we love asking for songs. Surprisingly, most said yes. Then we posted about it on Instagram before we even had any music. We said, "We're making an album!" And Mike fucking Dean commented on it: "You need an executive producer to finish it."
We laughed, because obviously it was a joke, but soon after we're on a Zoom with Mike Dean and it turned into not-a-joke. Mike Dean agreed to executive produce the project.
Months later, we've actually got a full album and it's out on all platforms today. We've got incredible new songs from Teezo Touchdown, Terry Presume, Redveil, Fana Hues, EKKSTACY, Wallice, Dreamer Isioma, Brevin Kim, Ben Reilly, Baird, and Sash—you can read more about each of them here. The artists all got in sessions with Mike Dean and he mixed and mastered the whole thing. I'm not one who appreciates the intricacies of mixing and mastering as much as I probably should, but I can tell you this: Mike Dean is a genius and he made this whole project sound bigger, better, and more cohesive. He also turned out to be the perfect fit for a Pigeons & Planes project—he's open-minded, down to earth, and his love for music is obvious in everything he does.
HK designed the cover. It was another shot in the dark but fuck it, we had Mike Dean involved, so why not reach out to HK? Years ago, before we knew we could make an album, we made a SoundCloud mixtape. This was back in the day before Brockhampton was a famous boyband, and HK designed the cover to that project. So having him back for See You Next Year is a full-circle moment.
The album is called See You Next Year for a lot of reasons—some are obvious, others not so much, and it's all probably better left unsaid. But one reason we liked this title is because it sets us up to make this an annual event. Who knows if we'll do that. As previously mentioned, we think about a lot of things that never happen, but we really hope that this is an exception. Making this album was a labor of love, long days, and frequent reminders that we are so lucky to do work that involves so many talented creatives. We have many more stories to tell because of this album, and we'll get to those soon.
For now, here is the very first P&P compilation album, See You Next Year. Thank you to all of the artists for being a part of it, and to everyone who brought this project to life.
See you next year.