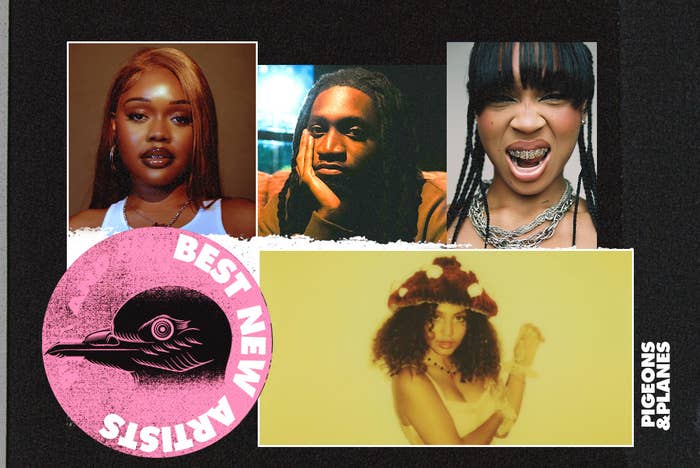 Amindi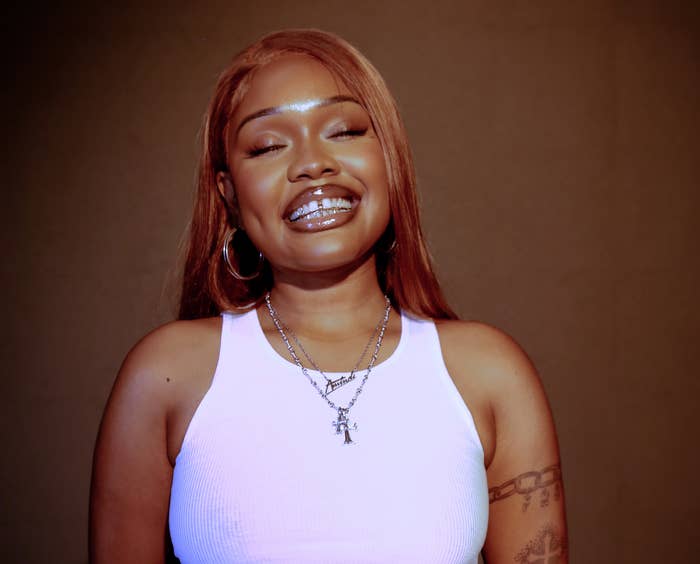 Amindi is a Jamaican American artist based in LA, or a "first-gen Libra from Inglewood," as she puts it, who, at only 23 years old, already has over five years of experience as an artist in the public eye. Amindi started making music on GarageBand back in high school and has been sharing her songs on SoundCloud since 2013. In 2017, she had a viral moment with the fun, dancehall-inspired "Pine & Ginger," and it took her some time, and multiple subsequent releases, to remind people that she's so much more than one song.
Still, she learned a couple of things from that early success. As she puts it: "1. I can make a hit on accident and 2. I don't have a desire to go viral or 'blow up.'"
Years removed from her high school self, and with collaborations with rappers like Isaiah Rashad, Kenny Mason, Mavi, and femdot. under her belt, Amindi's versatility is on full display on her upcoming mixtape Take What You Need. Purposefully packed with different styles and approaches, Amindi swerves from soulful singing to lighthearted rap verses and much more, presenting a buffet of sounds with something for everyone. It's "like if I burned you a CD of songs I like that's still enjoyable on shuffle," she says. "Although I'm 23, I've been taking music seriously for over a decade now; I think the sound and style has been honed in on... I'm comfortable with whatever naturally comes out of me."
Amindi describes her current style as pastel rap, explaining, "I consider myself a rapper deep down because I value the word. But it's pastel because if you listen, you'd feel a little pink." On rappers and lyricists that inspire her, she lists Frank Ocean, Smino, Baby Rose, Beres Hammond, Mereba, Victoria Monét, Kendrick Lamar, Anderson .Paak, PARTYNEXTDOOR, and Drake.
Singles "diddy crop" and "it's not feeling good anymore" are out now, with the full 15-track mixtape of Amindi's favorite songs that she's recorded in the last two years out September 15th via EQT Recordings.—Alex Gardner
Devin Malik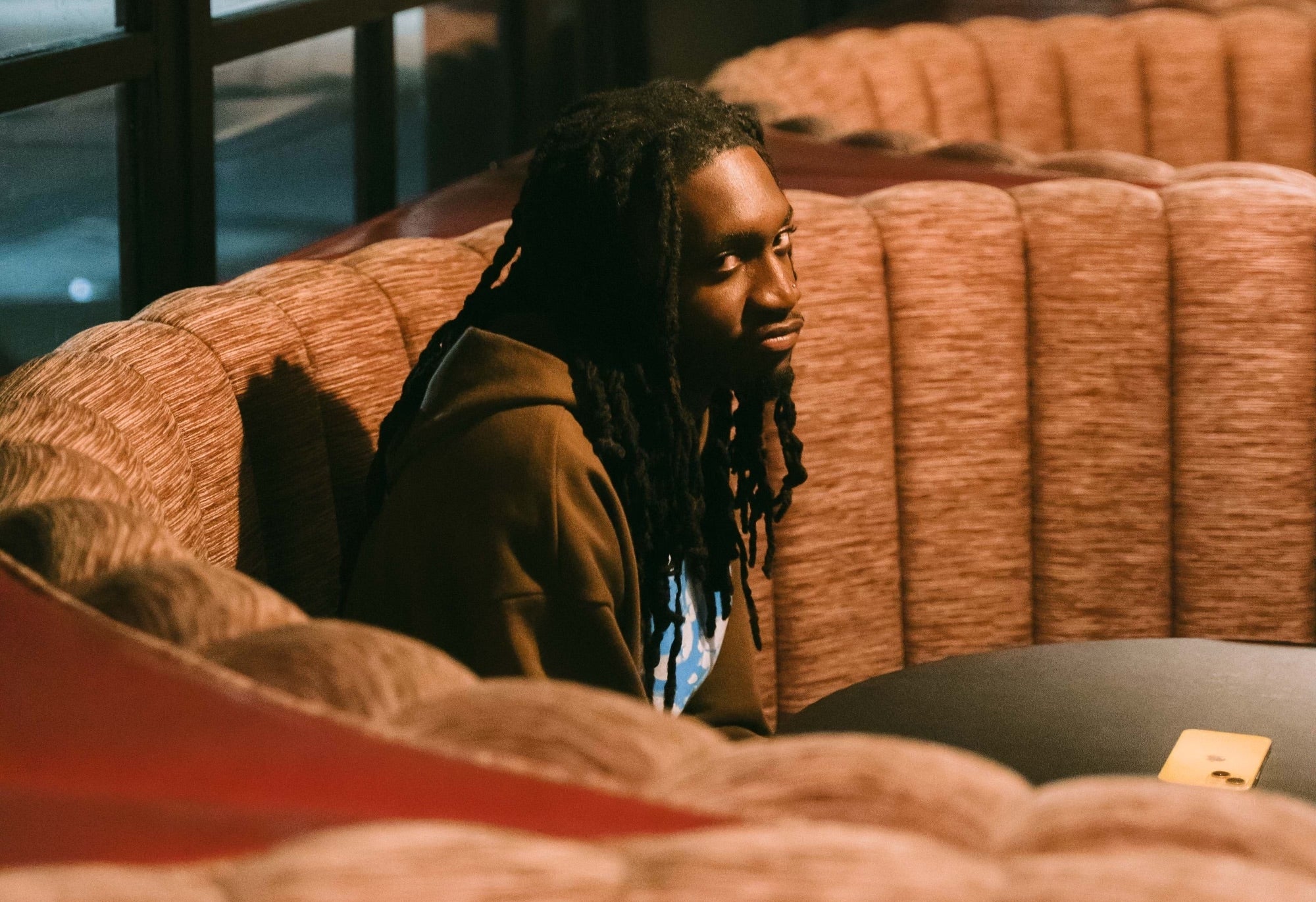 "Devin Malik is the guy you might want to know, or might not." That's coming from the Philly-born, California-raised rapper/producer himself, and he's earned the right to hold this take-it-or-leave-it sentiment. Chances are you already know his work.
Malik's been a producer for years—he's even worked with Amindi, who is coincidentally also on this list—but he had a breakthrough moment when he linked with Isaiah Rashad years ago. He collaborated closely with Rashad on The House Is Burning, and ended up with five production credits on the project: "Darkseid," "All Herb," "True Story," "Chad," and "9-3 Freestyle." But even more valuable than credits, he got to see the entire album get made and learned a lot from the process.
"I found Isaiah's manager's email some years back and he was always asking for beats," Malik says. "So I sent some and that's how I met everyone [at TDE]. Getting to make music with artists like them is the ultimate cheat code. I've learned all types of approaches towards music making just by watching."
After soaking up game, he started to plan a producer album of his own but it wasn't panning out how he wanted, so a little less than a year ago he started rapping, saving up money, and booking sessions himself.
Malik's planning to drop his first project soon, and his debut single "LINK DUCKER" serves as a fantastic introduction. The production hits with the urgency of a panic-inducing alarm, and Malik's presence is commanding throughout the chaos. His vocal performance finds a sweet spot between deadpan nonchalance and charismatic intensity, sometimes pulling off both at the same time. It's a rare skill that has served contemporary acts like Baby Keem well—a balance between the hype of some of today's most popular up-and-comers and the time-tested tradition of the rapper as an authoritative voice in a song, not just one of many elements converging to form a vibe. Despite how powerful the production is on "LINK DUCKER," it's obvious that Malik himself is the star of the show, which is even more impressive considering that he spent so many years behind the scenes.
Check out "LINK DUCKER" below, and stay tuned for Devin Malik's album: "I plan on dropping a project extremely soon, emphasis on the extreme," he says. "I'm so damn excited."—Jacob Moore
SadBoi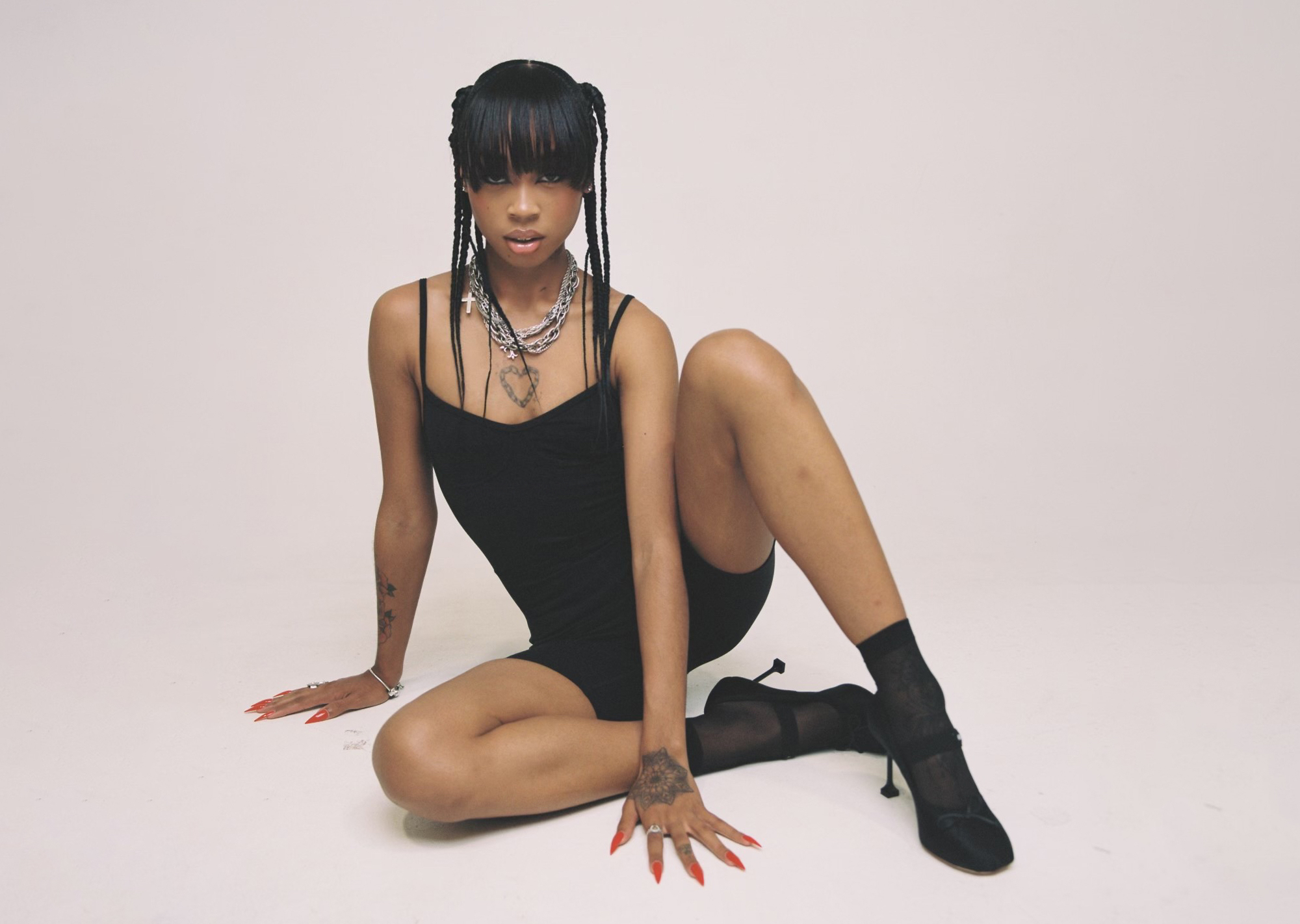 The music industry can be treacherous territory when attention comes too early. For some young artists, the best thing you can do is take a step back, think about what you really want, and start over when you're ready.
I first came across an artist named Ebhoni Cato O'Garro, who went simply by Ebhoni, back in 2016. She was 16 years old at the time, in 12th grade, and was gaining momentum online in her hometown of Toronto. We interviewed Ebhoni for Pigeons & Planes that year, but releases in the following years were sporadic as she finished school, navigated the industry, and figured out exactly what she wanted to make. In 2021, after several stops and starts, Ebhoni shared in an email: "I think I'm finally getting a better grip on things. Still so much more work to do..."
Fast-forward to 2023, and I hear a song on Twitter called "Potential" by an artist named SadBoi. It wasn't the typical style of music I'm into, but it was one of the catchiest songs I'd heard all year and I couldn't stop going back to it. With a 1:34 run time, "Potential" is easy to listen to three times in a row, and I did that often in the days after I found it. It almost sounds like a sped-up, funhouse version of a vintage Rihanna hit updated for the free-for-all mayhem that is 2023. But it works, and it's supremely addictive.
When I went to find out more about SadBoi, I realized I followed her on Twitter and I had no idea why. I DMed, told her I loved the song and wanted to hear more, and she wrote back: "Jacob!!! Don't play with me right now. It's Ebhoni!!"
Reconnecting with Ebhoni, er, SadBoi today, seven years after that first encounter, she sounds so much more sure of herself and so much more certain about what she's putting out into the world. To reflect this new chapter, she decided to start with a clean slate as SadBoi.
She's currently living in Atlanta and working with powerhouse label LVRN, and everything seems to be falling into place. She's weaving together her Jamaican and Antiguan roots with elements of dancehall, reggae, R&B, and pop, and she's more confident than ever. And in my humble opinion, "Potential" is the kind of song that could catch on in a major way.
All too often today, we see artists take off overnight, and in a lot of cases, we witness the pitfalls that come with a music career that's underbaked, forced, or manufactured. For many fans discovering SadBoi for the first time today, it might feel like an out-of-nowhere success story, but in reality this is the result of years of work, contemplation, and personal development. When SadBoi catches her big break this time around, she's going to be prepared for it. Don't be surprised if she takes over.—Jacob Moore
ivri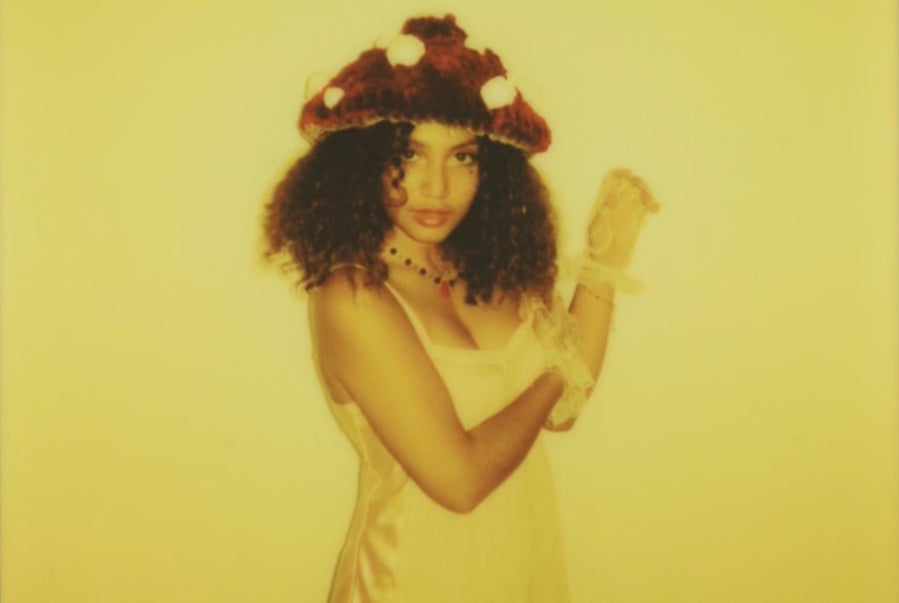 Roll back the clock six years to the PTE (pre-TikTok era), and a young cartoon editor was gradually realizing the potential she had as a full-time musician.
"It's always strange looking back and figuring out how I got to where I am today," bubbling star ivri shared over email. The now 21-year-old Brooklyn-based artist by way of Florida got her start anonymously posting music on Instagram in their teenage years. "At 15, I ended up making an Instagram account that changed my life. I was a faceless singer, posting black screen videos of me singing once every couple of months. I started to gain a following and then, one day I was scrolling on YouTube and clicked on a random song with a few million views and to my surprise I heard myself on it. My voice was sampled directly from Instagram. From then on, I would discover my vocals being sampled all over the internet, with hundreds of millions of streams and unfortunately I wasn't seeing anything from it."
ivri officially launched her artist career in 2020, with debut solo single "we don't speak" released in May of that year. With wide-ranging influences beginning from when her dad showed her Black Moon and Digable Planets, to growing up listening to Twenty One Pilots and Melanie Martinez, to recently diving into Mid-Air Thief and Toe, to the constant obsession with Still Woozy and Crumb, it's no wonder that ivri's sound has evolved in captivating ways over three years. From the left-of-center lo-fi sounds that brought her the first moments of fame to the psychedelic, rock-centric, shoegaze infused palette that she is building today, she constantly follows the road less traveled.
Tens of millions of streams and a few viral moments later, and ivri is gearing up for a now highly anticipated debut EP, arriving later this fall. "I am so so so so excited for people to hear this new sound of mine. I think going from making lofi to what I have been creating these last few months will be surprising to my fans. I'm often told my lyrics and sound are very weird and otherworldly, and I think my upcoming music exemplifies that. From the synthesizers to distorted electric guitars to handmade foley and using my vocals as an instrument. I've had so much fun mixing genres and bringing what I hear in my head to life, along with telling the stories from my dreams and experiences and creating a whole world with them through my music."
Lead single "brainrot" landed earlier this month, encapsulating this quest to discover her own sonic lane while continuing to exude emotion, exploring moments where one becomes consumed by negative thoughts. Co-production from ivri and TK The Architect meld together the influences that have marked ivri's life, yet lined by her unmistakable delicate vocals. ivri's ready to make a name for herself, and with the project expected this fall, it is only a matter of time. "I've been living on my own since I was 17. I wish I could tell that ivri how much better things would be."—Freddie Fine
Rahill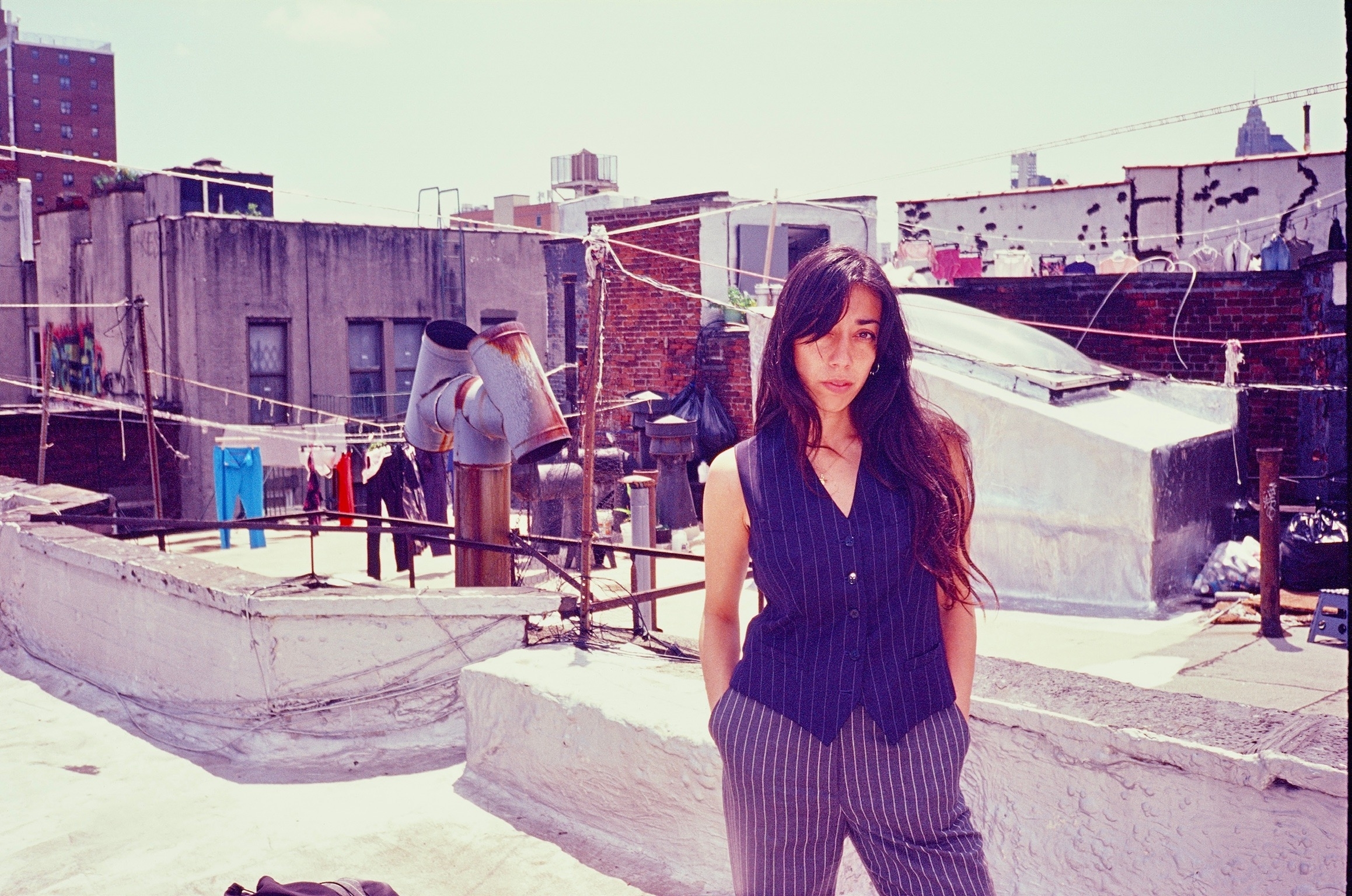 It often happens that when lead singers of former bands decide to pursue a solo career their coming out is met with rocky expectations lingering on the side of temporary fame. Under more optimistic circumstances, (think: Diana Ross or Beyonce) a departure from their genesis can ignite a previously tempered voice emerging in a new light. For Rahill, lead singer and founding member of surf rock band Habibi, it's the latter and it didn't long before she proved so. Her debut album Flowers At Your Feet is an outspoken articulation of her cultural identity, centered around a blissful portrait of heritage and family that Rahill pays homage to as important parts of her own evolution.
Growing up a first-generation Iranian and regularly making trips back to see her family, Rahill has continuously distilled a candid nod to her origin story through songwriting. Raised in Michigan but maintaining a close relationship with her family in Iran, her ethnic culture and its values of family and community remain deeply rooted in how she approaches music.
"My father really connected me to Iranian poets, musicians, and artists," she explains, "and from there I carved and found my own path into exploring music, art, and all the different genres and movements I liked, but my roots still remain so strong and go so deep, and will always be my compass."
During her time with Habibi, this was evident in its blend of English and Farsi lyrics, alchemizing eclectic sounds of garage rock and Iranian melodies together keeping her tied to a way of creating that felt authentically self-expressive.
It's this continued mirage of genres, cultures, and sounds that make Flowers At Your Feet feel like the precursor to Rahill's personal storybook, each song a chapter sung through ephemeral memories cataloged through artifacts of Rahill's private recollection, recordings from home movies, audio of family members, and references to poetry all tumbling together as allusions to a diary of her own making. Tracks like "I Smile for E," dedicated to her late Aunt, incorporate samples of her aunt singing traditional Iranian tracks, while "Ode to Dad" is a simple lullaby sung to her father. She sings, "He knows when I'm feeling sorrow, he asks me if I still pray/ I tell him I'll be home tomorrow, save his prayers for another day." This brand of sweet nostalgia is neither repetitive nor worn out—instead, it's paired with orchestral symphonies and littered with psychedelic garage rock influences that create their own storylines, each one presenting an arc of its own.
While Rahill started recording snippets of the project throughout the pandemic, her single "Fables" released this March was the catalyst that propelled the album into its formation. With the help of Beck, who is featured in the song, she was able to envision her work as a collective project, and she speaks on the track as a full-circle moment. "Fables was the last song I wrote from the record," she says. "It came to me while on a summer drive through the scenic mountains near my home. I wanted to capture that present moment, a heightened sensation of spirit, windows down, all senses engaged, a feeling of jubilation and bliss. [Alex] Epton channeled that stirring emotion with an infectious beat, and Beck dosed the song with his ethereal vocals and added guitar, giving the song a kaleidoscopic lens."
So far Rahill's traverse as a solo artist has been nothing but rewarding, gaining the attention of fans both old and new. Beyond the quiet state of grace and self-love that her album so meticulously fronts, the artist is in her own lane earnestly creating music that inspires her to reflect on old memories through a reaffirmed sense of familiarity and meaning. But it doesn't come off as a singular pursuit—her purpose is to give listeners a refuge into their own occupying spaces. Coming off of her debut album, Rahill is eager to keep building: "Currently working on new music! Can't wait to share everything I have been working on."—Sundhya Alter
Creams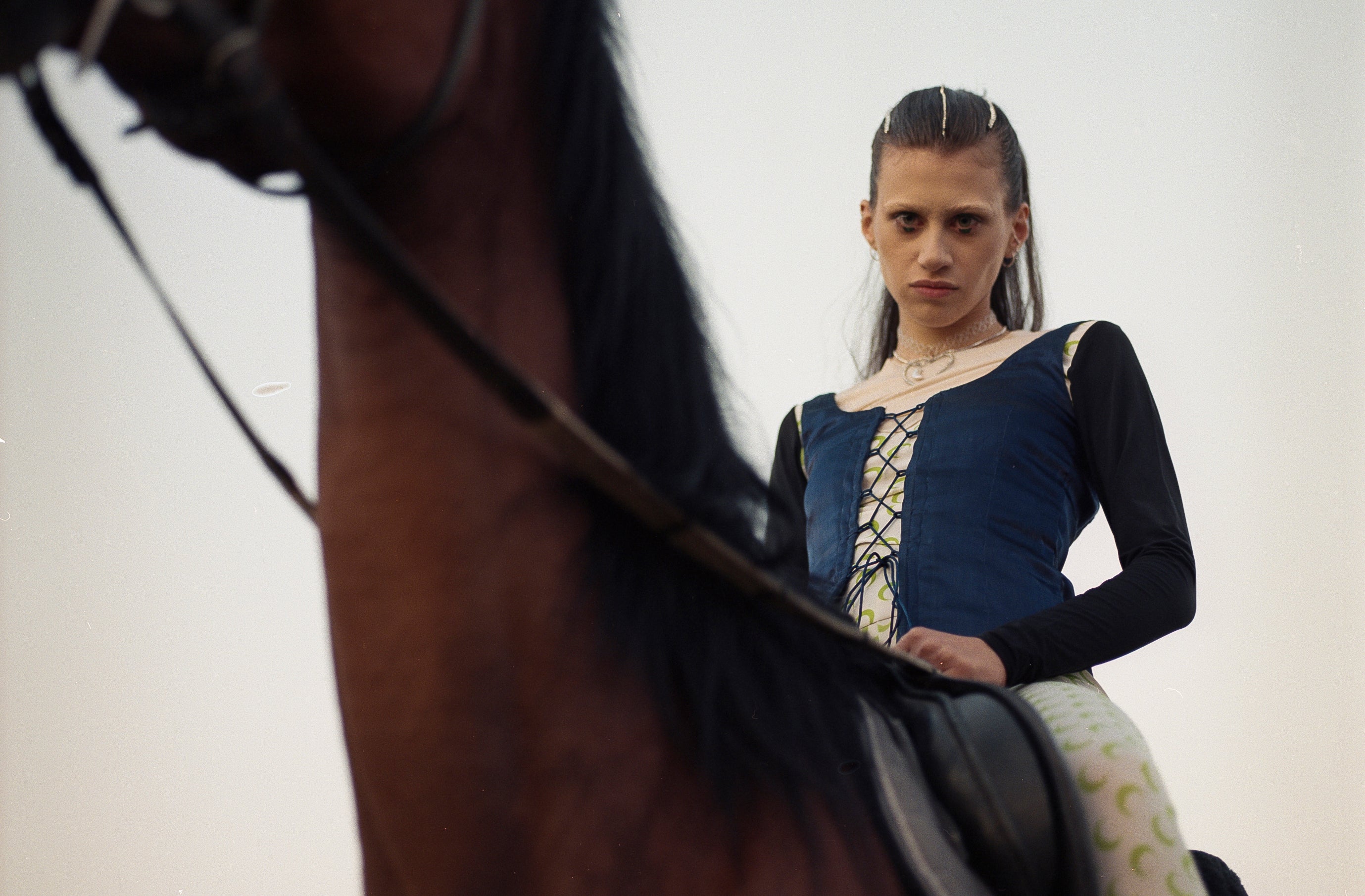 Georgian alt-pop singer/producer Creams employs abstract lyricism and a keen ear for melody to draw you in, creating music that is oddly satisfying, sometimes a little jarring, and impossible to ignore. Born Natia Chichinadze, Creams crafts labyrinthine songs that are as perplexing as they are direct. She draws influence from a range that spans from FKA twigs and Joni Mitchell to the works of Quentin Tarantino and 14th-century novelist Giovanni Boccaccio. Her voice slices through lightweight industrial beats, carving paths through her minimalist instrumentals. She weaves worlds of magical realism, with her opaque and ambiguous lyrics evoking legends and myths.
Creams' visual presence only amplifies this feeling—she has strong connections to the underground fashion world, with striking makeup and runway-ready looks a constant highlight in her music videos. Creams' music feels delicately crafted and incredibly potent in its delivery, as she performs with a thrilling air of confidence and self-assuredness. Creams seems to know that what she has is undeniable, and she's no rookie either—Chichinadze has been releasing music as Creams since 2020, entirely self-producing everything she has put out.
Despite currently being based in Berlin, Creams maintains a deep connection to her home country of Georgia, and her music is directly informed by its tumultuous history. In the video for her latest single, "Let Me Fight," Creams appears on horseback looking like an elven android amidst the majestic Georgian landscape, delivering haunting rap-like deliveries that juxtapose the country's beautiful nature against its constant political tension.
"Let Me Fight" serves as the first single from her upcoming EP PIE, scheduled for release on September 8 alongside a short film of the same name. Creams describes the project as "an open book to my overthinking mind, mixed with post-Soviet yet fairy-like visuals."
"I believe that humans share many things in common; we go through similar patterns of sadness, grief, injustice, a sense of beauty, and terror," she says. "And I simply want them to see my version of these. I want them to compare my ups and downs to theirs and perhaps discover something new that can be of help."
"Let Me Fight" is a desperate, defiant battle cry, born out of a mental health crisis. Recorded on an anxiety-filled night three years ago, Cream describes feeling distressed that night, "like a malnourished child trying to create something out of the fragments left within. I was almost tripping on the emotions pouring out. In just 35 minutes, I put the lyrics down, and I haven't touched them since." To her, the song represents "a reflection of that half-hour experience, a reminder of the unfiltered creativity that emerged amid my struggles."
Creams' music is raw, honest, and captivating—indicative of her connection to music as a creative outlet and vital force in her life. Creation is survival for Creams, and she refuses to go down without a fight.—Neel Shah