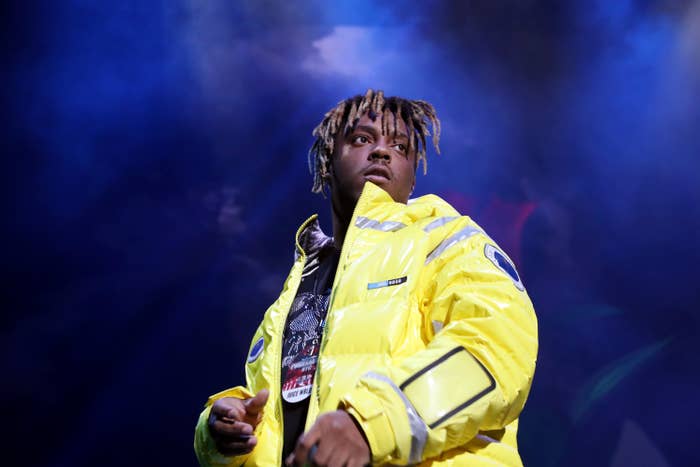 On June 29, Juice WRLD appeared on Tim Westwood's radio show and freestyled for an amount of time equivalent to two albums in the streaming era. The 19-year-old Illinois artist may seem like the kind who wouldn't prioritize live freestyles, as his two biggest singles are melodic, emo-indebted creations that showcase Juice's songwriting skill, not his potential for hard-hitting bars. With his multi-colored dreads, penchant for short, hook-heavy songs, and past collaborations with artists like Trippie Redd, Lil Yachty, and Yung Bans, Juice seems on the surface like the poster child for this era of hip-hop. Spotify named "emo rap" its fastest growing genre for 2018 and Juice has achieved perhaps the most mainstream success of any artist in the sub-genre (he's even boosted his emo bona fides by collaborating with Panic! At the Disco's Brendon Urie).
But in Westwood's studio, the artist born Jarad Higgins cascaded through a stream of beats with the poise of a cypher-hardened veteran spitter. Then he did it again last month. After rhyming on Tyler, the Creator's "Yonkers," Mobb Deep's "Shook Ones," and Dr. Dre's "Xxplosive," he primarily tackled Eminem beats in his return to Westwood's show.
Weeks later in New York, he's fondly recalling that first session. "I really wanted to freestyle on Westwood. We got to London, I didn't know it was going to be for an hour. He told me to pick three beats, and it ended up turning into—I don't know how many," he says. "My manager was falling asleep."

Besides Westwood, Juice freestyled on Big Boy's Neighborhood, No Jumper, Hot 97, Montreality, BBC Radio, and Real 92.3 in L.A. It was a busy summer—"Lucid Dreams" was climbing the charts and his debut album, Goodbye & Good Riddance, lingered around the Billboard 200 top 10 thanks to massive streaming popularity. In a time when Juice could've taken his foot off the gas, he embraced a vestige of previous rap eras, when MCs had to prove their verbal dexterity on the freestyle circuit.
Juice's rise from buzzing internet artist to chart-topping star was sudden, even in today's accelerated musical climate. When he first appeared on our radar, he had a pair of buzzing SoundCloud songs and little mainstream media presence. Our conversation with him in April was his first with a national outlet.
Now, people cling to his every word, something that has put him in the position of having to frequently explain the meaning behind his music. Freestyling helps alleviate some of the pressure of his newfound platform. "It's almost as if the beat is like a world and it's my playground. I can just do whatever I want," he explains. "Everybody has their off days, but it's my world."
Juice said that he first got into rapping by freestyling on his high school's radio station in Homewood, Illinois. "My school has a radio show, and when I first decided to become a rapper, I was on there and I would freestyle," Juice says. Lil Bibby, a prominent Chicago MC, signed Juice to his Grade A Productions company well before his present stardom. Bibby says he was blown away by Juice in a spontaneous in-studio freestyle when they first met.
"When I first heard him in the studio I heard him freestyle and he was so in pocket that it made me think that he'd been doing it for 20 years," Bibby explains. Selling Juice as a gifted MC was Bibby's priority from the outset, but something that he had to work at to get across successfully. "I knew he could do that type of stuff, and that's what I was convincing the label when I first met them—he's the best rapper I've ever seen in my life and no one can do that," Bibby says.
"Any rapper that has bars should make a point of proving they can flat-out spit, especially this era. It's an era where people are classifying some rappers as mumble rappers and writing them off." – L.A Leakers
Juice isn't a technical master with intricate flows and tongue-twisting wordplay, but he always manages to find his pockets and deliver inventive and memorable bars, whether they are atop a skittering grime beat with Charlie Sloth,the instrumental for "Lucid Dreams," or A$AP Rocky's "Goldie."
The Rocky beat was chosen by the L.A. Leakers, who said their initial reaction to Juice's Westwood appearance was, "This shit can't be real," but were impressed by the consistency of the bars. The DJ duo believes that in the modern rap landscape, young MC's give themselves a major leg up by showcasing their lyrical dexterity.
"Any rapper that has bars should make a point of proving they can flat-out spit, especially this era. It's an era where people are classifying some rappers as mumble rappers and writing them off," they tell us.

Despite having freestyled over its beat, Juice said that "Lucid Dreams" was the only track on Goodbye & Good Riddance that he actually wrote. The rest was impromptu. Ever since rappers like Jay-Z and Lil Wayne bragged about not writing down their rhymes, countless artists have made similar claims, and it's become especially common for young artists to say that they crafted whole songs in a few minutes of off-the-cuff rhyming. But Juice's freestyles stress wordplay and feel indebted to the form's tradition rather than eschewing it.
But freestyling is more than just musical exercise. Juice seems committed to becoming a chameleonic MC like Drake or Kendrick Lamar. By rapping over beats that differ greatly from the brooding pop rap of G&GR, he's proving his versatility without cramming all of these different styles onto official releases.
When Juice made his second appearance on Westwood, he rapped over Eminem beats that could give a less-skilled artist trouble. But Juice springs around the campy synths of "Just Lose It," and spits with malice on "'Til I Collapse." "He's so scared that he's vomiting / Eyes red, but I ain't with that demonic shit / She do coke, moving faster than Sonic bitch / VVS shining bright like Tron and shit," he raps.
"We're moving into a new ERA of music. I feel like it's not necessarily a good thing to forget where sh*t started, but sh*t is changing. Who am I to try and predict what it turns into?" – Juice WRLD
There are similarities between Em and Juice—their Midwestern heritage, their lyrics at times depicting grisly violence and drug use—but their origins as cypher kids is certainly one of the strongest. Juice believes the Detroit veteran is one of the best ever in the format.
"I think some of the greatest to do it are King Los, Eminem," Juice explains. A true Eminem fan, he also brought up J.U.I.C.E., a Chicago rapper who infamously battled Eminem in 1997. "That's the only n*gga to ever beat Eminem in a rap battle. That shit damn near hurt me, because I was an Eminem head and I'm like, 'Who is he to beat Eminem?' And then I looked him up. He's raw as hell."
The flows and subject matter of Juice's freestyles are more in line with WRLD on Drugs, his collaborative tape with Future, than much of his earlier output. There's still heartache and bitterness, but it's less all-consuming—Juice mixes in more boastful bars and a surprisingly creative crop of gun references ("Choppa long like a golf club / Hold that bitch like Tiger Woods," "12 gauge hit him, he do backflips / 40 hit him and he Michael Jackson"). When his melodic flow and subject matter sync up, like on WRLD on Drugs' "Astronauts," there are flashes of a transcendent talent.
It would have been easy for Juice to lean heavily on his emo, Auto-Tune crooner status, given the success of "Lucid Dreams," which peaked at No. 2 on the Billboard Hot 100. By also introducing the freestyle route, Juice is creating the potential for more traditional rap fans to discover his work. Strong showings on beats that range from murky ("Yonkers") to bouncy and comical ("Just Lose It") to anthemic ("Headlines") help to expand our idea of Juice's range as an artist without the same hype and potential downside of dropping official music.
When asked why he thinks freestyles aren't the rite of passage they once were, Juice is non-committal, swiveling in his chair back towards the computer and queuing something up on YouTube. He sees the value in his current position as one of very few artists who can make a soul-bearing, self-effacing ballad like "Rich and Blind," a bleary-eyed drug ode like "Ain't Livin Right," then hop on a classic rap beat in the same few months.
"Stuff is just changing, that's all. We're moving into a new era of music. I feel like it's not necessarily a good thing to forget where shit started, but shit is changing," he says with a shrug. "Who am I to try and predict what it turns into? Shit's moving, shit's shifting."
As his singles continue to tear up the charts, Juice WRLD is starting to look like the defining commercial success of the SoundCloud age. But while predecessors like Uzi and Lil Pump have derided rap traditions and stuck to their successful formulas, Juice's decision to embrace the freestyle circuit shows his passion and understanding of rap's many disparate sounds, along with his desire to conquer them all. While we're sitting, Juice spits 15 minutes of off-the-cuff bars as strong as any of his radio appearances. He's perfectly capable of leading the new wave of melodic rappers, but his freestyle explosion over the summer and projects like WRLD on Drugs hint that he'll still be around once the next wave emerges. Who knows what other tricks he has up his sleeve.