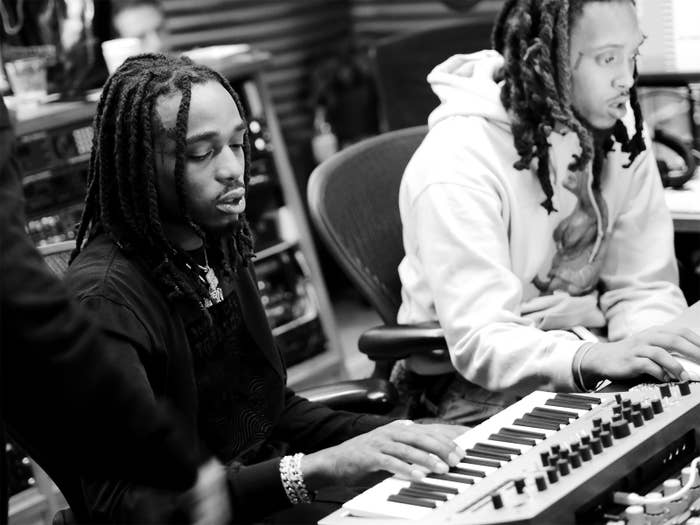 Before Culture II dropped, two stories emerged that hinted at the direction of the Migos' third studio album: Quavo started making beats and the group's sound "got a little funkier."
Three songs in, the promise of a funkier Migos came to life as Quavo, Offset, and Takeoff traded bars about Colombian drug lords over lush Spanish guitars on "Narcos." Later, they somehow pulled off a jazzy saxophone sample over hard trap drums on the 2 Chainz-assisted "Too Playa." Both songs, incidentally, were co-produced by Quavo.
As the album continued, it started to sink in that every time Quavo's "Huncho on the beat!" tag hit, we were about to hear something a little different—a little funkier—than the Atlanta trio's usual sound. 
Quavo is listed as Culture II's Executive Producer alongside DJ Durel, and a closer look at the tracklist shows that Durel and Quavo formed somewhat of a prduction duo on the project: Durel is credited as a co-producer on nine of the album's eleven Quavo-produced songs.
So, who is DJ Durel, and what's the secret to his relationship with Quavo that birthed these exotic new sounds?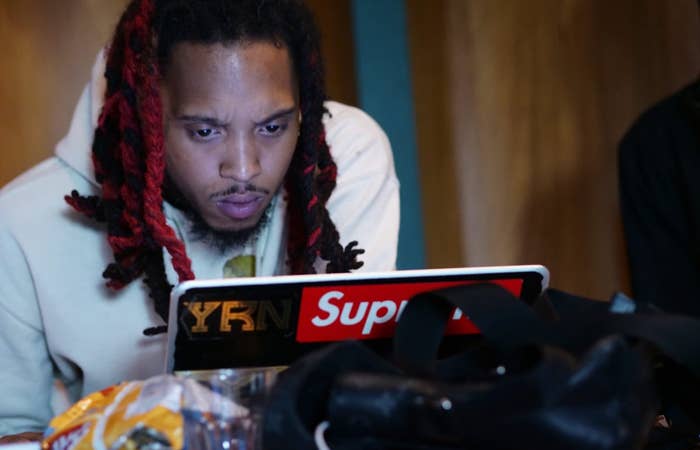 "I'm a producer, DJ, engineer, and a brother," Durel puts it simply, reflecting on his role with the trio. "It's family."
Durel first got a chance to work with the Migos when he filled in for a tour DJ who didn't show up to their show in his hometown of Cleveland, Ohio. Six months later, the group invited him on a trip to SXSW, and the four have been inseparable since.
"We'll do one song in 20 minutes. If they really want to take their time on it, they'll take 40 or 45 minutes.
Durel explains that the Migos move on instinct in the studio—freestyling as they go—and they need an engineer and a producer who can keep up. Constantly on the road and in the studio with the trio, Durel now finds himself in the position of being one of the only people on the planet who can slip into a session with these guys and record them without falling behind or disturbing what might be the group's biggest strength: chemistry.
"We're always already in the studio every day when we wake up," Durel says. Explaining the loose, freewheeling atmosphere that fills the room during sessions, he notes, "It's really fun because they all freestyle, so it's really just based off the way they feel right there in that moment. It's all feeling." The joyful ad-libs and colorful lyrics that make songs like "Stir Fry" so special aren't the result of weeks of planning. Everything happens on the spot—making it crucial to have someone like Durel around to pick up on their instincts and capture the moment without disrupting their flow.
More than anything, Quavo, Offset, and Takeoff need someone who can be just as fast and spontaneous as they are.
"We'll do one song in 20 minutes," Durel says. "If they really want to take their time on it, they'll take 40 or 45 minutes. No more." Everything's been clicking lately, and the effortless dynamic the Migos have developed with Durel has become an important part of the recipe. "When they're in the zone, there's no way you can stop them from laying down a good song," he adds. "It's going to come out perfect. It's not going to come out rushed or anything."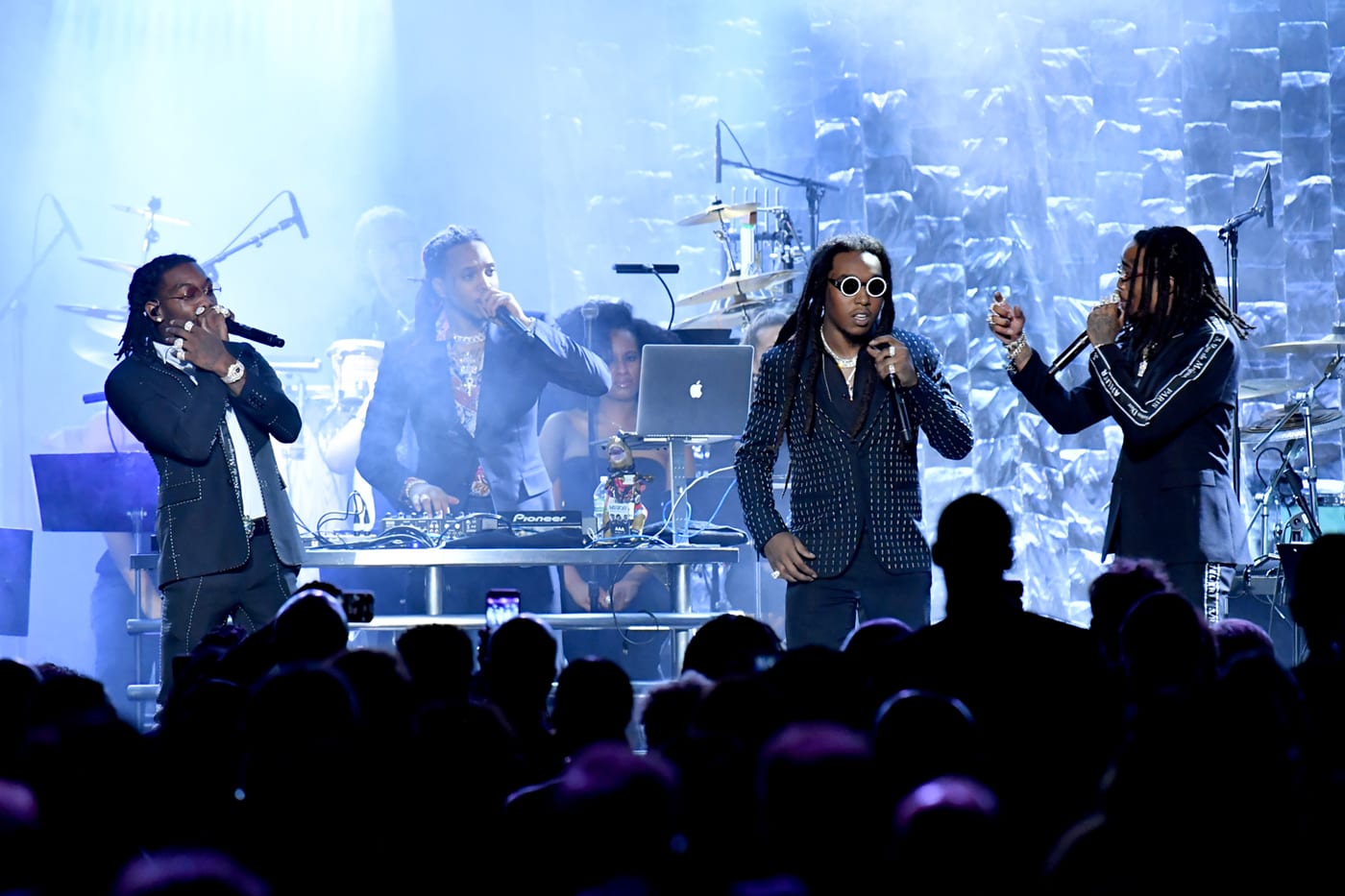 Quavo's experience as a producer is limited, but his work on some of Culture II's most adventurous songs prove he's a fast learner. In Durel, he's found a collaborator who has helped speed the process up even faster with an understanding of his "weird," forward-thinking ear. 
"Working with Quavo and making beats with him is amazing," Durel says. "He's already a rapper and an artist, so he knows how he wants to come in on the beats. He already knows how he wants the beat to sound. So we both come together, play the keys, and lay it down. It's amazing because some of the sounds he comes up with are things you've never heard before. It's fresh and unique. We like weird sounds."
Durel and Quavo's inclination to sprinkle unconventional flourishes into hard-hitting trap beats ended up leading to more experimental moments on Culture II than we heard on the first installment: "We like thinking outside of the box. The last album was amazing. But we were just trying to think a little bit outside of the box and grab different genres and different eras [for Culture II]."
Understanding that a simple Spanish guitar riff can have the same effect as a well-placed ad-lib and make an entire song memorable, Durel and Quavo weren't afraid of playing around with unusual instruments and eclectic samples. "You know, certain people like hearing different sounds," Durel says. "If they like hearing a certain sound on that song, you never know, that might be their favorite song—just because of that one sound on the beat."
WHEN WE RECORDED IN SOUTH AFRICA, WE WERE LOOKING AT MONKEYS AND SHIT. LIKE, WHILE WE WERE RECORDING, A WHOLE BUNCH OF MONKEYS WERE POPPING UP ON THE OTHER SIDE OF THE WINDOW.​
After the success of Culture, the Migos spent 2017 traveling the world, stopping in places like Australia and South Africa for Culture II recording sessions. And their new surroundings ended up seeping into the music itself. Recalling his favorite moment from the whole year, Durel says a stop in South Africa directly influenced one of the album's most colorful songs: "Narcos."
"When we recorded in South Africa, we were looking at monkeys and shit," he says. "Like, while we were recording, a whole bunch of monkeys were popping up on the other side of the window.​ It was great."
As Durel shares stories about how much fun the album's recording sessions were and just how prolific of a year the Migos had in the studio, Culture II's much-maligned 24 song tracklist starts to make more sense. The way he describes these sessions, 24 songs is a tiny percentage of the music they made this year. "We don't want to put out any bad music," Durel explains. "We just took our time and made sure we had the right sounds that we wanted."
Some critics have called the album's lengthy tracklist a "data dump" and "stream-trolling," but from Durel's mouth, their intentions don't sound nearly as deep or devious: "We just wanted to get music to the fans. We wanted to start the year off right by letting the fans know we're still here and we're still coming."
As the Migos step forward from the whirlwind past year and a half that produced Culture I and II, their next chapter will serve as an important marker for the group's eventual legacy. And the pressure to keep their momentum up will continue to build. But Durel sounds confident in the Migos' ability to keep finding new ways to evolve their sound while Quavo blossoms into his full potential as a producer.
"We're not going anywhere."