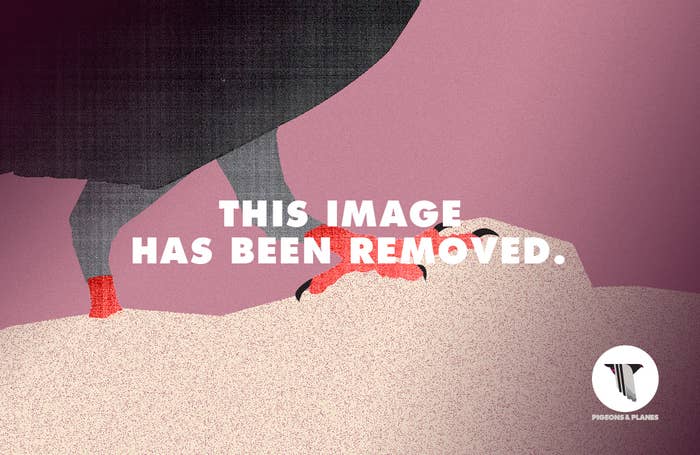 In 2004, Diplo burst into the consciousnesses of industry insiders, artists, and intrepid fans alike, setting forth the blueprint for his future success with a slew of releases. On Favela on Blast and Piracy Funds Terrorism (M.I.A.'s breakthrough mixtape), Diplo displayed the taste-making, scene-and-sound-selecting abilities that would transform him into a high-profile, globe-trotting DJ, shedding wider light on regional sounds across the worlds. Alongside those releases, Diplo also put out Florida, a full length instrumental album that owed more to DJ Shadow than the dance floor. On Florida, Diplo displayed his eclectic ear, a surprising gift for melody, and all of the eccentricities that would weave their way through later production. Diplo's track record as a DJ is well known and often celebrated, but it is his production that has kept him in demand with artists as wide ranging as Das Racist and Beyonce, Die Antwoord and Usher.
Here are his 15 best moments behind the boards. 15. Azealia Banks – "Fuck Up The Fun" (Co-prod. DJ Master-D)
Sometimes you need synthesizers, air-horns, and wobble bass to get the party started. Other times you just need a stomping drumline beat. On "Fuck Up The Fun," Diplo serves up a fast and furious cascade of stomps, toms, and snares to push Azealia Banks' force of nature flow into some of its most impressively acrobatic territory yet. 14. Major Lazer – "Get Free"
"Get Free" takes the Jamaican vibe of Major Lazer and tones it down to show a different side of what Diplo is capable of. While it doesn't hit hard and steal the show like some of Diplo's work, it accompanies Amber Coffman's vocals perfectly, making "Get Free" feel like an organic, living song instead of a dance floor slayer. It may be understated, but the more you listen, the more you notice the little touches that make "Get Free" one of Major Lazer's stand out cuts. 13. Das Racist – "You Can Sell Anything"
In a time when Das Racist was still emerging as clever rapping clown princes and more than one-novelty-hit makers, Diplo slid the duo a slyly catchy backdrop in "You Can Sell Anything." With its persistent whistling sample, "You Can Sell Anything" carves out real estate between your ears. It's a simple production, a reminder that catchy music doesn't require a wall of electronic noise and mega-drops. Of course, Diplo's got those too, if you want them. 12. "Set It Off" ft. Lazerdisk Sex Party
As with much of his Express Yourself EP, "Set It Off" plays almost like prog-dance, a succinct rundown of different sounds and ideas culled from the DJ booth that feels almost like a mash up in variety and movement. The domineering drums lent to M.I.A. and Major Lazer (here turned down a bit to allow other elements to shine), shimmering pads reserved for poppier productions, gunshots, vocal samples–in four minutes, Diplo puts his arsenal on display and dares you not to move your ass along to it. 11. Spank Rock – "Put That Pussy On Me (Diplo Tonite Remix)"
Leave it up to Diplo to sample a '60s rock song (The Seeds' "Can't Seem To Make You Mine") and use it to flip Spank Rock's raunchy electronic dance rap anthem, "Put That Pussy On Me." The original was already a favorite, and Diplo's remix made it very hard to decide which version we like more. 10. Santigold – "Unstoppable" (Co-prod. Switch)
On "Unstoppable," swampy bass and a whirring, buzzing bed of synths reveal the versatility of Diplo's toolkit. "Unstoppable" doesn't scream dance floor-readiness, but the steady rhythm and sonic palette show Diplo's pliability, able to build a track that could easily by molded into indie rock or steered straight toward the club (a quality helped by Santigold's own genre shapeshifting). 9. M.I.A. – "Bucky Done Gun"
With its riotous Rocky horns, gunshot percussion, and reverberant electro drums, "Bucky Done Gun" provides the perfect backbone for M.I.A.'s international pep rally, chaotic, propulsive, and riotously fun. Though it sounds a bit rougher around the edges than later, similar compositions, "Bucky" is all the more endearing for it, the sound of ideas crashing out of speakers as high speed and higher volume. 8. Robyn – "Dancehall Queen" (Co-prod. Klas Åhlund)
On "Dancehall Queen," Diplo displays his ability to imbue seemingly straightforward pop with his particular stylistic spices. Here he provides a Robyn tune (whose chorus is strikingly reminiscent of "Party In the USA" after a joint or five) with a bouncy reggae-rhythm, skittering percussion, and hints of dubstep wobble, a nod to new and old that never overwhelms with either, remaining light, fun, and infectious. 7. "Express Yourself"
Diplo's "Express Yourself" takes root in New Orleans vibrant, longstanding Bounce scene, with its constant array of claps and the inclusion of 'Nolia rapper Nicky Da B. "Express Yourself" displays Diplo's ability for adaptation, taking its source material as influence rather than strict blueprint, loosely approximating the pervasive, unchanging rhythm of bounce and the tendency toward mashing together surprising samples. The end result is an electronic ride designed to move asses from the bottom of the map on up. 6. Gucci Mane – "Excuse Me (Diplo Remix)"
Sometimes, all you need is a little bassline bounce. Though Diplo's certainly no stranger to densely packed, over-the-top productions, he also knows when to dial it back to match an artist's strengths. On his remix of Gucci Mane's "Excuse Me" (a beat also used for the Paper Route Gangstaz "Stop N Go"), Diplo marries a constantly rising bassline, snapping snares, and robotic accents (a running theme, as #5 will show) with Gucci Mane's exuberant boasts, a finished product that doesn't best the original, but stakes its own territory. A worthy, entertaining alternative and a fine example of Diplo at his less-is-more best. 5. Chris Brown ft. Lil Wayne and Busta Rhymes – "Look At Me Now" (Co-prod. Afrojack)
While Chris Brown's "Look At Me Now" is largely memorable for its head-spinning, time-warping Busta Rhymes feature, it wouldn't be quite as impactful in the absence of Diplo's blooping, whistling, robot's-hitting-on-each-other beat. Built around two insistently simple synthesizer figures and punctuated by drum fills reminiscent of a step team in the studio, "Look At Me Now" bores its way into skulls, even as Busta's whirlwind distracts from the bleeps and bloops. 4. Usher – "Climax"
For the single that announced Usher's brief return to simmering bedroom songs, Diplo provided the perfect electronic ebb and flow, a deceptively maximalist series of synths and sparse drums that updates the sultry R 'n B core of Confessions for an audience weened on four-on-the-floor pop 'n B club music. A show of versatility and one of a producer's most important qualities, the ability to tease the best out of an artist without overpowering what makes that artist great. 3. "Way More"
Before Diplo was a globe-trotting super DJ and known tastemaker, Thomas Wesley Pentz was an ambitious beatmaker, walking the path laid out by instrumental maestros RJD2 and, more directly, DJ Shadow. On Florida, Diplo pays homage to his forebears and explores the dance-centric influences that would become his trademarks; nowhere does he blend crate-digging bravado with an electronic backbone as well as one the dense, exhilarating "Way More," whose title seems to wink at its source material and laugh of the mantle "derivative." 2. M.I.A. – "Paper Planes" (co-prod. Switch)
While it may not be a show of technical wizardry, Diplo's production on M.I.A.'s "Paper Planes" showcases his DJ's eye for re-contextualization better than any other credit in his catalog. Adding minimal dressing and perfectly fitted accents to a sample from the Clash's "Straight From Hell" (a fitting sample source, given the band's fancy for different genres and sounds), Diplo crafted a backdrop that shimmered, screeched, thumped, and catapulted M.I.A. into the public eye as never before. Though far from his most involved production, "Paper Planes" illustrates Diplo's taste and discretion in the service of crafting unique pop. 1. Major Lazer – "Pon de Floor" (co-prod. Switch)
If you've ever had the distinct pleasure of witnessing the power of "Pon de Floor" at a packed, liquor-soaked party, you probably saw its place atop this list coming. With its signature snares and a bass that gets in your get and spreads from their like dance floor plague, "Pon de Floor" is incessantly catchy without even needing a hook–which, of course, it has. "Pon de Floor" is a force of nature, an exercise in all-consuming percussion that cares little for praise or critique because it simply demands that, whether you run with it or run from it, you move.