"Oh shit," REI AMI mutters. After a loud shuffling noise, she comes into the frame and floods my screen with a giant smile. "Sorry! I just got off work and just changed out of my pants—it's literally the best thing in the world." Just 30 seconds into our FaceTime, it's easy to see how the rising alt-pop star's personality is every bit as big as it seems online.
REI AMI broke into the music scene with a bang last August after releasing her breakout single, "MAKE IT MINE." The track was the first to introduce her unique song format: Playful pop cuts that transition into completely different melodies, and rhythms, somehow weaving two disparate thoughts together into one. Structure isn't all she blends either; indie, R&B, and trap influences all show up in her work, creating a multi-dimensional sound that you can mosh and hum along to. Since dropping "MAKE IT MINE," the 24-year-old artist has only released three more tracks, but she's already won over the hearts of an extremely loyal fan base and claimed her own hashtag, #REIPOP.
Born in South Korea and raised by strict Christian parents in Maryland, REI AMI rarely perceived pursuing music full-time as a reality growing up. But today, the confident singer and songwriter is gearing up for her first set of live shows, a full-length project, and so much more.
Read our interview with her below.
Your music is really multifaceted. Almost every one of your singles so far has a distinct genre transition. What inspires that?
I think transitions should just happen naturally. Even with my first song "MAKE IT MINE," there's a transition. It's not as distinct as it is in "SNOWCONE" or "DICTATOR," but with "MAKE IT MINE," it happened very naturally. I've always been a fan of transitions in music—it's like you get two for one. Frank Ocean's "Pyramids" is one of my all-time favorite songs. When I first heard it back in senior year of high school, I tweaked the fuck out. I'd never heard anything like that. So now, anytime I hear an artist do a transition and execute it so well, it sticks in my mind.
The reaction we got from people from "MAKE IT MINE" was like, "Yo, that transition was insane." So with "SNOWCONE" and "DICTATOR" I wanted to establish that I'm gonna be the queen of fucking transitions. When people say REI AMI, I want one of the first things that pop up to be, "That bitch knows how to fucking transition into whatever the fuck she's going into." I wanted people to recognize my songs for that.
Also, there's the duality part of it. Artists always talk about having to pick and choose. All my life, I feel like I've had to pick and choose which parts of myself I want to display to the world, when I feel like I have 10 different personalities. So [when it came to] showing the two most different sides of me, the very bold and forward-thinking person that I can be but also the emotional, moody bitch behind closed doors, I asked myself, "Why should I have to choose? Nobody's telling me I have to, so why do I feel the need to choose?" I decided fuck it, two songs for one bitch! You pay for one, you get two.
That duality is very tied into your musical transitions, then.
A lot of people go through those emotional highs and lows really fast, every single day. For a lot of my friends who have bipolar [disorder] or some kind of mental illness, mood swings and mood switches are very real. They're difficult to deal with on a daily basis. When you listen to those songs, you immediately switch from feeling on top of the world to "Shit, I fucking hate myself." I wanted to be able to sonically provide that experience for people—especially those who don't go through it a lot. I wanted to show my audience what it's like to step into my world and what I deal with every single fucking day.
You've also spoken before about how your name reflects this duality—could you talk about that a little, too?
I grew up watching a lot of Sailor Moon in Korea and, a year ago, I realized it was on Hulu. This was before I'd released any music, and I was looking for a stage name. I started watching it again and became obsessed. The two characters, Sailor Mars and Sailor Mercury, piqued my interest because Sailor Mars—[also known as] Rei—is so temperamental. She has literally the shortest fuse you've ever seen and is loud and aggressive. Sailor Mercury—[also known as] Ami—is much more reserved and timid.
I'm very much like both of them. When I'm comfortable, I can be very much like Rei. But when I'm uncomfortable or sad, I'm very much like Ami, I'm quiet and not gonna talk. I'd rather be in the corner of the room, not the center. So REI AMI, no one had that name on the socials or on any of the [streaming platforms], and I was like, "This is literally meant to be." I have an emotional connection to it, and it also sounds like a dope-ass name. 
I've always been a fan of transitions in music—it's like you get two for one. Frank Ocean's "Pyramids" is one of my all-time favorite songs. Now, anytime I hear an artist do a transition and execute it so well, it sticks in my mind.
Are you also planning on bringing your multiple personalities to the stage?
Oh my god, yes! I'm trying to be Sailor Mars, Sailor Mercury. I'm trying to pull up in a Hello Kitty onesie, coming out in wigs and shit. I'm trying to be Pikachu, I wanna electrocute bitches. I wanna throw fruit snacks at bitches and make them sign a waiver before I chuck it at them. [Laughs] I'm so excited. I don't know how I'm gonna make Pikachu look sexy, but I'm gonna make Pikachu look sexy as fuck. 
Shifting a bit to your latest track, "RUNAWAY," it seems like you're tapping much more into your bad bitch rather than your sad bitch side.
It's about coming to terms with yourself and really accepting who you are, flaws and all. When I hear the song, it's me running away from all the bullshit and the times people didn't believe in me and told me I couldn't do this or wasn't enough for that. All the bullshit that put me down—this song is literally me owning that and doing whatever the fuck I want to do because I can and I will. It feels really good to say, "Fuck you and fuck off" to everybody and just do your own thing. Because that's what I've been doing and people really love that. I'm like, "Yo, thank you for fucking with me and my bullshit, because in the past a lot of people didn't."
The track is very much Rei. It's girl power and independence and being fearless and killing your shit and making bitches mad. The transitions aren't gone! They're just not here right now. They're on PTO.
You're showing that you can make songs with only one side, too. 
Yes! I think sonically, "RUNAWAY" is a much more serious track. Like "SNOWCONE" is much more my fuck shit, like trolling almost. But this is a very serious song and I'm really excited because I feel like I haven't really portrayed this side of me in its full form. For people who aren't my fans or who weren't my biggest fans before, I feel like this song will at least allow me to gain their respect. Like, "Oh, this isn't just that 'SNOWCONE' bitch."
When did you start making music seriously?
I've been making music for five years. 2015, which was my freshman year of college, I met my producer. A lot of the shit I was making for the first four years was just straight R&B and pop, but I went through a really bad breakup last April and it shook me to my core. It wasn't just because I was hurt off losing somebody or the usual sadness that comes from a breakup.
I was thinking, "You fucked me up dude. How did I let myself get treated like this for so fucking long?" It was so toxic, and finally being able to remove myself from that situation, the time it took to process what happened was so shocking to me, it lowkey scared me. I didn't know what the fuck was going on in my life or what I wanted to do. I was this close to giving up on music because I was so depressed and I was like, "No one knows about me anyways so if I quit, no one's gonna know or care." And then my producer said, "Shut up and come over." I got shitfaced, we made "MAKE IT MINE" and I decided to drop it.
And then it blew up.
I feel like it got into the right hands—that's also how I met my managers. They found that song through a mutual friend. I'm so thankful that everything happened the way it did, because "MAKE IT MINE" sonically was so far left of what I was making before, but it was the most authentic song I had ever made up until that point. It was just me. I wasn't trying to filter my emotions or what I wanted to say. It was just me, and by far the most fun session I've ever had in my life. That's when I realized this is how it should be. If in any session you're not having fun and it feels like a chore, you have to take a step back and re-evaluate the situation because your head's not in it right now.
I look up to [Kendrick Lamar] and Amy Winehouse so much because they're global. They've moved past race and socioeconomic status. It is just art, and it moves you.
Did you have any strong artistic influences growing up?
Definitely, I think the first one was Ariel from The Little Mermaid because you know, she was a dumb bitch as well. Dumb bitch to dumb bitch, I resonated with her. [Laughs] But I guess a more serious one when I entered high school was Amy Winehouse. She's my favorite artist of all time. Her music is timeless, and she's just so raw in it. She's somebody who loved so hard, and I respect that vulnerability in any artist.
I think [my] hip-hop influence comes heavily from Kendrick Lamar, TDE, Schoolboy Q. My friend put me onto Section.80. Before that, I had only been exposed to mainstream hip-hop that was on the radio, which is only a vague reflection on what hip-hop and rap is. When I listened to the record from top to bottom, I had never heard music like that. Obviously, there were some topics I couldn't relate to or fully understand, but shit, that sounded amazing. Kendrick Lamar, not just as a rapper—I don't even like calling him a rapper, because he's just a vocalist. The shit he does with his voice is insane, and obviously his lyrics, too—it was just a story I'd never experienced. After that I was a huge fan, and Good Kid, m.A.A.d City came out and I was like, "Bitch, fuck me up again!"
I feel like that album came out at such a formative point in my life, too.
Right? Sometimes I feel odd saying it as an Asian American woman, like maybe I shouldn't say it, but it's like I can't help it. His music is infectious and it moved me and it inspired me. There are certain things I can't resonate with or relate to because I've never experienced it, and I probably never will, but you can't doubt the artistic impact and the emotional triggers his music can have on literally anybody.
It's relatable in ways beyond identity.
And that's the type of shit I want to be on. I look up to him and Amy Winehouse so much because they're global. They've moved past race and socioeconomic status. It is just art, and it moves you. That's where I want to be one day.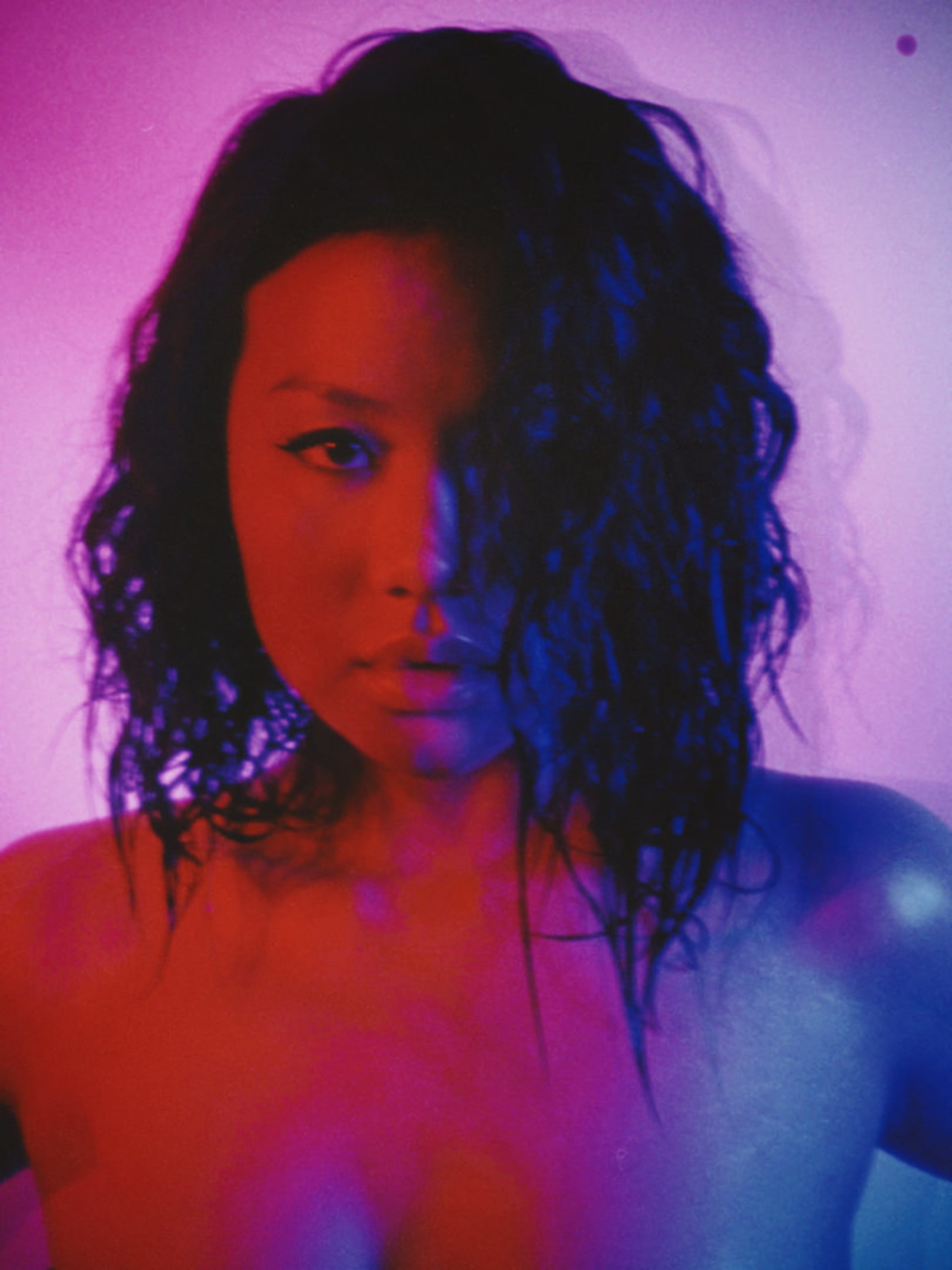 You've talked previously about how your parents are super Christian Koreans. Was that fuel for the rebellious energy in your music?
Thank god I was the baby of the family, because I wouldn't have gotten away with half the shit I did otherwise. If my sister had done any of what I did, she would've gotten put in a nunnery back in Korea. [Laughs] Growing up, my parents said no secular music in the house. If I got caught listening to secular music, it'd be no computer for a week. When my dad saw me listening to "Birthday Sex" by Jeremih he told me I was gonna go to hell. I was like, "Dad why are you hating on Jeremih?! What'd he do to you?"
It definitely fueled my go-getter, hustler mentality because I realized at a very young age that my parents weren't going to help me, and that if I wanted voice lessons or to record, that had to be handled on my end. It was a matter of how bad I wanted it. How hungry am I? I would download all this shit on Limewire and erase the history. When I was doing theater, I would filter my love for performing by telling my parents, "I'm not gonna pursue this" just so they wouldn't close off any opportunities because I didn't want them thinking, "Oh my god this bitch is serious, we have to stop it now."
It became a little easier when I went to college and was away from home because I could go to studios. They had no idea until last year that I was doing any of this. I was breaking down telling them because I thought they were gonna disown me, but they did a 180 and said, "We're proud of you. We don't support the content, but we support the career decision." And I was like, "Okay, that's all I need from you guys—obviously you're not gonna support me talking about sugar daddies and [using] 'fuck' as every other word, but all I need you to do is back me and not stand in the way."
So that was all last year, that transformative time?
Yeah, dude. 2019 was that year for me. 
[My next project] is like a giant baby that I'm gonna birth and toss to my fans like, "Yo, take care of this bitch for me."
Lately, we've been seeing a lot of dope Asian women in music.
[It's] very, very refreshing and so overdue. Growing up, who did we have to look up to? Nobody. I can't even speak on K-pop because they were Korean, living in Korea, making music for Koreans. They weren't Korean Americans—that's a completely different experience. Having immigrant parents is completely different. I'm lowkey jealous of these young Asian girls. Shit, you got so many people to look up to now. I had nobody, bitch. I walked so you could fucking run! 
I saw that you've been putting a lot of anime characters up on your Instagram. What's that about?
I was very selective about my anime growing up. A lot of my fans, they're huge anime people. I was always surrounded by anime—I watched Sailor Moon, Dragon Ball Z, and Naruto with my cousins—but I never delved super deep into that fandom. Recently, my fans were on me about watching, so I said, "Fine." I also love Studio Ghibli, I'm a huge fan. I recently watched Neon Genesis [Evangelion] and Perfect Blue, so I'm getting into anime again. That's why I like to incorporate that aesthetic and pimp my ethnicity out.
So bringing your identity out through animation is intentional.
That's something I want to incorporate in my future creative endeavors. I want to have an animated music video and voice act in animated movies. Fuck, I want to make my own animated movie. I want my dog Kyo to have her own animated series. These were things I was surrounded by growing up. My knowledge isn't as extensive as those who were passionate about it at a young age, but I've always had so much love and appreciation for animation. It's insane how much time and thought goes into every fucking frame, because that shit is so fucking difficult. 
With tour and a fuller project coming up, you have a big year ahead—how do you feel about it all?
I'm so fucking excited. There's going to be a self-titled mixtape dropping later this year. It's going to be a body of work of all my shit, all my fuck shit, all my emotions, my personalities. Everything in one. It's like a giant baby that I'm gonna birth and toss to my fans like, "Yo, take care of this bitch for me." It's insane.
Everything is still really surreal to me. Like the fact that I'm dropping a mixtape, I'm like, "Whoa bitch. You're dropping a project project." It's definitely positive stress and positive anxiety. I cannot wait to perform. I cannot wait to go on tour. I cannot wait. I want my fans to be foaming at the mouth and rabid and moshing and destroying everything—actually don't destroy anything. I have to pay for that. [Laughs]
I just never thought that a year ago I would be...here. It's crazy how life works out. I was not ready for it—I knew it was going to be difficult and stressful at times and chaotic, but goddamn. I didn't not realize just how fast things can move.