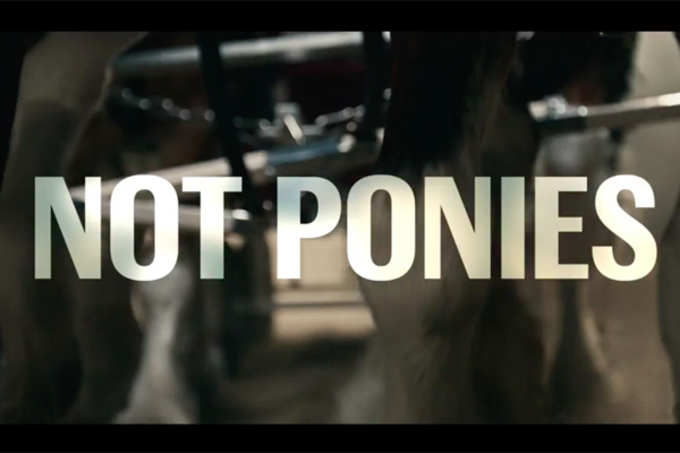 It's Super Bowl Sunday! The Carolina Panthers are playing the Denver Broncos and big brands have pulled out all the stops to impress the expected 115 million plus TV viewers during the commercial breaks.
If you've been watching, you will have seen Kevin Hart, Willem Dafoe, Marilyn Monroe, puppy monkey baby (yes, you read that correctly), and even the full version of the strange apartments.com commercial with Lil Wayne. But the best music? So far that's come from one of Budweiser's spots.
---
 The commercial: Budweiser #NotBackingDown
With the tagline "Not Backing Down," this spot intersperses shots of Budweiser being made and drunk with footage of the Clydesdale horses that have appeared in many of their past Super Bowl commercials. It's big, brash, and everything you'd expect from an American beer ad. (Their other Super Bowl commercial, an anti-drunk driving message from Helen Mirren is also worth a watch.)
The song: Baauer ft. Novelist and Leikeli 47 – "Day Ones"
Baauer is best know for "Harlem Shake," but since that track's success, the producer has been showing that there's much more to him than one viral moment. Baauer recently announced his debut album on The Late Show with Steven Colbert, performing "Day Ones" with American rapper Leikeli 47 but without British grime MC Novelist, who is the other featured artist on the track. Neither vocalist appears in the commercial, which uses only the instrumental.
---
LuckyMe, Baauer's label, confirmed the news.